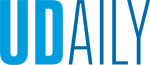 Musical style
Article by Ann Manser Photo by Kathy F. Atkinson and Lane McLaughlin February 20, 2019
Ensemble performs at Carnegie Hall in UD-designed attire
When 6-wire, the University of Delaware's ensemble-in-residence, took the stage in Carnegie Hall for a Feb. 16 concert, the musicians were a treat not only for the ears but also for the eyes.
Wearing coordinated shirts and gowns designed and created by UD's Department of Fashion and Apparel Studies specifically for the performance, the three internationally known 6-wire musicians made their New York debut to a full house in Carnegie's Zankel Hall.
University President Dennis Assanis and his wife, Eleni, opened the concert by welcoming the audience of music-lovers, including UD alumni, faculty, students and staff.
"It's so wonderful to be here in Carnegie Hall, one of the most storied performance venues in the world," Assanis said.
The process of creating performance attire for the musicians began several weeks before the concert, when 6-wire director and violinist Xiang Gao contacted Belinda Orzada, professor of fashion and apparel studies and an award-winning designer.
The two faculty members had previously worked together on a project in which fashion students used musical pieces as inspiration for their designs. The concert project had a challenging time frame — approximately one month to produce two outfits for each of the three musicians, who would change their clothing at intermission—but Orzada decided to take it on as an opportunity for both her own creativity and as valuable experience for students.
Graduate students Cheyenne Smith, Mikayla DuBreuil and ChaCha Hudson assisted Orzada, along with Prof. Emeritus M. Jo Kallal and undergraduate apparel design major Wing Tang.
"It's a very tight deadline," Orzada said one day in January as she and the students worked with sample fabrics to produce prototypes of the two male performers' shirts. "But, since this is Winter Session, we have some flexibility to work long hours. It's been all hands on deck."
Gao suggested a possible East-West theme for the clothing designs, in keeping with 6-wire's musical influences, but he "was open to whatever we came up with," Orzada said.
She sketched some designs, conferred with the musicians, and then began the process of choosing fabric and trim materials. From there, she and the students created patterns and sample attire, met with the performers for fittings and eventually produced the finished pieces.
"We really started from scratch, taking measurements of the musicians," said master's degree student Cheyenne Smith. "We had to learn a lot, especially about men's clothing, which uses different techniques than women's."
Mikayla DuBreuil, also a master's degree student, agreed that most of her previous design experience had focused on women's clothing.
"I've never done menswear, so this is a new experience for me," she said as she worked on prototypes of two shirts for Gao, each with a different style of collar and different-colored trim. "There's also the challenge of fitting a real person instead of a mannequin.
"Making it fit the person perfectly — that's the tricky part."
Orzada pointed out some other complex parts of the design process, including the need to remember that musicians have to move freely while performing. A pianist's sleeves can't hinder his hand movements, for example, and the shoulder of a shirt or gown where a violin or other instrument rests must be kept free of trim or other details that might get in the way.
For Smith, some of these considerations weren't new ideas. As an undergraduate, she was a drum major in the UD Marching Band, and she created band uniforms as her senior design project.
"I used to play violin and mellophone, and I like combining my two interests — music and fashion design," she said. "I enjoy thinking about how design can enhance the experience for the musician."
The finished pieces for 6-wire's Carnegie Hall concert included coordinated, but not identical, shirts for the male musicians, using black fabric and similar styles of trim in red and blue. Cathy Yang, who plays a traditional Chinese stringed instrument, the erhu, wore two silk gowns, one black with blue embellishment and one white with a red and black overlay.
Design details in the completed performance attire were inspired by the concept of movement, Orzada said: how Yang's red and black dress moves as she walks and plays; the way sound and musical notes on a page ebb and flow, rise and fall; and subtly by the 6-wire logo.
"Watching 6-wire perform at Carnegie Hall brought the vision to life," Orzada said. "It was a wonderful opportunity to share my creativity, along with that of my design team, with the UD community and promote the Department of Fashion and Apparel Studies' programs.
More about 6-wire and the concert
The Valentine's Weekend concert at Carnegie Hall, "6-wire and Friends," showcased the three-member ensemble as well as other UD musicians.
Founded by Gao, 6-wire is internationally known as a pioneering crossover ensemble inspired by the historical connection between the erhu, the Chinese two-stringed violin, and the four-stringed violin.
The ensemble-in-residence for the University's Master Players Concert Series, 6-wire features Xiang Gao, UD Trustees Distinguished Professor of Music, on violin, Cathy Yang on erhu and Matthew Brower on piano.
The Carnegie Hall concert, supported by the UD President's Office and Office of Development and Alumni Relations, also showcased collaborators from the University and beyond. Those included the UD Chorale, directed by Paul Head, Unidel Distinguished Professor of Music and director of choral studies; UD faculty cellist Lawrence Stomberg; James Allen Anderson, UD director of orchestral activities, leading the UD Chamber Orchestra and guest Tracy Richardson on harpsichord; and New York cellist Gabriel Cabezas.
The concert featured world premieres of the new works "Ealasaid" by UD faculty composer Jennifer Margaret Barker and "Meridian Flux" by composer Mark Hagerty, new original works and arrangements by 6-wire, and the New York premiere performance of "Clearwater Rhapsody" by MacArthur Genius Grant awardee Bright Sheng.
The event also served as a celebration of UD's global community. The English Language Institute, Institute for Global Studies and Office for International Students and Scholars, sponsors of the concert, sent a delegation of nearly 150 students to participate.
"Tonight is a celebration of the University of Delaware's innovative spirit and our dedication to excellence," Assanis told the audience. "Our students, our faculty, our entire community — they all benefit from a strong arts program. …This is why the University of Delaware is absolutely committed to music and the arts."