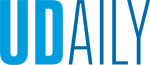 Words take the stage
Article by Ann Manser Photos by Evan Krape December 16, 2019
Visiting playwright shares his work with UD students, community
Kyle Bass was very young when he had his light-bulb moment about the importance of language, but he recalls it clearly even today.
"I was a really small child, but I remember that I suddenly realized there was a word for everything — every single thing! — in the world," he said.
"And I wanted to learn them all."
It was an appropriate start for Bass, who has gone on to become a successful playwright, a professor of creative writing and this year's Susan P. Stroman Visiting Playwright at the University of Delaware. Now in its second year, the initiative, which brings playwrights to campus to work with students, was funded by a generous gift from Stroman, an award-winning Broadway director and choreographer and a UD alumna.
Bass seems to have been born to be a playwright. Not only was one of his favorite childhood toys a set of vocabulary flashcards, but he also spent a lot of time deliberately listening in on adult conversations.
He said he loved hearing the back-and-forth flow of words, paying attention less to the content of what his parents and others said and more to the way they talked. He noticed how voices got louder with some topics, quieter with others and how women, especially, seemed to talk personally and intensely with one another.
As an undergraduate, Bass majored in English and focused on creative writing. His musical training led him to an initial interest in writing poetry, but he was probably already a playwright at heart.
He'd recite his poems into a tape recorder and listen to the sound of them. "I was my own audience," he said.
When he tried his hand at short fiction for a class assignment, the professor suggested that he think about writing for the stage because his stories had a theatrical style.
Also in college, Bass came to love the theatre. He accompanied a friend to opening night of a production of the Henrik Ibsen drama Hedda Gabler and ended up returning to watch all the subsequent performances.
"I almost couldn't believe that someone had created everything we were seeing on the stage," he said. "I couldn't get enough of it."
UD's visiting playwright series
Bass, now an assistant professor at Colgate University and associate artistic director at Syracuse Stage, as well as the author of numerous plays and screenplays, shared his creative process during two multi-day visits to UD during fall semester. He will return in the spring to work again with students.
During a week on campus in October, he spoke with groups of students, including a class that had read his play Possessing Harriet. Discussing the play and hearing the students' well-thought-out comments and questions was exciting, he said — "terrifying, but exciting."
He also led a two-day workshop billed as a playwriting boot camp, in which interested students were given a writing assignment, which they then presented and critiqued.
"Kyle Bass was an amazing instructor," sophomore Jalen Adams said of the experience. "I really enjoyed the workshop because it gave me the confidence to practice the craft of playwriting on my own in the future [and] helped demystify the process for me."
He said his primary interest is in screenwriting. He wanted to explore some of the similarities and differences between the two genres.
That's not unusual at UD or on other campuses, Bass said.
"I love teaching, and I've had very good students," he said. "But they often don't have much experience with live theatre and they're often much more attuned to the idea of writing for film or television, which they've been inundated with their entire lives.
"Writing for the stage is a really specific medium, and it's gratifying when you see students learn how to work with the smaller scale and realize the vital importance of dialogue."
That's what happened during the workshop for Farid Frisby, a first-year UD student who's been developing his skills as a screenwriter and never tried writing a stage play before. He said he quickly became aware that the kinds of "outside elements," such as car chases or special effects, that are possible in filmmaking are not available to playwrights.
"You are limited to the stage in a play, which means that your dialogue matters at the end of the day," Frisby said. "Overall, the experience opened my eyes to a new form of writing that I wish to explore in the future."
When Bass returned to UD in November, he worked with actors in the Resident Ensemble Players, the University's professional acting company, to perform a staged reading and audience talk-back for his play "Baldwin vs. Buckley: The Faith of Our Fathers."
The play re-creates the famous 1965 University of Cambridge debate on race between esteemed writer James Baldwin, who was outspoken about the legacy of slavery and racism in America, and noted conservative William F. Buckley. REP actors and a few UD student actors performed it on campus in late November.
Bass said he created the play after seeing a video of the debate and thinking, "These two men were both masters of using language. This should be seen live."
He transcribed the entire debate, including shouts from the audience and comments from the moderator, to create what has been called a "staged remix."
The play, Bass said, "is not my words. It's my arrangement of [Baldwin's and Buckley's] words."
John Ernest, the Judge Hugh M. Morris Professor and chair of the Department of English, said Bass' presence on campus offers "an exciting opportunity for students to work with an accomplished playwright over the course of the year" in a variety of collaborative activities.
"We are blessed to have Susan Stroman's support for this series devoted to encouraging the future playwrights who will expand the possibilities for American theatre," he said.
More about Kyle Bass and his work
Bass is the author of numerous full-length plays, including Possessing Harriet, Tender Rain, Bleecker Street and Separated. He is the co-author of Cry for Peace: Voices from the Congo and the author of numerous one-act plays and screenplays.
He is a two-time recipient of the New York Foundation for the Arts Fellowship, a finalist for the Princess Grace Playwriting Award and a Pushcart Prize nominee.
His current projects include a new play titled salt/city/blues and the libretto for an opera based on the life and music of legendary folk singer and guitarist Libba Cotten, commissioned by the Society for New Music.
From 2005-2018, Bass taught playwriting in Syracuse University's Department of Drama and theatre courses in the Department of African American Studies. He is now an assistant professor in the Department of Theater at Colgate University, where he previously served as the Burke Endowed Chair for Regional Studies.
He earned his master of fine arts degree in playwriting from Goddard College.