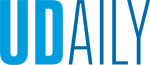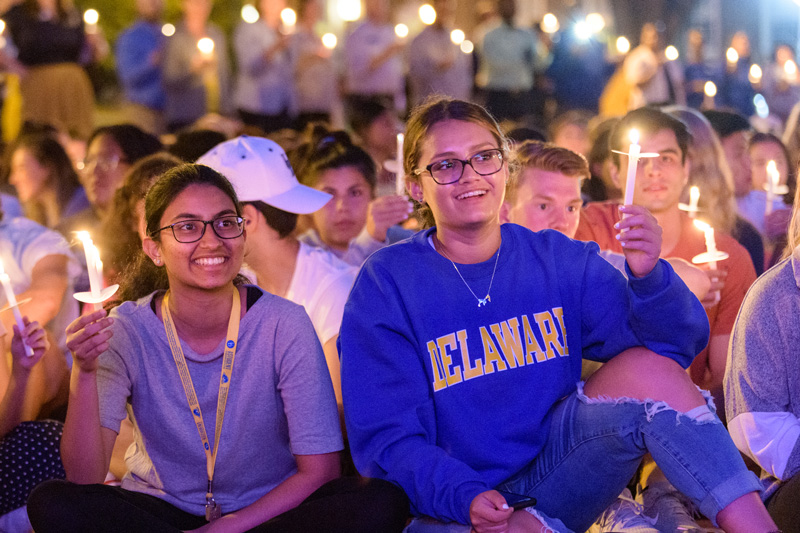 Twilight Induction 2019
Article by Carlett Spike Photos by Evan Krape and Maria Errico August 27, 2019
UD welcomes new Blue Hens
After a busy weekend of moving and getting situated, the University of Delaware's newest Blue Hens were officially welcomed to campus during the eighth annual Twilight Induction Ceremony on Monday, Aug. 26. The North Green was filled with students and surrounded by faculty, staff and members of the larger Newark community.
As the sun began to set in the gray sky, University President Dennis Assanis congratulated the class on making it to this moment.
"Tonight, we're excited to welcome more than 5,000 new students to the Blue Hen community, including those in our Associate in Arts program, our new transfer students and all of you," Assanis said.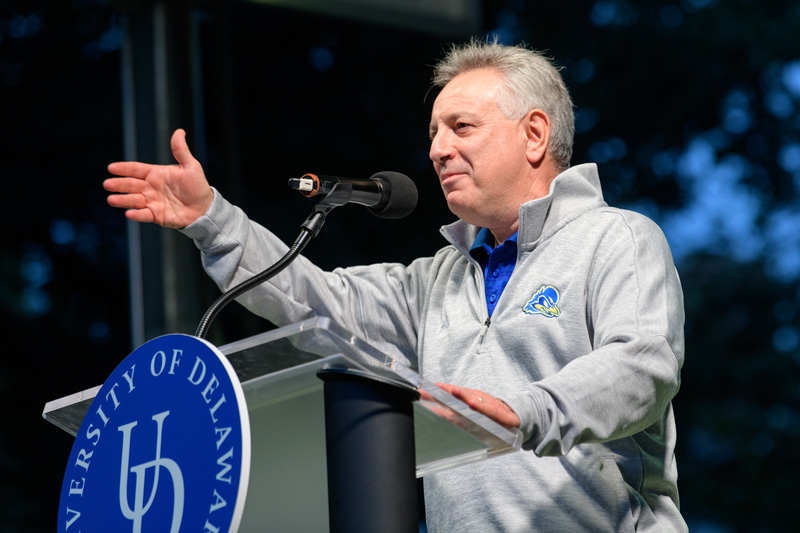 The ceremony was streamed on Facebook Live so students who are currently off campus could tune in. Assanis reminded them to embrace this moment as the start of something new. 
"Starting right here, right now, you get to write the script of your life story," Assanis said. "It's going to be a story of exploration and adventure, a story of friendships that will last a lifetime, a story of obstacles and perseverance and some setbacks and I'm sure a lot of victories, too."
The Twilight Induction Ceremony and Commencement are the only two events where the full class gathers, Assanis noted. The journey as Blue Hens begins immediately. 
"Wherever you are, you are all Blue Hens now," Assanis said. "And wherever you go in the world, you'll be Blue Hens forever."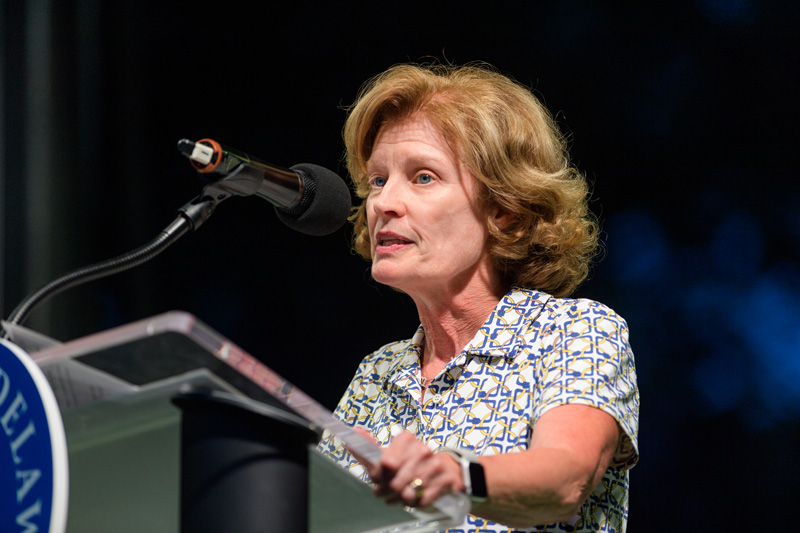 Provost Robin Morgan echoed Assanis' welcome as she too encouraged the class to embrace this moment. 
"Living in the present means that you are keenly aware of your senses, and you notice things around you," she said. "Everyday sights, sounds and smells are precious, but in our busy lives, they can fade into the background. Years from now, these ordinary things that are now part of your daily life at UD just might be what you remember and hold especially dear, so pay attention to them."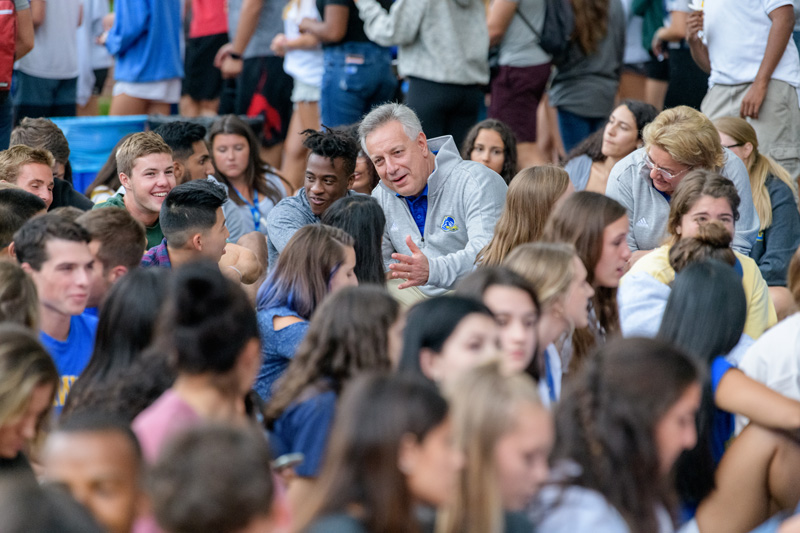 The ringing carillon bells, the whistling freight trains running through north campus and the crowing of UD's real-life Blue Hens are examples of sounds Morgan said she associates with the University. 
"Pausing to pay attention to your senses and appreciate the present moment is not wasting time," Morgan said. "My hope is that you will savor everything that UD has to offer."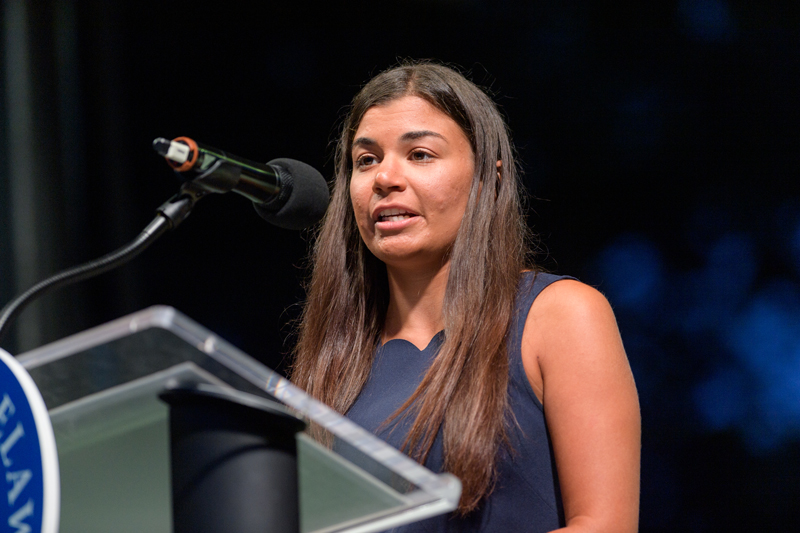 Student Government Association President Gianna Lorusso challenged the incoming class to build on the impact Blue Hens continue to make. 
"On behalf of the UD student body, I want to welcome you to the University that thrives on your passion and your ideas," she said. "You will quickly learn that being a Blue Hen is far more than just the degree you receive at graduation. Your time here will be defined by the impact that you make."
Linda Justice Myrick, president of the UD Alumni Association and a member of the Class of 1977, welcomed the new class to the network of more than 182,000 Blue Hens. 
"This moment right here, right now is your entry into a world of friends, mentors, coworkers, coaches, alumni, advocates and employers," she said. "The pin you will receive tonight, bearing the University of Delaware seal, is one you can wear proudly. It will remind you of your journey to get here and the accomplishments that it took, as well as the opportunities that lie ahead." 
Saray Lopez, a first-generation college student from southern Delaware, was chosen as this year's student speaker. Lopez is a junior majoring in human relations administration and minoring in organizational and community leadership.
College is a challenging and rewarding time, she said. She encouraged the class to make the most of all the resources UD has to offer and not to be afraid to ask for help. 
"This past semester, I decided to take on 18 credits while managing two leadership positions," Lopez said. "It made me realize that I did not know as much about time management as I thought I did. I took on too much at once, and was afraid to ask for help. … I reached a point where it was too much, and I had to ask for help."
Lopez said her adviser helped her manage her commitments effectively. "Having that amazing support system allowed me to finish the semester strong and reach my goal of making Dean's List," Lopez said. "The professors on campus are committed to helping you succeed. Ask for help; I cannot reiterate this enough."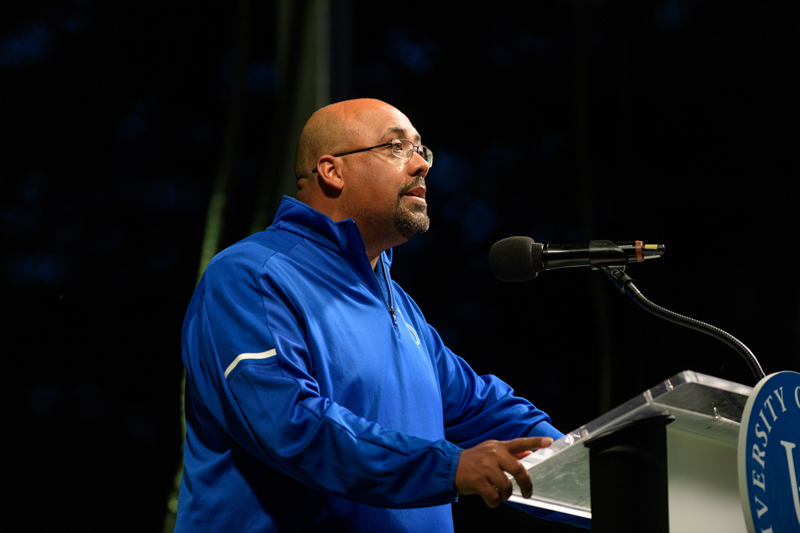 As dusk slowly faded to night, José-Luis Riera, vice president for student life, invited the crowd to light their candles and share the flame with the people around them. The lighting of each candle signifies faculty and staff commitment to ignite each student's learning and engagement at UD as well as the connection the students now share.  
"As the candles are lit, I encourage you to think about how you'll live the essential values of the community you're entering," Riera said. "Values you've just heard our University leaders invoke. I encourage you to think about what being a Blue Hen means to you."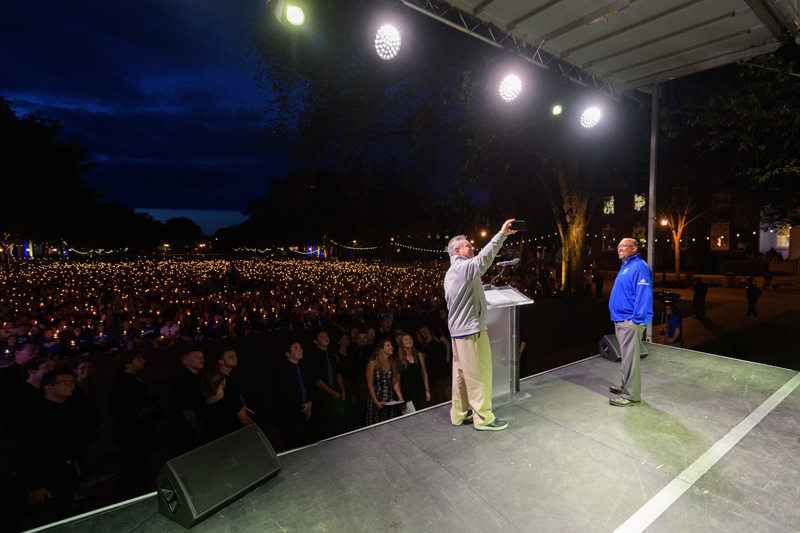 As the UD Chorale performed the alma mater and the lawn sparkled with thousands of little flames, the class cheered. Riera asked the crowd to raise their candles. 
"We're proud that you joined the University of Delaware community," Riera said. "Welcome, Blue Hens!"