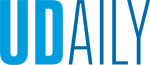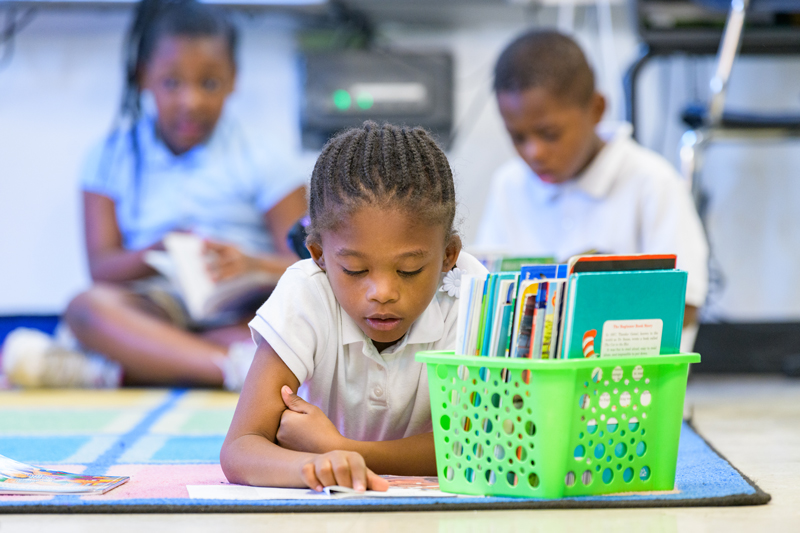 Learning to be 'Bookworms'
Article by Jordan Howell Photos by Lane McLaughlin and Evan Krape August 07, 2019
Innovative reading and writing program developed at UD impressing teachers
Not that long ago, some of Delaware's lowest-performing schools could be found in the neighboring school districts of Seaford and Laurel, both of which serve rural, high-poverty communities in the southwestern corner of the state.
In 2014, Seaford ranked last in English Language Arts (ELA) and Math, according to assessments by the Delaware Department of Education. Laurel wasn't faring much better, with 32 percent of students proficient in ELA and 20 percent proficient in Math.
Five years later, it's a different story. Seaford and Laurel are thriving and are among the districts showing the most impressive gains in proficiency. Last year, Laurel improved more than any other district in the state, and Seaford now outperforms the state average in reading and writing.
Closing the achievement gap between school districts depends on several factors, many of which are beyond the control of teachers and administrators. But in Seaford, improvements in ELA proficiency within elementary schools coincided with the implementation of Bookworms, an open access curriculum of lesson plans and resources for K-5 teachers published online by the nonprofit Open Up Resources. Seaford's success prompted Laurel to change their curriculum as well, and district leaders are already calling the implementation a success.
Developed by Sharon Walpole, professor in the School of Education at the University of Delaware, and her late colleague, Michael McKenna of the University of Virginia, Bookworms has grown from a single pilot project in Staunton, Virginia, to a national model for innovative, outcomes-driven ELA curriculum currently used by over 4,700 teachers in 11 states, according to data provided by Open Up Resources.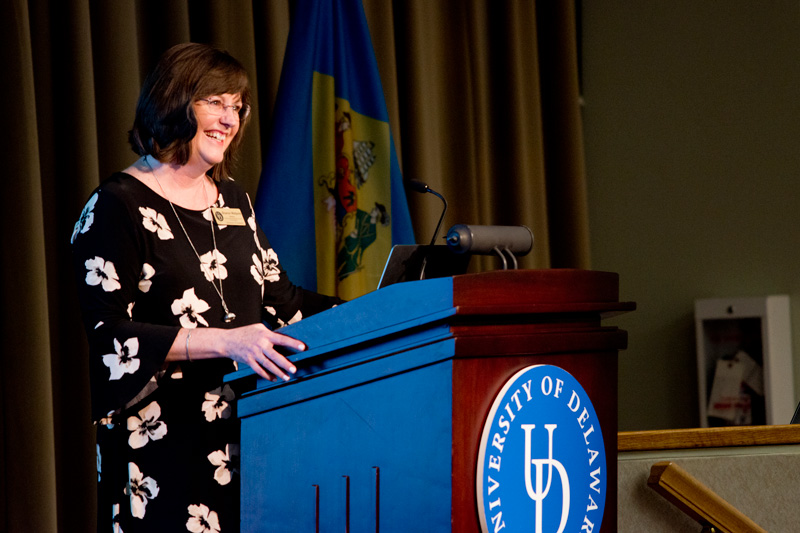 Bookworms uses "real books," as Walpole likes to say, instead of anthologies, which are ubiquitous in retail curricula offered by commercial publishers. When "real books" are incorporated into group or paired reading activities, the results are students who are challenged to read more words per day, and those daily-met challenges ultimately produce stronger readers. 
"If we want to change achievement then we have to change instruction. There's no other route to it," said Walpole in a keynote address before the first of two Bookworms Summer Institutes hosted by UD's Professional Development Center for Educators. Nearly 170 educators from Delaware, Maryland, Pennsylvania and Georgia attended the three-day event in June, which was organized and presented with assistance from local teachers who have become experts in the curriculum.
It's not enough for schools to teach reading and writing, Walpole suggested. They must provide a curriculum and learning environment for students to develop a love for reading. "A bookworm for us is somebody who reads all the time, and that's what we want children in elementary schools to be able to do," Walpole said.
The Bookworms Curriculum
Bookworms is more than just a curriculum of texts and lesson plans; it's a teaching philosophy with a deceptively simple premise: the more students read, the better readers they'll become. This is achieved by incorporating three 45-minute lessons throughout the school day, including shared reading, interactive read-aloud or writing, and small-group skills lessons for students who need them. Both fiction and nonfiction books are used to help students develop word recognition, vocabulary and reading comprehension.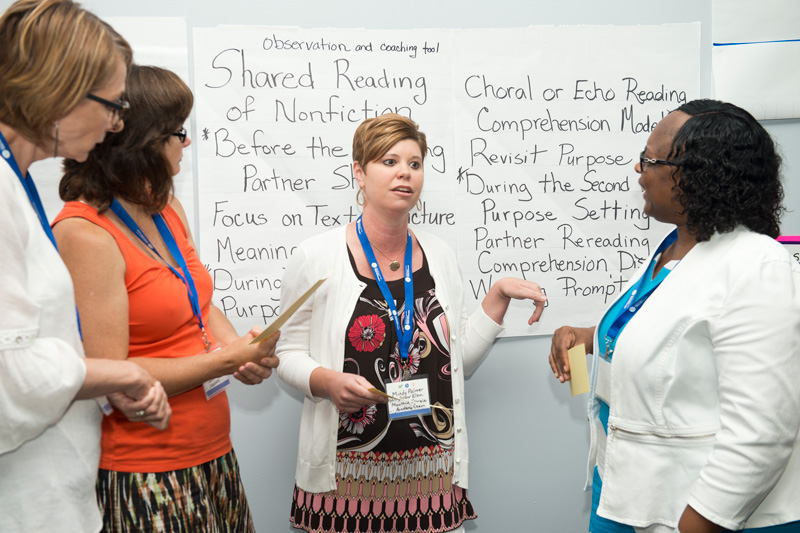 Walpole was inspired to create Bookworms after seeing a retail curriculum that included workbooks, posters, puppets and games—just about everything except age-appropriate, interesting, challenging books. 
"Research is squarely favoring the building of vocabulary through wide reading," she said. "If the materials are very limited in the number of words, then students aren't going to develop the vocabulary and syntactic knowledge that they need to be successful readers later on."
Upon being promoted to assistant superintendent of Laurel School District in 2015, Ashley Giska started investigating new ELA curricula for the district's elementary schools. Across the district line in Seaford, efforts were already underway to transition elementary schools to Bookworms. Walpole's team had begun coaching teachers and administrators in Seaford.
"In Delaware, one of the benefits here is our size. There was a lot of word-of-mouth talk about Bookworms," said Giska. "I do all the curriculum and instruction work at the Laurel School District; so in the circles that I sort of ran in, a lot of people were talking about this implementation happening in Seaford."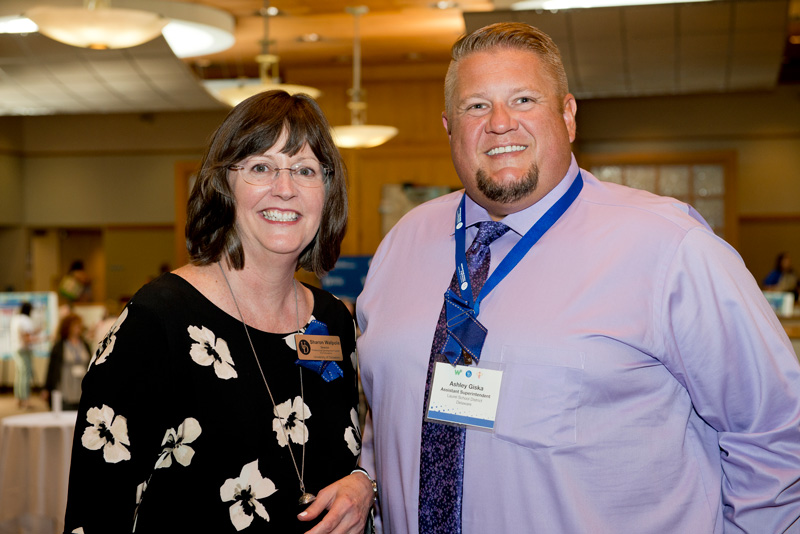 The more Giska learned about Bookworms, the more he wanted to bring it to Laurel schools. The advantages were numerous.
In addition to the curriculum's emphasis on "real books" and in-class reading activities, Bookworms is affordable by design. In Laurel School District, a commercial ELA curriculum for its elementary schools would have cost many hundreds of thousands of dollars, according to Giska. Implementing Bookworms — including the entire curriculum of roughly 1,100 lesson plans and class activities, professional development and staff coaching, and full sets of books for every elementary classroom in the district — will run Giska about one-third as much.
"All communities can have a great curriculum so long as it's inexpensive," said Walpole. "And Bookworms is really, really inexpensive."
The affordability of Bookworms has allowed Laurel's elementary schools to pursue initiatives that would have otherwise been a "pipe dream," explained Giska, like bringing in a highly-rated math curriculum to improve the overall educational experience. The savings have also allowed ELA initiatives beyond Bookworms.
"The focus going forward is building individual classroom libraries and to create this culture of literacy in our buildings," Giska said. "It's really transformed what it feels like in our schools. Kids are excited. They're engaged. They're reading. Those are the types of things happening."
Bookworms works
More than 40,000 students in 11 states are learning to read through the Bookworms curriculum, according to data provided by Open Up Resources, and the results are promising.
At Staunton City Schools in Virginia, where Bookworms was first implemented in 2011, gains were seen across the board among elementary students, with pass rates on the state assessment rising to 72 percent — an historic high for that community.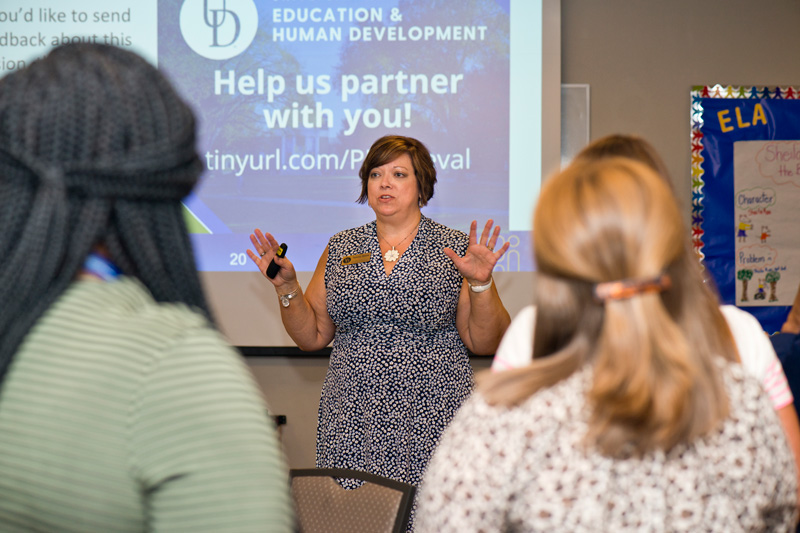 After the curriculum's pilot project in Staunton, Bookworms was implemented in grades 3-5 at three elementary schools in Jefferson County, Georgia, thanks to a Striving Readers grant from the U.S. Department of Education. Before Bookworms, nearly two-thirds of students were weak in reading comprehension. One year after implementation, Jefferson County students showed the strongest gains in every grade level compared to 20 other districts using different curricula measured by the same set of assessments. These gains were maintained or expanded in subsequent years. Bookworms has since been promoted by the Georgia Department of Education and is currently being implemented in school districts across the state.
The popular education blog Achieve the Core also recommends Bookworms. In the article, "We're Bullish on Bookworms," the authors wrote: "After one year, Bookworms schools gained significantly more than comparison schools in reading comprehension at every grade (3 – 5), and gained significantly more in reading fluency in grades 3 and 5. We know of no other program that has produced results of this magnitude so quickly upon initial implementation."
In August 2016, Cecil County Public Schools in Maryland implemented Bookworms in all 17 of the district's elementary schools. Since then, the district has shown steady improvement and schools are finally approaching parity with the state average.
In Delaware, the same outstanding results are being seen in Seaford School District. In 2015, ELA achievement for Seaford's third graders was 37 points lower than the state average, according to a 2019 case study of the Bookworms implementation in Seaford conducted by UD's Center for Research in Education and Social Policy (CRESP). By the time those students reached fifth grade in 2017, they outperformed the state average by a single point, and the district's Frederick Douglass Elementary School improved more than any other school in the state.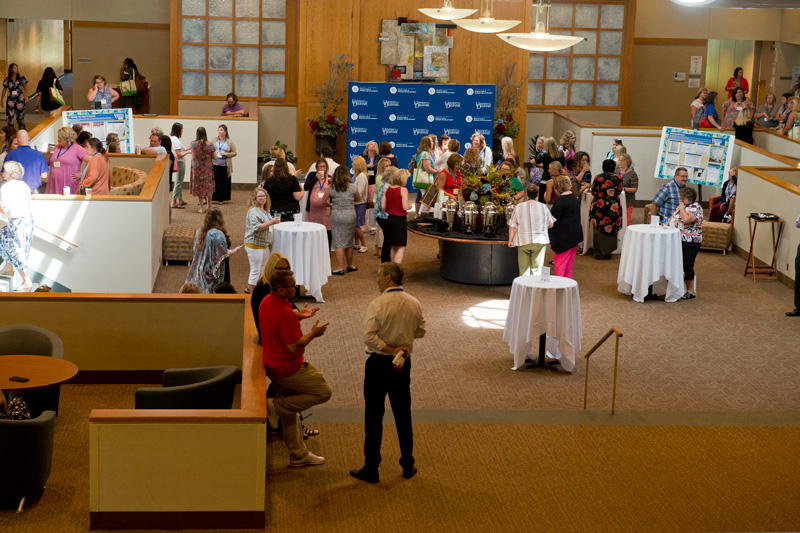 The Bookworms implementation in Laurel School District is still too early to yield meaningful results, but Giska said he is confident that the district will see results similar to Seaford.
"I couldn't imagine our first year going any better," said Giska.
In the coming years, Walpole's team will evaluate assessment data from additional schools and districts in Michigan, California, Illinois, Indiana, North Carolina, Utah and Wisconsin.
"The results were especially impressive in places where achievement was historically low and the students are living in poverty," said Walpole, adding that exceptional curriculum need not only be the province of wealthy school districts. "These kids can do well, but their teachers need a really good curriculum. They need evidence-based choices that they can actually afford."
For more information about Bookworms and how it can be implemented in your classroom, school or school district, visit Bookworms Summer Institute or visit www.pdce.udel.edu.