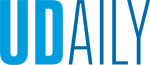 'Make it happen'
Article by Carlett Spike Photos by Evan Krape April 01, 2019
UD student Daniel Lanier, who is autistic, hopes to become a professional writer and producer
It's not uncommon to find Daniel Lanier writing in his notebook. The phrase Make it Happen is engraved on the cover. Lanier, a black man with autism, is passionate about civil rights for all and expresses this through his writing and music.
He dreams of becoming a professional writer and producer. Lanier said he remembers the connection he felt listening to the radio when he was younger. He especially likes gospel music and Marvin Gaye is his favorite artist.
Lanier is in the second year of the Career Life Studies Certificate (CLSC) program at the University of Delaware through the Center for Disabilities Studies (CDS). CLSC is a two-year certificate program for students with intellectual disabilities. Students take one UD class each semester and work with a coach on an individual level to develop life skills and career strategies. The overall goal is to help students transition to the next phase of their lives.
Arriving from a smaller program, Lanier said he was looking for a new opportunity.
"I decided to come to the University of Delaware because I wanted to experience a bigger campus," he said.
Through the program, Lanier has taken a theater class and a music theory class on soul and hip hop. He has also completed courses geared towards career development and works with his coach, Wes Garton, on organization and goal setting. He previously interned with the Rose Hill Community Center in New Castle.
Jay Sellers, CLSC program manger, said their goal is person centered, which for some of the students is completely new. In many high school environments the path is chosen for students. What makes CLSC unique, is the experience is built around what the students want to do next with their lives.
This approach seems to spell success for all. Sellers said last year, 100 percent of the CLSC students either landed a job or continued their education within three months of completing the program. At the start of April, there were 15 students in the program. Applications are accepted on a rolling basis. Tuesday, April 2, is the 12th annual World Autism Awareness Day.
Lanier said he has enjoyed his experience at the University, so he's decided that he would like to further his education. His goal is to enroll in Delaware Technical Community College and earn his associates degree.
Sellers said Lanier has embraced all CLSC has to offer.
"He's come here with some goals and he's done everything to achieve those goals by taking advantage of every resource that is available to him and that's what we want to see," Sellers said. "We want students to have the confidence of engaging as a citizen of the campus and in the community as a whole. He's really taken advantage of all that. He's done a great job."
Although CLSC students can live on campus, Lanier does not. The Center for Black Culture has become home base on campus for him. He often spends time studying or chatting with other students who are also hanging out at the center.
The CBC holds a lot a meaning to him.
"It gives me hope and strength on self-advocating for my civil rights," Lanier said. "I like to spend time at the CBC because it gives me a strong presence about myself as a futuristic black leader in black culture."
Self-advocacy is a key aspect of the program, Sellers said.
"You want to be able to be comfortable with your disability," Sellers said. "Whether you disclose it or not, you're going to have to figure out ways in getting help to solve problems, because everybody does it. That's not a disability specific skill."
Lanier has no problem disclosing his disability and asking for the help and accommodations he needs. He not only advocates for himself, but also makes a point to be an advocate for all.
He has attended disability policy seminars hosted by the Association of University Centers on Disabilities in Washington D.C., to discuss the issues and advance needed policies for people with disabilities. On the campus level, Lanier is working to create a newsletter for the CLSC community.
He ultimately wants everyone to have the same chance.
"People should have a right to have an education," Lanier said. "Disabled or not."