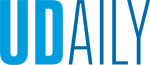 Chilean students visit UD: youtube.com/watch?v=aC764q-1krQ
Visiting Chilean scholars
Article by Lauren Bradford Photos by Monica Moriak and Ed Kee | Video by Isabel DiGiovanni April 24, 2019
Students from Chile's Universidad de O'Higgins experience life at UD
For the second year in a row, students from Chile's Universidad de O'Higgins visited the University of Delaware, where they participated in classes and experienced the cultural highlights of the northeast United States.
Through this program, developed and organized by the College of Agriculture and Natural Resources (CANR), eight Chilean students spent the month of February in courses that closely aligned with their respective majors at their home university. Four of the students were involved at CANR while the others took coursework through the College of Engineering and the College of Education and Human Development.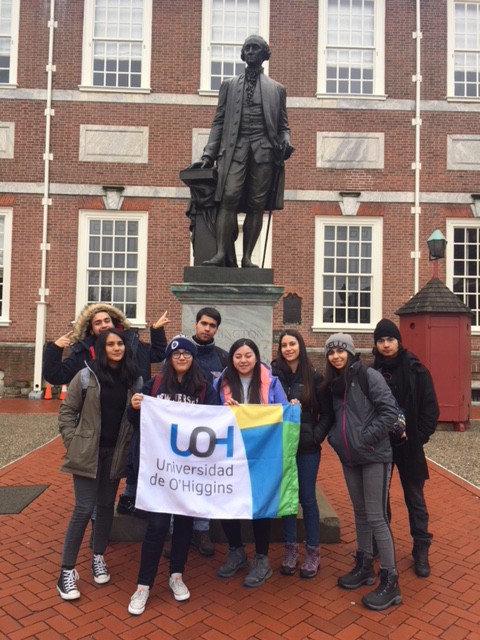 "The Universidad de O'Higgins is one of the newest universities in the world; it's only about two and a half years old. One of the goals they had for their university was to send students abroad early and often," said Mark Rieger, CANR dean. "On a visit that I made there a couple of years ago, we decided that we would have a pilot program here at the University of Delaware."
Students were committed to getting the most out of their short visit and enjoyed experiencing a different academic environment.
"I think it's a very good opportunity for all our students in our university," said Javiera Valenzuela, a junior studying veterinary science. "We get to know different things, different culture, different classes. I think the labs are my favorite part. I've been doing different things that I don't do at home."
Evenings and weekends were spent enjoying UD events and campus life. Students also took advantage of UD's location to explore New York, Philadelphia and Washington, D.C.
New to the program this year was the involvement of UD's English Language Institute (ELI). Students were immersed in language courses that allowed them to practice speaking, writing and reading English to support their coursework across the various colleges. These opportunities also allowed them to interact with other international students.
"Dean Rieger reached out about having this group of students stop by and get a sense for how English is taught here in the U.S. and we tried to place them in classes where they would be comfortable engaging, and where they could acquire some foundational skills while they were here. Although they study a fair amount of English back in Chile, they don't have an opportunity to practice speaking it that much," said MariaJose Riera, special programs advisor at ELI. "These students come to us with a lot of enthusiasm. They're just ready to go, ready to learn, ready to try new things."
To hear about their experiences and celebrate their time at UD, ELI hosted a certificate ceremony for the students before they departed to Chile.
"We wanted to thank you for being here with us," Karen Asenavage, associate director of the ELI and director for academic programs, told the visiting students at the ceremony. "You are very courageous and brave for coming and doing this. I know when I was studying Arabic I thought, just like you did with English, this is just too much for me. But I remember that experience to this day and it challenged me to realize that I can do it and you can, too. The one thing you need to know before you go is that now you are part of the ELI and UD family."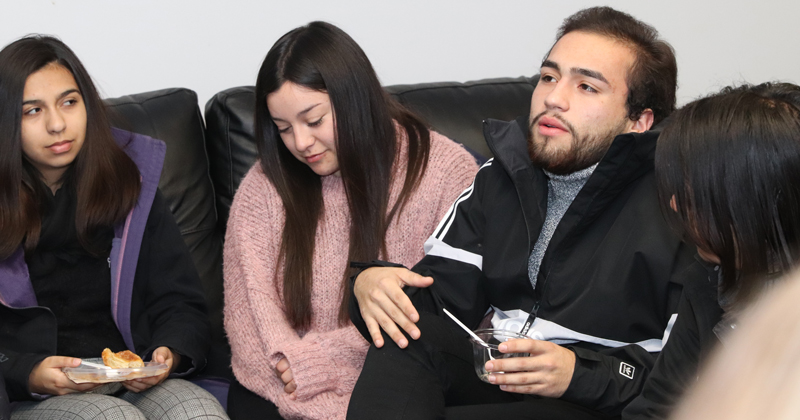 The partnership with Universidad de O'Higgins is a natural fit for CANR due to the long history between Chile's agricultural industry and the state of Delaware.
"When I was serving as Delaware Secretary of Agriculture, there was a great interaction with Chile," said Ed Kee, CANR executive in residence. "Wilmington is the largest port of entry for Chilean fruit. I met a lot of people involved in their industry and in agricultural education. Along the way, we started talking about students coming here. I think it's a great opportunity for students and faculty from both institutions to interact."
Because the Universidad de O'Higgins is so new, it must go through a five year probationary period during which time the school must prepare and apply for accreditation. Once that period is complete and accreditation is obtained, Rieger said he hopes to expand the program to create a formal research and student exchange.
"It's a complete eye-opening experience," said Rieger. "The students are seeing things for the first time. Very few of them have ever been to the United States. It's great to see them after a month goes by and see how comfortable they are. Their English is better and they've made friends. It's amazing the impact just a month makes and we're glad to be a part of it."
About ELI
Founded in 1979, the University of Delaware English Language Institute (ELI) offers the highest-quality intensive English programs for degree-seeking students, business and legal professionals, English language teachers, and general English language learners.
About Universidad de O'Higgins
The Universidad de O'Higgins is a Chilean state university founded in 2015. Serving the O'Higgins region of Chile, the university has an enrollment of more than 1,000 students and confers degrees in engineering, social sciences, education, medicine, agronomy and veterinary science.