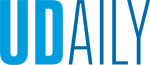 Experiential learning
Article by Carlett Spike Photos by Evan Krape April 26, 2019
Students in UD's introductory geology class hike White Clay Creek Park to learn outdoors
On an unusually warm overcast day in late March, a group of about 25 first-year University of Delaware students walked down a winding path in White Clay Creek State Park. June Hazewski, a master's degree student and the teaching assistant guiding the hikers, asked the class to look closely at the processes that were unfolding around them.
During the experiential learning trip, the students studied the bedrock and the water — giving perspective to the age-old geological concepts discussed previously in the lecture portion of the course.
"Our main goal is to get them to see that what we discussed and talked about in the classroom, actually does happen outside in the real world," Hazewski said. "Some people won't understand the concepts until they are actually seeing it happen. I think that, just in itself, makes the field trip invaluable."
In various ways, UD tries to make experiential learning part of every student's time at the University. The introductory class called "Geological Hazards and Their Human Impact" (GEOL 105 and the corresponding lab, GEOL 115), are vivid examples. The lecture covers basic information about a wide variety of topics including volcanoes, plate tectonics and earthquakes. The lab work is closer to campus in Newark, but it is no less real.
Jake Ciancio, a first-year student studying finance and economics, said he signed up for the class because learning about hurricanes and tsunamis sounded interesting. He enjoyed seeing how what they learned in lecture applied to real life during the hike.
"It was pretty cool looking down and understanding how that valley was made," Ciancio said during the hike in White Clay Creek State Park. "It was also pretty cool when we got to the end and got to see the dam and the water. It was definitely worth the walk."
Most of the students that take this class are not geology majors. The lecture and lab satisfy UD's breadth requirements which state all students must take a total of 10 credits from a select group of mathematics, natural sciences and technology courses including one of the associated labs.
During the 2018-19 school year, 739 students took the class, according to UD's Office of the Registrar, while almost 600 students took the corresponding lab.
Teaching geology
Claire O'Neal joined the University in 2015 and started out teaching the geology labs. Now, she teaches the lecture classes and works with a small team of teaching assistants to organize the labs. During the 2019 spring semester, the six lab sections each have with approximately 25 students.
O'Neal said her goal is to make the class as accessible as possible.
"We're trying to cover a ton of territory," O'Neal said. "Just so everybody who leaves this class, leaves with a reasonable background in geological processes."
O'Neal said she is very aware of the potential challenges that come with teaching non-majors, but she embraces it.    
"I think my responsibility as somebody who teaches a class for non-majors is to own that," O'Neal said. "I know that it's a class for non-majors. I know that nearly all of them are here with me to get their Group D [requirement] with a lab requirement, and that's fine. I think that makes the onus on them to be interested and to do the work. I try to make that expectation obvious."
O'Neal mixes the classes up with different activities including reviewing maps, quizzes with clicker questions and group work. She also makes a point to bring current examples to lectures about volcanoes, plate tectonics and earthquakes.
"It is much more real to talk about the eruption that was happening in Hawaii all summer long … but you're not going to find that in any text book," O'Neal said. "It's my responsibility to bring that to the class in a way that they can relate to and understand."
During spring semester, O'Neal also started a bad science movie night to further engage students. On a few Saturday afternoons during the semester, students were invited to watch movies including, Dante's Peak and Mega Fault. During the screenings, O'Neal challenged the students to point out any bad or illogical science, by throwing foam rocks at the screen. Students that attend these sessions can get extra credit if they write a short essay reflecting on the film.
Shannon Bogardus, a first-year student studying international relations, decided to take geology because of O'Neal's teaching style. O'Neal taught the First Year Seminar she took during the fall semester.
Bogardus never imagined what she'd learn in geology might actually be relevant for her career interests.
"A few weeks into the course I realized I could actually use this with my major," Bogardus said. "I want to work with developing countries to provide natural disaster relief and negotiate with other foreign policies. I think being educated in geology will help with that."
O'Neal said it's useful to talk to students about the impact geology is having on their lives now. Rising sea levels, the impact of climate on farming and even the state of the land for property owners are all real issues society has to grapple with — especially because humans are affecting the world around us.
"You really can't escape the human impact," she said.
Beyond Geology 105
Most students who end up majoring in geology, make the decision after taking a couple of courses. That was the case for Hazewski.
She entered UD as an environmental science major and switched to earth science education. It was there that she began taking geology classes.
"That was my first introduction to geology," Hazewski said. "We didn't have that in the high school that I went to. So that really kicked off everything for me and I realized that there was so much that we could still study about the world and the planet that we live on."
Now she is in the second year of her master's program studying geochemistry. Her research focuses on silica dissolution, which explains larger impacts like regulating earth's climate.
Geology is part of UD's College of Earth, Ocean and Environment. After Geology 105, other courses in the major include Earth Materials, Surficial Processes, Sedimentology and Stratigraphy, Structural Geology and Plate Tectonic and Field Geology. During sophomore through senior year, geology majors are encouraged to participate in field trips to locations across the United States, including the Grand Canyon and Death Valley.
As of spring semester, 57 students were majoring in geological sciences or earth science education and 30 students were pursuing minors in geology or coastal and marine geosciences.
The combination of learning in and out of class has spelled success for UD geology majors. Graduates have gone on to work for a variety or organizations including the Delaware Department of Natural Resources and Environmental Control, the New Jersey Department of Environmental Protection and BrightFields, Inc., in jobs ranging from hydrogeologist to paleontologist.
Geology was previously named one of the 15 most valuable college majors by Forbes magazine among a list of others including software engineering and statistics.
"The reason why it's a best value major is because you can get a job with just a bachelor's degree," O'Neal said. "There aren't a lot of science degrees that you can do that with."