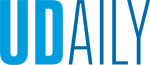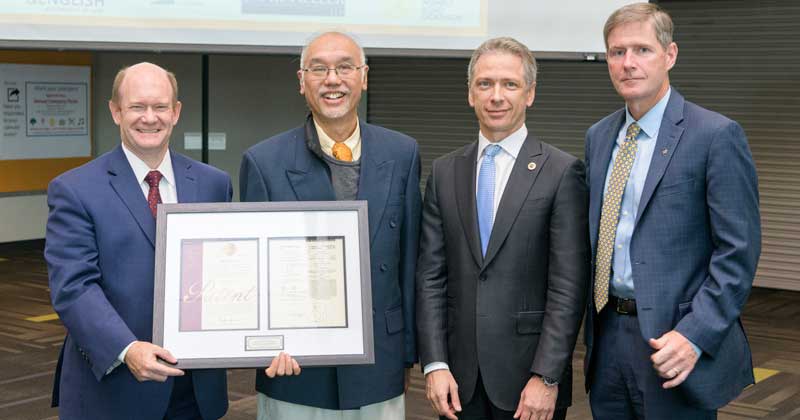 UD inventor recognized for ingenuity
Article by Karen B. Roberts Photo by Evan Krape September 21, 2018
Physicist Siu-Tat Chui acknowledged for patent with wireless applications
Wireless communication is used for everything from smart devices, such as phones, thermostats and voice controlled personal assistants, to GPS systems, satellite television, driverless cars and more.
Society's increasing dependence on wireless technology is crowding the frequency highway, leading researchers to search for access to higher frequencies above the "noise" of the current communication spectrum.
University of Delaware Professor Siu-Tat Chui, a physicist in the College of Arts and Sciences (CAS), recently patented an idea he said he thinks can overcome this bottleneck using a very simple, inexpensive electromagnetic detector that leverages the power of light to access a band of radio frequencies known as millimeter waves (MMWs). These waves are a mostly untapped part of the communication bandwidth that operates at extremely high frequencies.
Delaware U.S. Sen. Chris Coons and Andrei Iancu, director of the U.S. Patent and Trademark Office (USPTO), recognized UD's Chui during a reception about the importance of protecting American innovation and intellectual property on Friday, Sept. 21, at Agilent Technologies.
Sponsored by the Delaware Bioscience Association (DelawareBio), the event was designed to open a constructive dialogue between industry, researchers and policy makers. In today's global economy, protecting America's intellectual property from infringement and trade secret theft is considered critical to sustained innovation and economic growth.
"Innovation and intellectual property are at the center of what has made Delaware special, and has allowed the state to thrive, grow and attract people from around the nation and globe," Coons said. "Science matters deeply to our community and to our country, and the federal role in science is one I value highly."
Coons noted that Delaware's Federal District Court is now the busiest patent court in the United States.
Signed by President George Washington, the first U.S. patent was awarded in 1790 to Samuel Hopkins for improvements in "the making of pot ash and pearl ash," according to the U.S. Patent and Trademark Office website. The USPTO issued patent number 10 million earlier this year, on June 19.
Yet, according to Coons and Iancu, patent eligibility laws have not changed in decades, something they hope to change in the future to ensure that the rights given under an invention disclosure are more reliable and predictable.
Iancu called innovation a key driver of economic, industrial and societal development, and said he sees a need for today's community of leaders to balance today's pop culture society with messages about science, technology and those who practice it.
"There was a time when inventors were considered heroes," Iancu said. "After all, it was inventors like Thomas Edison and the Wright Brothers that brought us life-changing innovations, such as light and flight.
"We want to talk about the Thomas Edisons of the world because kids do want to grow up and be those guys," Iancu said. "It is critically important for the future of our country that we change the discourse … and give the next generation role models of science and technology that they can aspire to be like."
Ingenuity is alive and well at UD
At a tier-one research institution like UD, where innovation and ingenuity are part of the culture, patents are a key protection. Brad Yops, director of technology transfer and assistant director of UD's Office of Economic Innovation and Partnerships (OEIP) and his colleagues help faculty and other University researchers evaluate and triage approximately 50-60 invention disclosures per year, placing UD on par with or slightly ahead of other U.S. academic institutions in terms of innovation output.
"The general rule of thumb is that, on average, you should expect to see about one invention disclosure for every $3 million in research expenditures. At UD, it's not unusual to see disclosure numbers about 20 to 30 percent above this rate," Yops said. UD had $145 million in sponsored research expenditures for fiscal year 2018.
Patenting an invention, though, doesn't mean it will lead to a product on the market. First, inventors like Chui must demonstrate that the product can be made to perform as intended. Then the technology needs a viable market, a company or an industry that sees the invention or innovation as valuable and, ultimately, as something that customers will buy.
This is an important area where UD's technology transfer professionals in OEIP can help inventors assess the patentability of their idea, perform the investigative work necessary to understand the uniqueness and strengths of the invention to industry, and actively market UD inventions to industry partners.
For Chui, next steps in making his invention a reality include taking his patented idea from mathematical calculations to a proof-of-concept device that can be tested.
"Based on my calculations, it should work. We'll find out," said Chui, a 40-year veteran of UD's physics and astronomy department who holds two other patents as well.
So, how does Chui's proposed technology work?
MMWs operate at extremely high frequencies in the electromagnetic spectrum from 30 to 300 gigahertz, and, according to Chui, conventional MMW detection technologies are too expensive to be commercially developed for the standard consumer.
This is where Chui's idea for an inexpensive electromagnetic detector that employs cheaper, more cost-effective sensors that leverage the power of light could come in handy.
By focusing light onto a sensor made of a simple metal, in this case bismuth, Chui hopes to leverage the light's innate electric field to create a voltage that can be measured, and subsequently amplified, into a strong enough signal to transmit information effectively in these seldom used higher frequency ranges.
"The light will come into the device and bend around the sensor's perimeter and generate a magnetic field which, together with the light's electric field, produce a voltage," Chui said.
Because of its simple approach and use of low-cost materials, the technology is flexible and can be used at lower, more traditional frequencies like radio waves or infrared, too. Additionally, because the device measures the magnetic field producing the electric charge (known as the Hall effect) instead of measuring a temperature change, Chui believes the technology would avoid challenges facing competing technologies that require cooling devices to keep the sensors running properly.
Given the global quest for faster communications and increasing demands for wireless bandwidth, it might seem unexpected that no one has considered using physics to address this communication problem before, but Chui didn't seem surprised.
"Things are always simple once you know the answer," Chui said.