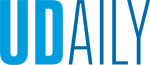 UD helps community gardeners
Article by Dante LaPenta Photo by Kathy Atkinson October 08, 2018
UD Master Gardeners and Main Towers residents team up on Newark community garden
On a pair of high-rise gardening beds behind Main Towers in Newark, a small, but growing group of resident gardeners gathers every week. Their community garden at the independent senior living complex is bursting with tomatoes, beans, peppers and summer squash.
"We each take our turn watering. Then we meet as a group on Wednesdays to fix and fertilize," said Main Towers resident Catherine Hoddinott. "It's really fun coming out here."
The effort is guided by Master Gardener volunteer and educator Rick Judd. The former scientist and gardening enthusiast retired a few years ago. Wanting to further develop and share his gardening knowledge, he trained to become a certified master gardener through University of Delaware Cooperative Extension.
The connection between Main Towers and Judd began when the independent living facility for Newark seniors took part in a healthy eating initiative. Main Towers' management company, Arbor Management, LLC sent high-rise garden beds to many of its properties. A few months after staff and residents started the garden, the results were somewhat underwhelming. Wanting to increase the yield, service coordinator Pam Glandton contacted Master Gardeners, which distributes research-based information from the UD College of Agriculture and Natural Resources and the horticulture industry to home gardeners.
"We had a lot of residents who wanted to eat fresh from the garden," said Glandton. "Rick has really helped our residents. He's taken the project to another level."
Judd initially visited Main Towers in late 2017. He relocated the garden to get more sun and taught the residents how to plant a variety of season-appropriate crops. He's encouraged Square Foot Gardening and intensive gardening principles — with the collective goal of a premium yield. The residents have grown a wide assortment of vegetables and fruits, including carrots, turnips, Swiss chard, lettuce, spinach, peas, tomatoes, squash, green beans and beets, to name a few.
"They needed some training, but the residents' enthusiasm level is fantastic. I have enjoyed it immensely," said Judd, who has worked with a bevy of community gardens throughout New Castle County. "A community garden like this is wonderful because it allows you to share food with others, share your knowledge and work together on a common undertaking."
As interest increases, the goal for next year is to expand and get more high-rise beds.
"I've always gardened as a hobby because it's therapy. I've been coming to work on our [Main Towers] garden since the very beginning — doing whatever I can to help out," said resident Gail Brison.
Master Gardener Volunteer Educators offer workshops, presentations, youth education and diagnostic services as well as helping to create demonstration gardens.