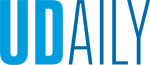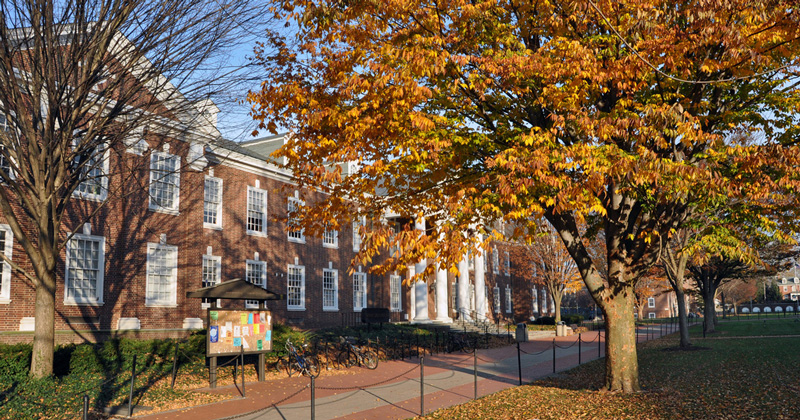 Haunted history
Article by Ed Okonowicz Photo by Evan Krape October 30, 2018
After 275 years, some things remain mysterious
Editor's note: The following story appeared in an earlier edition of UD Magazine, but raises some interesting questions on the eve of Halloween.
As the University of Delaware shines a spotlight on its illustrious history, it's only proper that we also lift the covers into our shadowy, unspoken past. Peering back into the darkness, we discover a town populated by restless spirits, visited by wrathful souls and confronted even today by the persistent presence of lives forever enshrined by legend and immortalized in lore. Join us now, as we journey through our lesser-known, but rather intriguing, haunted history.
The ticking tomb (Circa 1764)
Jeremiah Dixon and Charles Mason, creators of the famous Mason-Dixon Line, established a headquarters at Newark's St. Patrick's Tavern — located for many years on or near the site of the present-day Deer Park Tavern.

Mason, an inventor and mathematician, was involved in a contest — sponsored by the British Parliament — to develop a chronometer, which would accurately measure longitude at sea. The prize at the time was significant, about 20,000 pounds sterling (equivalent to 3.5 million pounds sterling on Oct. 30, 2018).

While bartering for supplies at the surveyors' tent city, located near Landenberg, Pennsylvania, a fishwife's son wandered into Mason's tent and swallowed his invention — but the small metal device continued to tick inside the youngster's body.

Distressed, Mason cursed the boy, stating: "May my creation function until the end of time, proof that I would have won the celebrated prize."

The hungry young thief, named Fithian Minuet, grew up to become a clockmaker, and is buried in the Hardshell Baptist Graveyard, about a mile north of the Pennsylvania border, off Route 896, at the base of South Bank Road.

If you locate Fithian's flat stone marker, it is said that you can still hear the "tick, tick, tick" of the "Ticking Tomb."

Academy building (1777)

An Academy of Newark student quit school to fight with Washington's army during the British invasion of the northern Delaware region in August 1777. When the lad's father learned of his son's absence from the Academy, he entered the patriot campsite near Iron Hill, grabbed his son by the ear, and delivered him back to school — causing the boy considerable embarrassment.

The deadly effect was discovered the next morning, when the young man's body was found swinging from a handmade noose in the cupola of the Academy Building.

Some late-night Main Street revelers have reported brief sightings of a ghostly figure in that location. But such reports seem to increase with the lateness of the hour and the amount of spirits ingested.

Entrance to the haunted location in the historic building is restricted and difficult to find. Even long-time employees don't know where the secret access to the steeple is located.

Headless horseman (1777)

An historic church graveyard — located along Welsh Tract Road, off Route 896 south of Delaware Stadium — is associated with Delaware's Headless Horseman.

A British cannonball decapitated Charlie Miller, a young Colonial volunteer during the Battle of Cooch's Bridge. Visitors can see a small patch, located between two larger windows, on the west side wall of Welsh Tract Baptist Church (not far from Boston Market).

To passers-by, the mismatched bricks look like a tiny window has been sealed; however, legend claims Miller lost his head as he rode his horse across the boneyard during the skirmish. Remnants of his missing noggin could be a permanent part of the noticeable repair.

Reports claim the haunted horseman continues to search for his head — along the I-95 median strip, beside backed-up weekend traffic at nearby tollbooth lanes, and along wooded sections of Welsh Tract Road.

Old College murder (1858)

Old College is the site of a centuries-old cold case involving the murder of student John Edward Roach.

An annual literary contest between rival classes turned deadly when students discovered the opposing team had created an unflattering printed program, which it planned to distribute to fellow students and visiting families and guests.

The day before the contest, students threatened to burn the prank program and a fight ensued. Roach was later found bleeding to death at the building's main entrance doorway.

The boy's throat had been cut, and three suspects were taken to jail in New Castle for interrogation. Due to conflicting reports and legal technicalities, however, no one was convicted of the crime. Still, there might have been a touch of poetic justice.

About a year later, one of the former students believed to have been involved in the murder was working in a steam factory in Baltimore. An explosion caused a sharp piece of metal to fly across the workroom and cut the boy's throat — creating a wound eerily similar to the injury that had killed Roach.

During renovations to the historic campus building, unexplained sounds, missing items and shadowy figures have been reported.

Elmo in Mitchell Hall

Elmo's tale has no historical basis, but like some of the best folklore, it has survived through word-of-mouth for generations. Indeed, even the origin of the friendly phantom's distinctive name remains a mystery.

Legend has it, a college workman fell to his death from a tall scaffold while conducting repairs to the interior dome in Mitchell Hall.

The classic theatre has since hosted hundreds of performances and productions, but also seems to harbor a few restless and, at times, helpful spirits — collectively given the distinctive name Elmo.

A woman and two small children, dressed in pajamas, have appeared in the balcony, then disappeared suddenly. Stage props and tools have gone missing, then resurfaced minutes later. Lights and power equipment have turned on and off unexpectedly. Unexplained laughter during late evening rehearsals has unnerved cast members and cut sessions short. And actors who have forgotten their lines report someone, or something, has whispered forgotten dialog while they were on stage. Many even admit offering a whispered "thank you" to the theatre's helpful phantom-in-residence.

Then there's . . .

Available space doesn't allow tales of agitating apparitions that roam these hallowed halls…or unnerving reports in modern structures built atop forgotten sites…or paranormal activities inside Kirkbride Hall, Alumni Hall, Elliott Hall, Memorial Hall…or off-campus rental properties harboring mischievous wraiths.

Just to name a few.