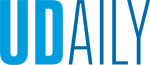 $25 million for research
Article by Kelly Bothum Photo by Evan Krape October 26, 2018
UD is lead institution in program funded by NIH, State of Delaware
The University of Delaware and four other institutions will receive $25 million over five years from the National Institutes of Health and the state of Delaware to continue research programs that improve patient care and public health, officials announced Friday.
Delaware's Center for Translational Research ACCEL Program will continue its efforts to bolster and expand clinical and translational research in the First State, thanks to the grant renewal from the federal and state agencies.
As part of the renewal, the ACCEL Program grows to five institutions with Delaware State University joining UD, Christiana Care Health System, Nemours/Alfred I. duPont Hospital for Children and the Medical University of South Carolina (MUSC) to support faculty who are interested in research by providing access to needed funding and professional development programs.
"These partnerships are essential to increasing research opportunities that lead to innovations in healthcare, further develop our biomedical workforce and improve the health of our residents," said UD President Dennis Assanis. "We all benefit when faculty members have access to the resources they need to effectively collaborate on clinical and translational research. What's most important is that this program can help lead to better outcomes in diagnosing, managing and treating the health conditions that most affect our state and the nation."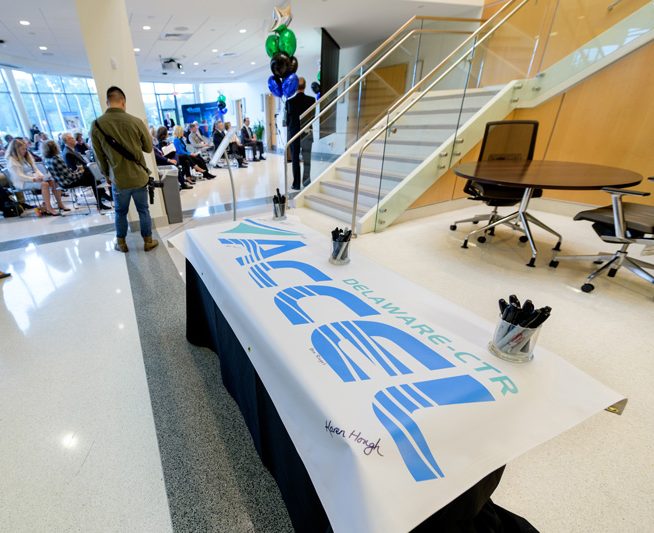 The power of these research partnerships was highlighted Friday morning during a renewal ceremony for the ACCEL Program held in the Health Sciences Complex atrium on the Science, Technology and Advanced Research (STAR) Campus. Gov. John Carney, Lt. Gov. Bethany Hall-Long, Sen. Chris Coons and U.S. Rep. Lisa Blunt Rochester joined President Assanis and other local elected leaders to recognize the impact of ACCEL in developing a stronger research culture in Delaware and also celebrate the growing collaborations that are being made possible by its renewal.
"The ACCEL program exists to help promote research that's important to the health of Delaware and the nation," said Stuart Binder-Macleod, principal investigator of the ACCEL Program and associate vice president for clinical and translational research at the University of Delaware. "Adding Delaware State University expands the work we are doing to improve health, grow out community engagement efforts and drive economic development in Delaware."
NIH funding mechanism
ACCEL is funded through the NIH's Institutional Development Award (IDeA) program, which aims to build research capacities in states like Delaware that have historically received low levels of NIH funding. Ten programs are currently funded by the NIH. The program also receives $1 million each year in matching funds from the state of Delaware.
"State matching funds are integral to the program's activities and success," said Charles Riordan, vice president of research, scholarship and innovation at UD. "This clinical translation research program is, among its myriad activities, improving access to high-quality and safe healthcare for Delawareans."
UD and its partners were awarded the first ACCEL Program grant in 2013. The ACCEL Program provides infrastructure-building resources such as pilot funding, research design and bio-statistical consultation support, mentoring assistance, and community engagement opportunities to implement and expand clinical and translational research. The goal is to promote innovation, improve health outcomes and advance research careers in Delaware.
Since its inception, ACCEL has focused on community engagement and outreach. It developed a needs assessment to determine areas of focus in Delaware and also has a strong community advisory council that helps build connections for research and clarify best approaches to solving health problems.
In the past four years, ACCEL efforts have led to $5.1 million in pilot grants awarded and an additional $31.6 million in external grants to awardees. Binder-Macleod, the Edward L. Ratledge Professor of Physical Therapy at the University of Delaware, said that for every $1 in funding provided through the ACCEL program, about $10 is returned to the state.
Small infusions can help
Even relatively small infusions of funding can help researchers make valuable connections that lead to bigger changes in patient care and outcomes, Binder-Macleod added. Last year, Tze Chiam, associate director of research informatics at Christiana Care, received a $10,000 grant from ACCEL. The funding allowed him to travel to meet with faculty from Purdue University's School of Engineering and the Regenstrief Center for Healthcare Engineering to talk about ways to predict the impact of health policies using engineering techniques.
Their ideas about optimizing patient flow have already resulted in changes in oncology treatment at Christiana Hospital, as well as publications and a grant submission.
"Christiana Care is committed to helping our Delaware community achieve optimal health, and the renewal of the ACCEL grant means that we are taking another significant step towards achieving that goal," said Mia Papas, corporate director of Christiana Care's Value Institute. "We look forward to collaborating with our ACCEL partners to unearth research discoveries that will improve the health and lives of the population we serve, and we aspire to share our findings with investigators and clinicians throughout the nation to improve population health."
ACCEL also has aided investigators who submit proposals to the NIH that receive good scores but who need additional data to support their resubmission application. That includes researchers like Matthew Cohen, an assistant professor in the Department of Communication Sciences and Disorders, who submitted a strong proposal to the NIH/National Institute on Deafness and Other Communication Disorders that didn't receive funding because reviewers wanted more evidence of feasibility.  
"The ACCEL Shovel Ready Grant is providing exactly what I need to collect more pilot data; short-term funding to compensate participants and support a study coordinator," Cohen said. "I am very grateful for the Shovel Ready mechanism and for the CTR in general."
Delaware State joins group
Melissa Harrington, associate vice president for research at DSU, called the addition of her institution to the ACCEL Program a "game changer," especially as the institution continues to grow its research faculty in the area of health science.
"The ACCEL grant will help DSU faculty launch health-related research projects and get external funding for their research," she added. "It will also bring DSU investigators into a community of researchers across the state and in South Carolina who are doing clinical and translational research."
Both Delaware and South Carolina have benefited from relationships developed through ACCEL, said Steve Kautz, director of the Center of Biomedical Research Excellence (COBRE) in stroke recovery at MUSC. Funding from the ACCEL program has helped strengthen MUSC's rehabilitation program, with nearly $1.5 million awarded to the institution's recruits and junior investigators. At the same time, Delaware has benefited from the advanced state of clinical and translational research at MUSC.
"We have seen a few inter-state research collaborations at the individual level. A big benefit for ACCEL has been that they have been able to import a number of best practices from MUSC for supporting clinical and translational research," Kautz added.
Michael Peterson, a member of the ACCEL executive committee, said ACCEL has served as a mechanism to develop shared values about clinical and translational research as well as identify the state's health priorities and how best to work together on those.
"Its continuation is really a wonderful opportunity to build upon the work accomplished in the first five years by adding additional institutions and community partners to increase our research capacity to address and improve the Health of Delawareans across the State, especially those in greatest need," said Peterson, a professor in the Department of Behavioral Health and Nutrition in the UD College of Health Sciences.