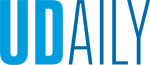 In Memoriam: Joe F. Moss
Article by UDaily staff November 29, 2018
Campus remembers emeritus professor and nationally known artist
Joe F. Moss, professor emeritus of art and design and a widely respected sculptor, painter and multimedia artist, passed away on Nov. 14, 2018. He was 85.
One of his students, David Meyer, now associate professor of art and design at UD, remembers Prof. Moss as "a very thoughtful individual who cared deeply for his students and took pride in their accomplishments."
"As a professor at the University of Delaware, he dedicated much of his own personal time and efforts to building the Sculpture Area into an active and successful program," Meyer said. "The legacy of his commitment and dedication lives on in the program and in the hearts of his former students. He once stated upon retiring, 'I am retiring from teaching with only one regret. I am going to miss very much the pleasure and excitement of working with students. The core of my best friends in life is my family and the many students who have become my family.' I count myself one of the fortunate students who had the pleasure to be a part of that great sculpture family."
In 1970, Prof. Moss joined the faculty of the University of Delaware's art department and started the sculpture program. He focused his work on studying acoustics and creating interactive environmental auditory sculptures. The recognition of this work led to an invitation and appointment as an artist fellow at the Massachusetts Institute of Technology, Center for Advanced Visual Studies. His work has been exhibited in a wide variety of museums, including the Museum of Modern Art in New York, the Boston Museum of Science and the Delaware Art Museum in Wilmington.
After 29 years, he retired as a professor emeritus from the University. Upon his retirement in 1999, a sculpture exhibit paying tribute to Prof. Moss was held on campus. Featured in the exhibit were five graduates of UD's sculpture program, including Meyer. Another alumnus featured in the show, sculptor Roy Wilson, told UD's Messenger magazine, "While studying under Prof. Moss I learned a great deal about a world of ideas and form that had previously been invisible to my eye. Art is a tough business to make a living in, but its practice exceeds all others in offering the priceless powers of individual expression, self-reliance, inventiveness and the ability to see beyond your own spot in the universe. I appreciate what I received from contact with professors and students of the art department. I appreciate Joe Moss' trust, support and willingness to share his creative time and energy with his many students."
Prof. Moss was born in Kincheloe, West Virginia, on Jan. 26, 1933. He graduated from West Virginia University in 1955 with a bachelor's degree in art and went on to receive his master's degree in art in 1960. After graduating, he taught art at West Virginia University before coming to Delaware.
He was preceded in death by his parents, Thomas R. and Audra (Frazier) Moss, and is survived by his wife of 26 years, Daphne Moss; his children, Marc Moss of Red Hook, New York, Eric Moss of Baltimore, Maryland, and Keith Moss of Newark, Delaware; his step children, Erik Brauner of Seattle, Washington, and Kaaren Burnett of Salem, Oregon; and his sisters, Betty Moss of Bensalem, Pennsylvania, and Elaine Kinzer of Buena Vista, Virginia; and 11 grandchildren.

A celebration of Prof. Moss' life with friends and family will be held at a later date.
Condolences may be left online.