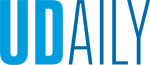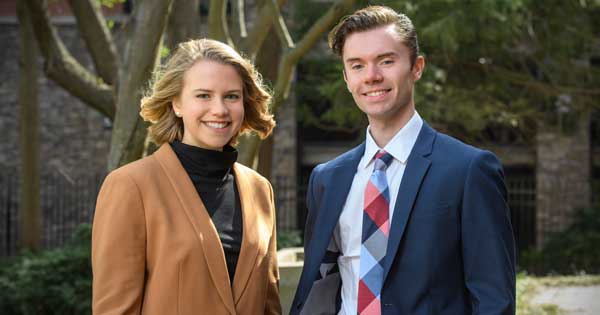 UD Alumni Association announces awards
Article by Nicholas Michael Photo by Kathy F. Atkinson May 11, 2018
Graduating students, distinguished alumni honored
The University of Delaware Alumni Association (UDAA) recently announced some of its most prestigious awards to honor UD graduating seniors and alumni: the 2018 recipients of the Emalea Pusey Warner and Alexander J. Taylor Sr. Outstanding Senior Awards, the Outstanding Alumni Awards and the Alumni Wall of Fame Awards.
Warner and Taylor Awards for Outstanding Seniors
The Emalea Pusey Warner and Alexander J. Taylor Sr. Awards annually celebrate an outstanding woman and man, respectively, of the senior class. Recipients must demonstrate leadership, academic success and community service. Students must also have a cumulative grade point average of 3.0 or better at the end of the first semester of his/her senior year.
The Emalea Pusey Warner 2018 Award recipient Laura K. Donohue graduates in May with an honors bachelor's degree with distinction in preveterinary and animal biosciences. She is a member of the varsity rowing team and the president and executive officer of the UD Outing Club.
While at UD, Donohue worked closely with faculty in the College of Agriculture and Natural Resources to study the avian respiratory microbiome. Over the last four years, she worked on farms in northern Iceland and Denmark, as well as with the Lasher Laboratory in Georgetown, Delaware, the Pennsauken Animal Hospital in New Jersey and a small animal clinic in Costa Rica. This fall she will attend Cornell Veterinary School.
The Alexander J. Taylor Sr. 2018 Award recipient Zachary A. Sexton will earn an honors bachelor of biomedical engineering degree with distinction and honors bachelor of arts degree in public policy this month. In addition to completing his senior thesis and presenting his research nationally, he is coauthor on two national conference abstracts and a coauthor on a recently submitted manuscript for peer-review.
Sexton is the founder and vice president of the UD chapter of Habitat for Humanity and has advocated for affordable housing and led Habitat for Humanity projects throughout Delaware and North Carolina. He was a Student Alumni Ambassador and an outreach coordinator for the Blue Hen Leadership Program. This fall, he will attend Stanford University for a Ph.D. in bioengineering, and he plans to combine bioengineering with public health initiatives to address chronic disease.
Outstanding Alumni Awards
The Outstanding Alumni Awards are presented annually to an alumnus and alumna in recognition of their exemplary work on behalf of UD and/or the UDAA. This year's recipients are Mary Ann Hangen Blair and Kenneth C. Jones.
Blair earned her bachelor's degree in 1966 and a master's degree in business in 1982 from UD. She is retired from her position as director and owner of Financial House, a financial planning firm located in Centerville, Delaware, where she worked since 1990. Blair was an inaugural member of the College of Arts and Sciences Advisory Council, serving for two full terms from 2009 to 2013, and she returned to the council in 2017 for another term. From 2007 to 2010, she served as a board member on the UD Alumni Association.
Kenneth C. Jones earned his bachelor's degree in business administration in 1980 from UD and went on to earn a master's degree in business administration from the University of Northern Colorado. Jones has been a financial adviser with Morgan Stanley since 2008 and was previously with Merrill Lynch. He is retired from the Delaware Army National Guard and was a pilot in the U.S. Army from 1983-87. Jones volunteered with the Lerner Alumni Association and as a member of the UD Alumni Association from 2013-17, serving as president from 2013-15.
Alumni Wall of Fame Awards
In recognition of the many notable achievements of its alumni, the UD Alumni Association in partnership with the University established the Alumni Wall of Fame in 1984. The Alumni Wall of Fame recognizes outstanding professional and public service achievements by UD graduates. This year's recipients are Donna M. Fontana, Vance V. Kershner and Marie E. Pinizzotto.
Fontana earned her bachelor's degree in business administration in 1985 from UD and went on to earn an executive master's degree in business administration from Columbia University. Fontana currently serves as senior vice president of sales at Fidelity Investments. She is a member of UD's Board of Trustees and an active volunteer at Citizens Schools in New York City. She has been a member of UD's President's Leadership Council since 2012 and the Lerner NYC Deans Council since 2014. In 2011, she created the Fontana Family Education Scholarship, followed by the Fontana Graduate Tuition Scholarship in Education in 2013 and the Fontana Financial Literacy Fund in 2017.
Vance V. Kershner earned his bachelor's degree in mechanical engineering in 1979 from UD. He is currently the president and chief executive officer at LabWare. In addition to his success at LabWare, Kershner is also general partner at Leading Edge Ventures, a venture capital firm specializing in seed and early stage investments. He currently serves as chair of the College of Engineering Advisory Council and recently joined the President's Leadership Council. In addition to his service on the council, Kershner has been a generous benefactor of the College of Engineering, creating the first Proof of Concept Fund to support innovation and entrepreneurship at UD, while also investing in other initiatives designed to enrich the collegiate experience for students.
Marie E. Pinizzotto earned her bachelor's degree in chemistry from the University of Pittsburgh, graduating magna cum laude, and her medical degree from Jefferson Medical College in Philadelphia. In 2008, Pinizzotto earned her master's degree in business administration from UD. She currently serves as the chief executive officer and executive director of the Carol A. Ammon Foundation. She has served on the President's Leadership Council since 2012 and previously volunteered on the College of Health Sciences Advisory Council. She's currently a co-chair for UD's comprehensive campaign, Delaware First: The Campaign for the University of Delaware and a passionate supporter of the Science, Technology and Advanced Research (STAR) Campus and health sciences. Along with Carol Ammon, she recently made a transformative gift to establish the Ammon Pinizzotto Biopharmaceutical Innovation Center on UD's STAR Campus.
On Saturday, June 2, during Alumni Weekend, award recipients will be recognized at the UDAA Awards Ceremony held at 5 p.m. in Gore Recital Hall of the Roselle Center for the Arts.
The awards ceremony is open to the public, and all past recipients are encouraged to attend.
Click here to register today.
About the UDAA
The UDAA provides exceptional value and ongoing support to alumni worldwide by expanding benefits available to alumni, supporting regional and affinity club events, recognizing alumni and their accomplishments and more.
The UDAA partners with the Office of Development and Alumni Relations to fulfill its vision and mission, and to execute its strategies, programs and outreach. Both groups have the same end goal — to ensure that all current and future alumni have a fulfilling, lifelong relationship with our great University.