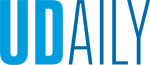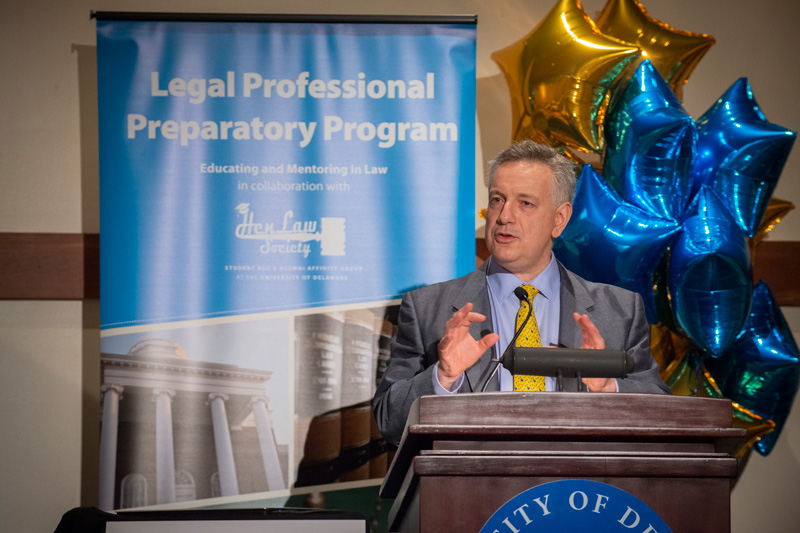 Law Mentoring Weekend
Article by Ann Manser Photo by Wenbo Fan May 01, 2018
New program connects prospective lawyers with resources
University of Delaware students who are considering legal careers got plenty of advice and encouragement from practicing attorneys at the inaugural Law Mentoring Weekend, held Friday and Saturday, April 27 and 28, on the UD campus.
The event, organized by the new Legal Professional Preparatory Program (LP3) in the College of Arts and Sciences and the student HenLaw Society, featured a Friday evening reception and a Saturday filled with opportunities to network and learn from alumni and others working as lawyers, as well as from current law students.
"There are an awful lot of alumni who care about your well-being … practicing attorneys who want you to succeed," John Gaul, CAS78, told the students, referring to the strong turnout of alumni—all prospective mentors—at the events.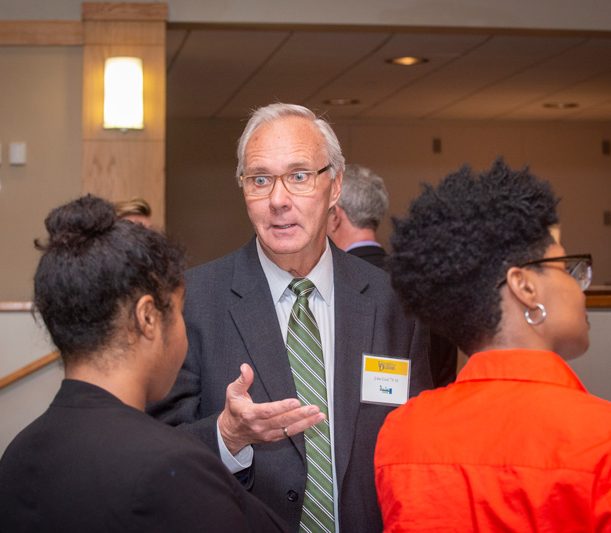 Gaul, who graduated from UD with a degree in political science and then earned his law degree at Villanova University, had the initial vision to create a preparation and mentoring program for undergraduates interested in law school.
He has said that he had great mentors at UD, particularly James Magee (now the Judge Hugh M. Morris Professor Emeritus of Political Science and International Relations), but that he lacked similar guidance in law school and while beginning his career.
Gaul wanted to address that need through a program where alumni would offer guidance to UD students and continue that role as those students went on to law school and legal careers. Working with David C. Wilson, associate dean for the social sciences in UD's College of Arts and Sciences, and Phillip Mink, assistant professor of English, Gaul helped develop LP3 and its network of alumni-mentors.
At the weekend event, Gaul assured students that the program will continue to be available to them as law students and as beginning practitioners. He said he expects that most will then go on to become mentors themselves.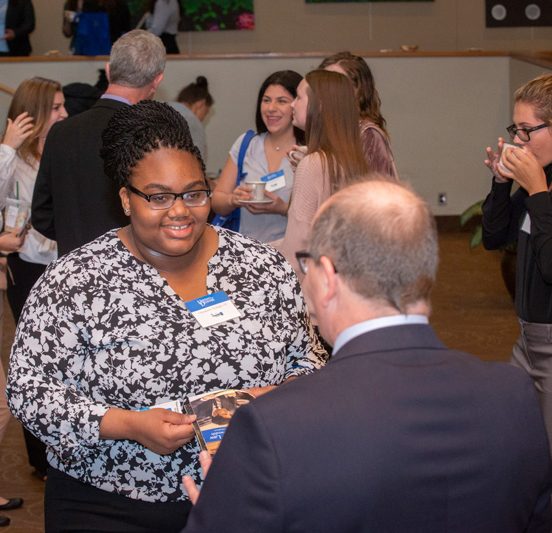 In the coming years, "There will be a network of Blue Hen lawyers throughout this country," Gaul said.
UD President Dennis Assanis welcomed students, alumni and guests to the Saturday event, calling LP3 "an amazing program."
Although the University doesn't have its own law school, he said, its location in a state known as a national center of corporate law and the strong academic foundation it provides students makes it an exceptional resource for prospective lawyers.
"The grounding and the preparation we give our students … provide them with the tools to be ready for the next challenge," Assanis said.
One UD alumna who delivered a keynote address about her work as a lawyer credited a former professor for helping her identify and take the first steps on her career path.
Sandra Simkins, who is Distinguished Clinical Professor of Law at Rutgers Law School and director and co-founder of the Children's Justice Clinic, said she graduated from UD in 1987 without a firm career goal. When she decided to explore the possibility of law school, she said, Joseph Pika (now James R. Soles Professor Emeritus of Political Science and International Relations) offered guidance as she applied to law school and took a secretarial job with a law firm.
Simkins, who has devoted her career to the cause of juvenile justice, advised students in the audience to make sure they are passionate about practicing law and that they go on to help others.
"It's an incredible privilege to be a lawyer, and you should give back," she said.
Similar advice came from Theodore Ruger, dean and Bernard G. Segal Professor of Law at University of Pennsylvania Law School, who also addressed the group.
"You are the future of our profession," he told students in the audience. A much smaller percentage of college graduates today are applying to law schools than a few decades ago, he said, "but there is no shortage of problems to be solved."
The legal profession and society, Ruger said, need "your energy, your intellect [and] your commitment to justice."
Ruger's and Simkins' advice to today's undergraduates was similar to that offered by many participants in the day's panel discussions, which focused on such topics as choosing the right law school, succeeding in law school and beginning a legal career. A special workshop, led by Kenworthey Bilz, professor of law at the University of Illinois College of Law, discussed the problem of implicit bias.
During the panels, many practicing lawyers talked about the need for both flexibility and passion in deciding on the course of a career.
"Your career path won't necessarily be a straight line," said Leslie McNair-Jackson, CAS97, who found that her dream job with a Manhattan law firm didn't turn out to be fulfilling. Instead, she went on to work as a public defender and now serves as the deputy public defender for the Camden Region of New Jersey's Office of the Public Defender.
"It can take a circuitous journey to find your passion," McNair-Jackson said, urging students to be open to unexpected opportunities whenever they arise.
Also at Saturday's event, students and alumni had a chance to test out some mentoring skills during a presentation, "Law Mentoring at UD and Beyond," by Julie Silard Kantor, CEO and founder of TwoMentor.
Kantor spoke about "the triple win of mentoring"—benefiting the mentor, the mentee and businesses that are able to reduce employee turnover by encouraging mentoring—and led the audience in some exercises in which they practiced engaging in preliminary mentoring conversations.
About Law Mentoring Weekend
Law Mentoring Weekend was supported by Maron Marvel Bradley Anderson and Tardy, George Mason University Antonin Scalia Law School, Penn State University Dickinson Law, UD Career Services Center and the College of Arts and Sciences Dean's Office.
Participants included admissions officials from American University Washington College of Law, Temple University Beasley School of Law, Villanova University's Charles Widger School of Law, Seton Hall University School of Law, Widener University Delaware Law School and Widener University Commonwealth Law School.