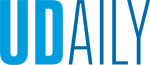 In Memoriam: Meredith Sullivan (Chapman)
Article by UDaily staff Photo by Duane Perry May 03, 2018
Community remembers former communications director, alumna
Editor's note: A celebration of the life of Meredith Sullivan (Chapman) will be held at 6 p.m., Monday, May 14, in Mitchell Hall on the UD campus. Space is limited, and those planning to attend are asked to register at https://rememberingmeredith.eventbrite.com.
The University of Delaware community remembers Meredith Sullivan (known on campus as Meredith Chapman), who died tragically on April 23. The UD alumna and former senior director for marketing in the University's Office of Communications and Marketing was 33.
During her UD career, Ms. Sullivan created award-winning social media programs and spearheaded a major overhaul of UD's primary websites in 2016. She also taught business and communication courses in digital marketing, social media and public relations.
"On behalf of the University, I extend our deepest condolences to Meredith's many friends, colleagues and family members," President Dennis Assanis said. "Meredith was well known across the campus and far beyond it for her devotion to her alma mater, for her strong work ethic and for her expertise in marketing and public relations."
"We are all heartbroken by this loss of this gifted young woman who had achieved much and had so much promise," said Glenn Carter, vice president for communications and marketing. "Meredith was a valued and vibrant member of our team. Her unflagging energy, infectious enthusiasm and keen insights will be greatly missed by us all."
In remembrance
Several of Ms. Sullivan's friends and colleagues shared reminiscences.
A legacy that will live on
Michael F. Smith, director of strategic initiatives in the College of Health Sciences, has known Ms. Sullivan since they both were children. "From childhood to adulthood and everything in between, Meredith was always one of the most intelligent, loving, passionate and driven people I know," he said. "Being a part of seeing someone grow up and grow in different stages of life is very unique. I'll always cherish our relationship or as Meredith would say, 'An elementary school friendship that stood the test of time.' From working together, to working on boards and nonprofit projects together, running her campaign for State Senate and being a close friend, Meredith always invested in relationships, and she taught me the power of investing time in people to strengthen communities.
"One of Meredith's largest legacies will be her relationship with her students," Smith said. "That legacy will live on in all of us as we continue her work. Her energy, smile, passion, kindness and determination to be a champion left a lasting impression…. Your life is measured by your body of work. Meredith's was extremely successful and impactful. I'll think of my friend often each and every day. I'll use the pain of her loss as a catalyst to continue the change she started."
She made things happen
Carolyn White Bartoo, professor of practice in UD's Department of Communication, co-taught a course on social media with Ms. Sullivan and called her "the bravest teacher I ever worked with." Bartoo said, "We eventually dreamed up a totally new way to teach digital communication courses. We couldn't find any stand-alone, strategic social media management classes to model our new course on anywhere in America. So … we invented one! Meredith was the nuts-and-bolts carpenter to my kite-flying 'imaginer.'… Collaborating with Meredith jolted me with energy EVERY time we got together, either on my porch one sticky August evening as we polished our course plan or as we strolled from Gore Hall to the parking lot behind Pearson Hall passionately gesticulating and 'debriefing,' carving out an even better way to 'do it next time.'"
In the classroom, Bartoo said, Ms. Sullivan "TRIED things. She INVENTED things. She MADE THINGS HAPPEN. But it didn't really matter that I saw that. What mattered was that her students saw that. And see it they did, that's the one component you can't fake in a classroom… connection.… Meredith truly mentored students, she patiently explained content curation or metric strategy, posed practice questions to prep protégés before their 'dream job' interviews, shared her deep network to 'open doors' . . . all things she didn't NEED to do, things people didn't EXPECT her to do, things she likely didn't have TIME to do. But she did them because that's who she was – a decent, vivacious, creative soul who has left a gaping hole in the lives of all who knew her. We who loved her. #missyou." (To read Bartoo's complete tribute, click here.)
A great advocate
Jacqueline Fabricatore, who graduated from the School of Nursing in 2017 and is now a registered nurse at Johns Hopkins Children Center, said, "I met Meredith freshman year (2013) at a Social Media Ambassador meeting. We connected easily over being UD cheerleaders and our love for the University. However, I believe what brought us together was the way she could make everyone feel like someone. She always encouraged her students to chase their dreams and made sure to help them along the way, even while she was out chasing her own. She was energetic, inspiring and attentive, which made her a great listener but also a great advocate and an amazing member of any team/community she was a part of. She is greatly missed by me, as well as many of her former students."
A special bond
For Niki Kirschner, who earned her bachelor's degree in English in 2015, the key word is "Connection." Kirschner, who is now a client account manager at Twitter, said, "I'm talking that special bond you form with someone that's irreplaceable and doesn't happen with every person you meet. Meredith and I formed a bond that is hard to explain. She was my professor, boss, mentor, friend and most importantly my role model during the four years I attended the University of Delaware. Always willing and eager to pick up the phone, meet for a quick cup of tea, or reply to a Tweet, I'll never understand how Meredith always made time for her students and how she managed to be as successful as she was.
"My connection with Meredith went beyond UD, as she continued to help guide me even after I graduated," Kirschner said. "She was the first person I called after accepting an offer to work at Twitter, even visiting our New York City offices a few months later. Meredith did everything she could to give back to her students and empowered young women to live out their dreams and be bold, strong and full of energy. For that I am forever grateful and will take her spirit with me every day, channeling my inner Meredith, zipping through life, always with high heels on. To my professor, boss, mentor, friend and role model, I say #thankyou. Thank you for the time. Thank you for the love. Thank you for the connection."
About Meredith Sullivan
Ms. Sullivan joined the Office of Communications and Marketing (OCM) in 2010 as a senior news editor. In 2013, she was named director of digital communications and senior director for marketing in 2017. She also held adjunct faculty positions in the Department of Communication and the Lerner College of Business and Economics.
She created the University's Social Media Marketing Strategy Certificate, offered through Professional and Continuing Studies and which received a national Outstanding Program Award from the University Professional and Continuing Education Association in 2016.
She also started OCM's Social Media Ambassador Program, which gives UD students a unique opportunity to gain professional social media experience while sharing their experiences at Delaware with fellow and prospective students. Scores of UD students have participated in this program since it began.
In 2012, Ms. Sullivan earned an honorable mention in the Social Media Professional of the Year category in PR News' annual awards and was a member of the inaugural class of the Delaware Business Times' "40 Under 40."
Since 2014, she also served as an associate consultant for Ruffalo Noel Levitz, providing guidance in branding, strategy and digital marketing.
Ms. Sullivan earned her bachelor's degree in communication and a master's degree in educational technology, both at UD. While an undergraduate, she was on UD's cheerleading team and also coached cheerleading at Newark High School.
She began her career in television as a reporter and producer at WHYY-TV and then went to work on Capitol Hill as a communication manager in the U.S. House of Representatives for then-Congressman Mike Castle.
A 2015 fellow of Leadership Delaware, Ms. Sullivan served on the board of the Newark Senior Center and the National Tailgating Association, as well as the marketing committee for the Delaware Community Foundation. In 2016, she ran for the Delaware State Senate.
In April, she joined Villanova University as assistant vice president for marketing and creative services.
A private funeral was held May 2. The family will hold a celebration of her life at 6 p.m., Monday, May 14, in Mitchell Hall on the Newark campus. Space is limited, and those planning to attend are asked to register at https://rememberingmeredith.eventbrite.com.