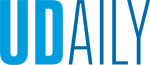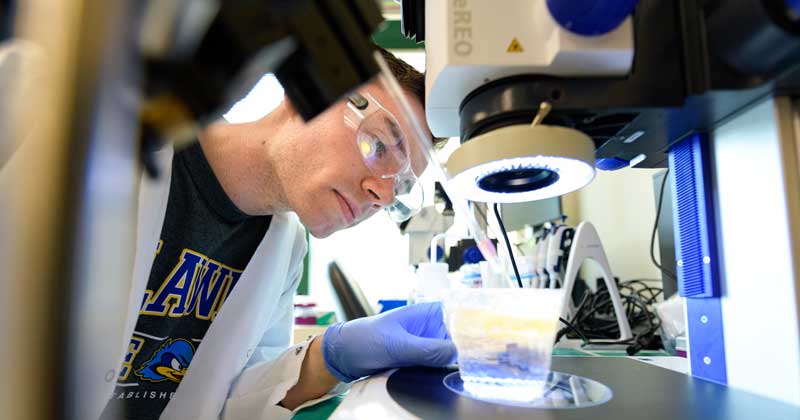 NSF recognizes future knowledge experts
Article by Karen B. Roberts Photo by Evan Krape May 15, 2018
Eleven UD students and alumni selected for prominent NSF graduate research fellowships
Every 10 minutes, another person's name is added to the organ transplant waiting list, according to the U.S. Department of Health and Human Services' Division of Transplantation. At the start of 2018, this waitlist contained more than 115,000 names, yet only a third of these individuals are expected to receive a transplant this year due to a shortage in organ donors.
University of Delaware senior Zachary Sexton hopes one day to have a hand in improving these statistics. Sexton, who will earn an honors bachelor of biomedical engineering degree with distinction and an honors bachelor of arts degree in public policy this month, has been exploring how blood vessel networks grow and mature in the body to understand how to build robust artificial networks of blood vessels in the future. His adviser is BME Assistant Professor Jason Gleghorn.
"Engineering artificial tissues and organs offers an alternative to ensure that patients can be helped," said Sexton, who plans to pursue his doctoral degree in bioengineering at Stanford University this fall. "I believe that scientific advances are going to revolutionize medicine over the next 10 years and I want to make artificial organs part of that revolution, expanding upon what I learned at UD and, ultimately, saving more lives."
Sexton, who is the 2018 recipient of the University's Alexander J. Taylor Sr. Award as the outstanding senior man, is one of 11 current UD students and alumni who have won prestigious National Science Foundation Graduate Student Research Fellowship Program (GRFP) awards for 2018.
This highly competitive fellowship, the oldest of its kind in the nation, supports outstanding graduate students who are pursuing research-based master's or doctoral degrees in science, technology, engineering and mathematics (STEM) and STEM education at accredited U.S. institutions.
NSF fellows are considered future knowledge experts who will go on to become lifelong leaders, innovators and teachers. As of 2018, 42 NSF fellows have been honored as Nobel laureates.
Fellows receive three years of financial support, including an annual stipend of $34,000 and a $12,000 cost-of-education allowance for tuition and fees. Through the Graduate Research Opportunities Worldwide initiative, fellows have access to international research collaborations. Additional professional career development and support are available through federal internships provided through the Graduate Research Internship Program and NSF's Career-Life Balance Initiative.
Since 1952, NSF has funded more than 50,000 Graduate Research Fellowships. Through this year's competition, NSF selected 2,000 fellows from more than 12,000 applications received from all 50 U.S. states, the District of Columbia and U.S. territories.
"These fellowships are a key element of NSF's effort to ensure the vitality and diversity of the U.S. scientific and engineering workforce," said Ann Ardis, senior vice provost for graduate and professional education. "Institutions around the country take great pride in attracting NSF Graduate Research Fellows, and these fellowships set students up for success across a broad range of careers. Seeing UD undergraduates win these fellowships to support their graduate study at other institutions is every bit as much of a cause for celebration as UD's success in attracting NSF Graduate Research Fellows to our master's and doctoral programs."
UD's 2018 NSF Graduate Research Fellows
In addition to Sexton, the following current UD students (undergraduate and graduate) earned NSF fellowships and plan to pursue research in the following fields and graduate schools, according to NSF:
Margaret Capooci, geosciences-biogeochemistry, University of Delaware
Capooci is studying carbon dynamics in Delaware's tidal salt marshes to better understand the balance between the carbon stored and released in wetland ecosystems. She also is interested in how extreme weather events, such as storm surges, can alter greenhouse gas emissions from wetland soils. In the future, Capooci hopes to combine her research expertise in wetland biogeochemistry with her interests in wetland policy and management.
Margot Farnham, biomedical engineering, University of Delaware
Farnham is working to understand how the body's connective tissue lubricates joints to reduce friction and support high loads. In particular, she is trying to tease out the mechanisms that cause injured cartilage to deteriorate and develop osteoarthritis.
Christiana Martin, developmental psychology, University of Delaware
Martin is studying the ways that child development is affected by early trauma and neglect, particularly for children who have been adopted and those in the foster care system. She specifically is interested in the role attachment plays in fostering resilience in children affected by early adversity.
Margot Wagner (honors), bioengineering, University of California - San Diego
Wagner is applying computational methods learned in chemical and biomolecular engineering to the field of medical technology, specifically understanding how medicines are distributed in the body and how they can be used to provide targeted treatment to specific diseases, such as inflammatory breast cancer. She plans to apply this work to an emerging interdisciplinary field, known as computational neuroengineering, which lies at the intersection of engineering, neuroscience and health care.
Alumni Awardees
The following UD alumni will continue their graduate research through the fellowship:
Jason Andrechak, honors graduate, bioengineering, University of Pennsylvania

Monideepa Chattergjee, honors graduate, biomedical engineering, Cornell University

Kaitlyn Engler, honors graduate, chemical engineering, University of California-Berkeley

Nikifar Lazouski, honors graduate, chemical engineering, Massachusetts Institute of Technology

Marcela Omans, honors graduate, social sciences-cultural anthropology, Michigan State University

Joshua Tworig, honors graduate, life sciences-neurosciences, University of California-Berkeley
Honorable Mentions
An additional eight UD undergraduate or graduate students and alumni earned honorable mentions:
Current UD students (undergraduate and graduate)
Margaret Billingsley, honors, biomedical engineering

Kyle Lennon, honors, materials engineering

Kimberly Rivera, life sciences-ecology

Brianna Devlin, mathematics education

Hopen Yang, chemical engineering

Jennifer Mills, chemical engineering
UD alumni
Dakota Hanemann-Rawlings, chemical engineering, University of California-Berkeley

Lacey Perdue, biomedical engineering, Georgia Institute of Technology