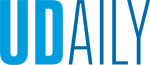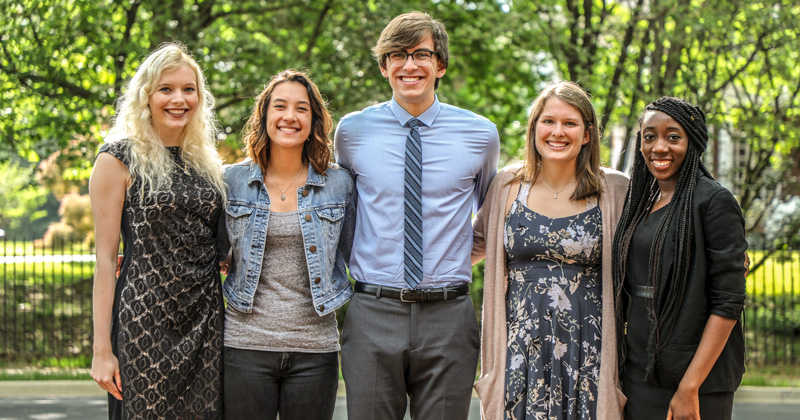 Nine Win Fulbrights
Article by Nikki Laws and Dante LaPenta May 23, 2018
Record-setting year of Fulbright U.S. Student Program Awards
Nine University of Delaware students and alumni have been selected to receive prestigious U.S. Student Fulbright Awards, marking the largest number of Fulbright award winners in University of Delaware history.
The Fulbright Program, sponsored by the U.S. Department of State, is the nation's premier international education exchange program, designed to foster mutual understanding between Americans and people of other countries. The prestigious award allows young graduates and graduate students the opportunity to conduct research, study or teach English in one of over 140 countries.
Amanda Abrom
Amanda Abrom will embark on an English Teaching Assistantship (ETA) in Madrid, Spain, where she will empower local students to learn the English language and help lead a Model United Nations program.
"It's going to be a really rewarding experience and I have always found that you learn more from your students-- even if you are the one that is teaching," she said. While abroad, Abrom hopes to engage with UD World Scholars who will be studying in Madrid this fall.
Abrom, an honors student who earned degrees in economics and English, has wasted no time since graduating in 2016. In just two short years, Abrom has taught English with the Chilean Ministry of Education, interned at the White House Office of Economic Initiatives and Entrepreneurship and currently serves as a Global Schools Ambassador at the United Nations Sustainable Development Solutions Network - Youth Initiative.
Melanie Allen
Melanie Allen received her honors degree in wildlife conservation from UD in 2013 before pursuing a master's degree in international development at Brandeis. Allen will travel to Benin, where she'll seek a bottom-up view on climate change, conducting research in local communities. Allen currently serves as a program coordinator at Conservation International.
"When we think of what kinds of information influence climate policy, often traditional knowledge isn't acknowledged or seen as valid," she said. "When you ask a community about climate change, they might not know it by that name, but they do know that rain patterns are changing and have to respond to that."
Briyana Chisholm
The Donald and Barbara Zucker School of Medicine at Hofstra/Northwell awaits senior medical diagnostics student Briyana Chisholm, but not before she completes her Fulbright year in Galicia, Spain. A UD cheerleader, Chisholm plans to bring her Blue Hen spirit abroad, teaching English and engaging with her host community by starting an after-school cheerleading squad.
"My students will get to hear my [American] perspective on healthcare and I will get to hear perspectives of Spanish people," Chisholm said. "When I come back to the U.S. as a medical student and eventually a doctor, it's important to have an understanding of other healthcare systems."
Richard Egan
A senior honors chemical engineering and 4+1 master's student in particle technology, Richard Egan will depart this summer not just for his Fulbright research award in Poland, but first to complete a Critical Language Scholarship in Japan.
In Poland, Egan will partner with faculty at the University of Warsaw to better understand some of the many elements that contribute to smog, an environmental phenomenon that kills tens-of-thousands in the country every year.
"While scientists do know the general ingredients in smog, they do not know how it actually forms -- and the specific reactions, mechanisms and organic chemistry that result in the compounds that produce smog and air pollution," he said. Egan will contribute to the conversation by measuring a number of very specific factors that feed into larger equations to predict how smog forms in Poland.
Sarah Hartman
Honors student Sarah Hartman was first introduced to her Fulbright host country, the Philippines, as an environmental engineering student and project manager for UD's Chapter of Engineers Without Borders. This year, she'll return to work with a new community in Cebu City.
"The University of Delaware gave me the tools and passion I needed to go and find this type of project in the Philippines," she said. Hartman was also selected as a Truman Scholar in 2016.
Working alongside faculty in the School of Engineering at the University of San Carlos, Hartman will help address flooding and stormwater problems in the city using local available technologies.
"The flooding is getting worse in Cebu due to increased urbanization and climate change," Hartman said. "This is something that I am interested in because I see this as a way of addressing a water problem, but also a way of helping them plan for the future."
Klodiana Kastrati
UD Spanish studies senior Klodiana Kastrati is connected to her Fulbright host country, Kosovo, by her heritage.
"I've actually done community service work in Kosovo over the years, and I want to continue giving back to my own people," she said.
By day, Kastrati will serve alongside a local instructor as an English Teaching Assistant in a secondary school. After hours, she plans to work with the organization Women for Women to provide resources for victims of trauma and to lead after-school skills trainings.
"Today, women make up about 20 percent of the workforce in Kosovo. What I want to do is help give women the resources to build their own empire," she said.
Jennifer Hoi-Ping Lawrence
Jennifer Hoi-Ping Lawrence, an honors student with a double major in neuroscience and biological sciences, will travel to the Netherlands, where she will conduct Alzheimer's research with faculty at the University of Radboud.
"Currently, there are a checklist of behavioral markers of Alzheimer's," Lawrence said. "For example, you get anxious at night, lose your short and long-term memory, stop grooming and things like that. Once you hit a certain number of these, you can be diagnosed with Alzheimer's. "We're interested in exploring a test of biological markers for patients instead."
After her Fulbright year, Lawrence will pursue a neuroscience doctorate at Washington University in St. Louis.
"Many pharmaceutical companies are internationally based corporations," she said. "This experience allows me to bring key cross-cultural understanding with me to future jobs."
Taylor Tewksbury
Senior marine science honors student Taylor Tewksbury will venture to Malaysia as a Fulbright English Teaching Assistant. With minors in art and global studies, Tewksbury was moved to apply for an ETA award after studying abroad in Prague.
"I was drawn to Malaysia due to its coastal geography," Tewksbury said. "To supplement my time in the classroom, I would utilize this background to engage the students in their local environment. Using my experience as an outdoor excursion leader for my school, I would lead nature hikes and field lessons on topics like local bird ecology and aquatic ecosystems."
Tewksbury added that she would also supplement her time in the classroom with a scientific storybook program.
"In this program, students would have the opportunity to write and illustrate storybooks based on a local environmental issue," she said.
Gerti Wilson
Gerti Wilson, a 2016 graduate in political science, will explore women's roles in the Kenyan judiciary through a Fulbright Research Award.
"Passed in 2010, the Kenyan constitution puts a gender quota on each branch of government," she said. "Now that one third of judges in Kenya are required to be women, I want to study how that law came into being, why it made its way into the constitution, and what early effects can be seen since implementation."
Wilson credits her 2015 Plastino Award experience as inspiration for her Fulbright research.
"This kind of work allows me to marry my passions for law and gender equity to look at how the law can be a vehicle for social justice," she said. "As a part of the Plastino scholarship, I studied women's leadership in the Ghanaian parliament."
Wilson currently works as a legal assistant at the Center for American Progress and hopes to later go on to law school.
Future Fulbrighters
For those still dreaming up plans for a Fulbright award, Wilson advised that persistence and dedication are key. "It's never too late to apply, and I am never shy of saying that I applied three times," she said. "If it is a dream you have, don't let it go. Connect with your professors and the staff in the Institute for Global Studies and apply!"
All UD students and alumni interested in applying for a 2019-20 Fulbright award are encouraged to visit the IGS website and contact Katharine Kerrane to schedule an advising appointment.