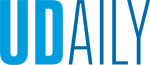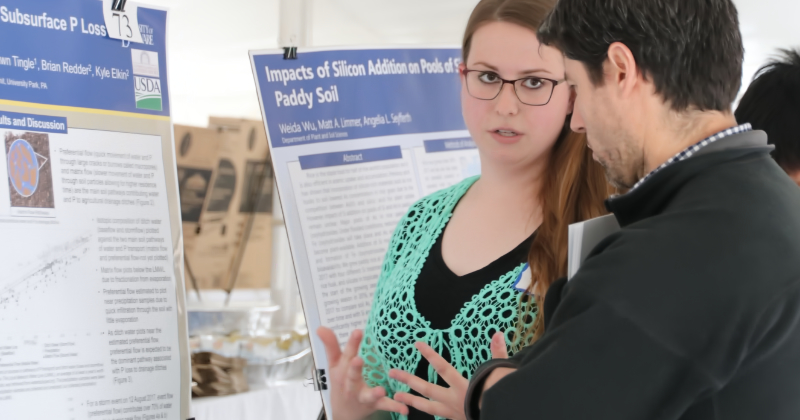 CANR Research Symposium
Article by Adam Thomas Photo by Monica Moriak May 11, 2018
Poster presentations highlight college's research strengths
The University of Delaware's College of Agriculture and Natural Resources (CANR) held its third annual Research Symposium from 9 a.m.-3:45 p.m., Monday, April 30, in an Ag Day tent outside Townsend Hall.
This year's symposium included 76 poster presentations—up from 50 in 2017—from undergraduates, graduate students, postdoctoral researchers and CANR staff members and was split up into five areas of unique research strengths for the college:
One Health—intersections among animal, plant, human and ecosystem health;
Climate Change—impacts, mitigation and adaptation;
Genetics and genomics for plant, animal and ecosystem improvement;
Human Dimensions of food, agriculture and natural resources; and
Sustainable food systems, landscapes and ecosystems.
Eric Wommack, deputy dean and associate dean for research and graduate education at CANR, called this year's symposium a great success.
"We made a big jump this year in presentations from 44 in 2016, to 50 in 2017, to 76 today. The breadth and impact of the work presented was impressive. It clearly demonstrates the global impact of the college's research enterprise and that we are succeeding in delivering on UD's land grant mission to serve the public good through scientific research," he said.
Winners were announced in doctoral, master's, undergraduate and postdoc categories, as well as top poster winners in each of the five CANR unique research strength areas.
The doctoral winners included:
Adam Stager, for "Phenotyping on the move: Georeferenced imaging and sensing in UD's outdoor plant science laboratories for advances in agriculture" and
Alma Vazquez-Lule, for "Carbon fluxes and phenology changes in a Delaware tidal salt marsh."
The master's winners included:
Ying Peng for "Evaluation of estrogenic activity of the novel Bisphenol-A alternatives by in-vitro bioassay" and
Susan Gachara for "Synthetic biology for plant viral diagnostics: Application to Maize Lethal Necrosis disease."
The Undergraduate winner was Dominique Lester for "To bean or not to bean: Downy Mildew is the question."
The Postdoc winner was Matt Limmer for "Quantitative synchrotron x-ray fluorescence for trace metal(loid) distribution in rice grains."
The five unique strength winners were
Justin Blair for "Capture mechanisms of Duddingtonia flagrans on cyathostomin larvae; in the unique strength group: 'One Health' - intersections among animal, plant, human and ecosystem health";
Branimir Trifunovic for "Greenhouse gas dynamics in a salt marsh creek; in the unique strength group: Climate Change - impacts, mitigation and adaptation";
Imogene Cancellare for "Snow leopard genetics across high Asia; in the unique strength group: Genetics and genomics for plant, animal and ecosystem improvement";
Sean Ellis for "A neuroeconomic investigation of disgust in food purchasing decisions; in the unique strength group: and Human Dimensions of food, agriculture and natural resources"; and
Hannah Clipp for "Food availability determines how migrating birds use stopover sites; in the unique strength group: Sustainable food systems, landscapes and ecosystems."