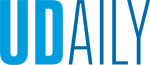 UD joins National Bike to Work Day
Article by Carlett Spike Photo by Kathy F. Atkinson May 22, 2018
Community members rode to Mentors' Circle on UD's Newark campus
To celebrate National Bike to Work Day on Monday, May 21, community members and officials rode their bicycles to Mentors' Circle on the University of Delaware's Newark campus. The event was organized in partnership between UD, the City of Newark, BikeNewark, Delaware Department of Transportation (DelDOT) and Newark Bike Project.
Riders were greeted with free T-shirts and breakfast items followed by a brief ceremony with a chance to enter to win giveaways in a raffle drawing. During the ceremony, officials from the partnering organizations spoke to the crowd of more than 50 participants about the importance of promoting bike options across the city.
Newark Mayor Polly Sierer announced a list of upcoming projects around the city to carve out safer paths for bicyclist to use:
Delaware Avenue cycle track (two-way protected bikeway)

Cleveland Avenue raod diet (narrower) and bike lanes

Elkton Road bike lanes and multi-use path

Upgraded multi-use path off Route 72

Redevelopment plans at College Square shopping center

Charlie Emerson Bridge across White Clay Creek near Paper Mill Road

Updates on Main Street to begin in the fall
"All of these new projects are going to improve our existing network that is already in place and the envy of many of those folks in our state," Sierer said. "As you know we have the three top trails for use already in Newark: The Hall Trail, the Pomeroy Trail and the Reservoir Trails. We are also surrounded by the best mountain biking in the region."
Delaware State Sen. Dave Sokola said cycling can become a lifetime habit. Last year, Sokola, now 63, rode from South Dakota to Delaware. There are just so many benefits to regularly riding, he said.
"If you get a workout buddy, especially a cycling buddy you'll ride more," Sokola said. "And so, I think fitness — there's less congestion when there are fewer cars on the road. A vast majority of cars you see out there have one person in them. You could have six to eight bicycles anywhere you have one car, so you benefit. There's less pollution, less congestion and more fitness."
All speakers acknowledged the progress the city has made toward transforming Newark and Delaware into a more bike friendly place. As a Delaware resident for the last 21 years, UD Vice Provost Matt Kinservik said he remembers when Mentors' Circle was filled with cars and students would drive two blocks from class to class. We are past those days, he said.
"It's about good intentions," Kinservik said. "Let's commit ourselves to biking more regularly. We're in a community that's making it easier and easier to do this and I think that's very exciting."
Safety also matters. According to a report published last year by the Delaware Office of Highway Safety, based on data compiled since 2013, an average of 154 bicyclist are hit by cars annually. In 2016, the last full year for which data is available, 116 bicyclists were involved in accidents with cars.
"New Castle County is actually one of the most dangerous places in the country for pedestrians and bikers," said Matt Meyer, who is the New Castle County executive. "It is important, especially with millennials riding more and more. It doesn't take very long to stand on any corner in Newark or at the University and see bikers. We need to make sure they have safe ways to go from place to place and we also need to make sure we're developing through-ways for people to travel safely so they are encouraged to do so."
During the event, the 2018 Bicycle Friendly Community Leader Award was presented to John Bare, a board member of Bike Delaware. Bare received the award thanks to the instrumental hand he played in creating the initial draft of the Bicycle Friendly Delaware Act, which passed last year. The law updates current traffic rules to better protect bicyclists.
"People think this just happens overnight," Bare said. "I've been riding with Dave Sokola since the early 1980s, before he was a senator, and then [when he was] on various legislators' rides. Over the past few years, we'd be riding along and I'd be like, 'Dave we need to change these laws to reflect the way it's being done in some state or the other state or something else.' "
Bare also thanked the community of bicyclists who care about these laws and help make them happen.
BikeNewark Chair Mark Deshon, who played a large part in organizing the event, thanked all partners in making this another successful year.
"I'd like to thank the University of Delaware and the city of Newark for again partnering with BikeNewark to put on this event," said Deshon, who is a retired UD staff member. "Both event partners continue to be very cooperative and helping us to work towards achieving our goals for this great city."
Community member and WVUD radio host Shelley Kelley (Michele McCann) said this was her first time attending the event. She said she has biked to work for the last three years and said she's come to really enjoy it.
"I'm glad to see so many people out here," Kelley said. "I'm happy that the word got out and I'm excited to be a participant and look forward to being here next year."