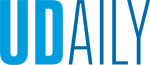 Women of Promise
Article by Carlett Spike Photos by Kathy F. Atkinson March 19, 2018
UD community members honored for advancing women's rights on campus
Women - students, faculty, staff - and University of Delaware leadership gathered in the multipurpose room of Trabant University Center on Wednesday, March 14 to celebrate the achievements of UD women at the annual Women of Promise dinner.
UD alumna Quinetta Roberson delivered the evening's keynote address and awards were presented.
UD President Dennis Assanis discussed some of the iconic women in UD history, including Winifred Robinson, who helped establish UD's Women's College in 1914 and served as its first president.
"Our society and indeed the University of Delaware would not be the place it is without all these great women of promise," Assanis said. "We are so fortunate to be celebrating women's month and their contributions now."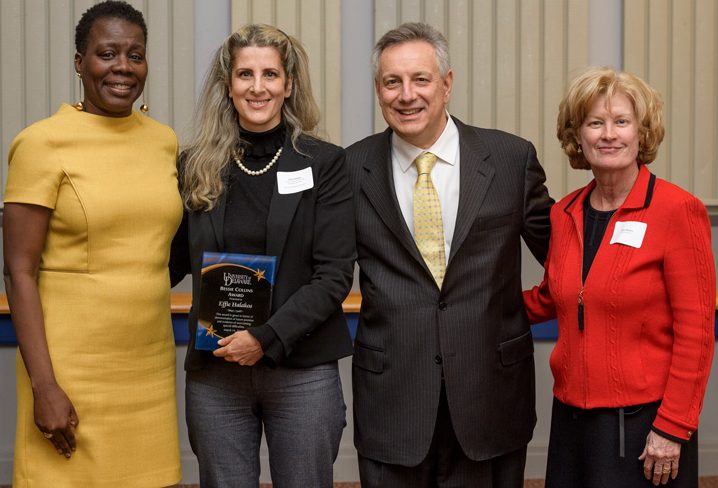 Interim Provost Robin Morgan said she has always found this dinner to be special, in part because students are invited to share in the experience with faculty and staff.
"Without a doubt, the best part of being at this dinner is being able to invite a student or students - if you're bold - to come with you because those are really special relationships and it's really fun," Morgan said. "Thanks to all the women faculty who have invited women of promise and those of you who are invitees and who are here, realize you were chosen to come."
UD Vice Provost for Diversity Carol Henderson spoke to the crowd and introduced the dance group Women of Consequence, who performed an abridged version of their program. Henderson announced the winners of the E. Arthur Trabant Award for Women's Equity, the Mae Carter Award and the Bessie Collins Award. Henderson also shared a poem by Tia Sparkles Singh, which has this key stanza: "Be strong. Be Confident. Be you."
The keynote speaker at the Women of Promise dinner often offers advice for the women in the room. Quinetta Roberson, who is a professor in Villanova's business school and researches organizational behavior and diversifying work teams, graduated from UD with a degree in finance and accounting. She told the audience she was inspired by a person who told her she would only be successful if she became an engineer. Her experience and research suggests otherwise, Roberson said.
Roberson urged the women to make five promises to themselves, based on her findings of factors that often hinder women's success. Her suggestions were:
Have a presence

Use your voice

Craft your own narrative

Seize opportunities

Make use of resources
"When people tell you, 'You can't,' and things like that, it's really not about you," Roberson said. "It's about them. It's their own limits of vision. What they couldn't see. What they didn't do. We can't let that define us. We need to deliver on what we say we're going to do, these promises, and I can tell you that they do work."
2018 Recipient of the E. Arthur Trabant Award for Women's Equity: College of Engineering Dean Babatunde Ogunnaike
The E. Arthur Trabant Award for Women's Equity is given annually to any individual, department, administrative unit, or committee that has contributed to equity for women at the University.
2018 Recipient of the Mae Carter Scholarship: Rebecca Glinn, a senior in women and gender studies and public policy
The scholarship is awarded to a female undergraduate student at the University who carries the values that Mae Carter has represented to the University community of women. The award highlights someone who continuously works to advance the status of women on campus.
2018 Recipient of the Bessie B. Collins Award: Effie Halakos, a Ph.D. student in biological sciences
This award was established to honor the former Dean of Women, Bessie B. Collins, an early advocate and supporter of continuing education for women. The award serves to continue that support and encouragement of women students and to recognize the variety of perspectives, diversity, and richness adult students bring to the University community.
About Women of Promise
Through the years, Women of Promise has recognized exceptional female students at the University of Delaware. Women on UD's faculty nominate both undergraduate and graduate students for this award. Each year a dinner is also held to celebrate and promote positive mentoring relationship between female faculty and the students they nominate. The event is organized by the Vice Provost for Diversity office.
2018 Women of Promise award recipients:
College of Agriculture and Natural Resources
Margaret Bayalis, Caitlin Carmody, Jessica Cooper-Pancake, Elisabeth Lemmon, Jiayao Li, Emma Ruggiero, Jayme Soyak, Ashley Taylor
Alfred Lerner College of Business and Economics
Alyson Basso, Erika Bonapace, Cristina Boyle, Tiffany Canjura, Elise Colomb, Paige Crandall, Martisha Durant, Megan Garner, Melissa Gartland, Danielle Geoffroy, Ali Hoogewerff, Jazzlynn Jefferson, Carolyn King, Emma Lavelle, Kylie McLaughlin, Morgan Miskovitz, Shae Muller, Nhung Nguyen, Hellen Seshie-Nasser, Paige Swanbon, Hayley Tenhoopen
College of Arts and Sciences
Kelly Allen, Aneesa Baboolal, Madison Bacon, Ángela María Bohórquez Oviedo, Josefa Castelli, Petra Clark, Lauren Cordeiro, Sheiron Crawford, Natalie Criscenzo, Lauren Crudele, Sara Del Valle, Margaret Elkins, Sandra Estrada, Rachel Evans, Annabelle Fichtner, Molly Fulton, Emma Gaedje, Briana Henry, Kathryn Holden, Michelle Illescas, Kelly James, Hibah Khan, Sara Kuzmenka, Adriana Lopez, Jamie Manzer, Camille Mapua, Jessica McAnulty, AnnaLivia McCarthy, Kalyn McDonough, Katrina Milbocker, Reyhane Mirabootalebi, Lizbeth Mora-Martinez, Jennifer Most, Kelly Mui, Clarissa Ortiz, Raychelle Osnato, Daria Robinson, Miriam-Helene Rudd, Rachel Ryding, Kaitlin Shorr, Cheyenne Smith, Iris Turner, Allie Whitehouse, Colleen Yerger
College of Earth, Ocean, and Environment
Ashlee Autore, Nicole Flowerhill, Rebecca Freuhwald, Grace Haumeren, Janice Hudson, Maggie Siegfried, Jessica Storm, Kaitlyn Sherman
College of Education and Human Development
Nikki Dombrowski, Nadisha Downs, Jacqueline Oberholtzer, Jingci Piao, Pragya Shrestha, Emily Selekman, Fiona Tumulty, Erin Williams, Allyson Yates
College of Engineering
Symone Alexander, Riza Bautista, Becca Huber, Hoda Aghaei Khouzani, Emily Kolewe, Emily Mongold, Casey, Raczkowski, Anna Schoonen
College of Health Sciences
Ester Ayettey, Emma Beisheim, Rachel Bloom, Katherine Butler, Jessica Bursler, Leigh Ann DiFusco, Jessica Eosso, Wenbo Fan, Annie Rose Garner, Natalie Grimm, Melanie Horning, Amy Jackson, Stephanie Kramer, Melanie League, Jehnae Linkins, Kimi Moore, Debora Kamin Mukaz, Sabrina Naboa, Angela Nolan, Michelle Norton, Haley Novak, Rita Rawal, Nicole Slesinger, Sara Austin Tilley, Emma Walter, Vanessa Wrobeh