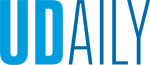 Creamery Market mural
Article by Kristina Demou Photo by Dana Friedrich March 14, 2018
New Wilmington Market mural takes UDairy from cow to cone
The UDairy Creamery Market in Wilmington welcomed a mural to its wall this past November and guests are now greeted with a unique and charming depiction of the University of Delaware's Holstein cows enjoying some ice cream.
Being that the Creamery's slogan is "from the cow to the cone," the piece encapsulates the entire production process starting with the cows and ending with the delicious product, UDairy ice cream, which is also made in house at the Market Street location.
The mural was illustrated by UD's Madison Bacon, a senior in the art department, who has a strong background doing work in animation and illustration.
"When I was designing it, I tried to think of the history of UDairy and, obviously, owning our own cows [at UD] is a big deal so I wanted them to be a centerpiece," Bacon said. "I also wanted to include the student involvement working on the farm and in the store and tie it all together by incorporating Wilmington through the city depicted in the background. Overall, I think it captures the history and evolution of UDairy."
Melinda Shaw, director of creamery operations, said the mural shows the creamery mission in a creative way.
"Wilmington has such a large creative district, so to show off student talent, we can use the market as a resource to do so," Shaw said. "It was a really fun project because we were in such a fun environment and we got to see so many interesting drafts and iterations as it came together."
LeeAnne Ahamad, the UDairy creamery market manager, said that the mural prompts guests to pause, look and help promote the creamery with their own photography.
It is, she said, "definitely a show stopper. As guests come in, especially those who have visited before, we see them stop and look at it. It has also become a popular 'photo op stop' where guests snap pictures with their ice cream in front of the mural, particularly with the cows."
Work of this scale is not new to Bacon, but this process was new for her in some ways.
"I've done big paintings before, but this time I wasn't doing a big painting on a wall, I created a smaller illustration that would then be blown up into a big decal," said Bacon.
This opportunity also gave her additional experience working with clients, bringing them thumbnails and managing expectations, and she got to work with her professors to learn how to draft a contract for her work.
The mural has all of the UDairy Creamery's staples tied in to one – the cow to cone ideology, fusing the farm aspects of ice cream production, the city aspects of the Market's location and creative district, and the student involvement throughout.
The UDairy Creamery Market is located at 815 N. Market St. in Wilmington and open Monday through Thursday from 11 a.m. to 7 p.m., Friday 11 a.m. to 8 p.m., and Saturday and Sunday from noon to 8 p.m.
To see more of Bacon's work, view her online portfolio at:
baconbitmadison.wixsite.com/madisonbacon
To stay up to date with the UDairy Creamery, follow them at: https://www.facebook.com/UDairyCreameryMarketWilm/ http://canr.udel.edu/udairycreamery/wilmington/