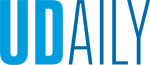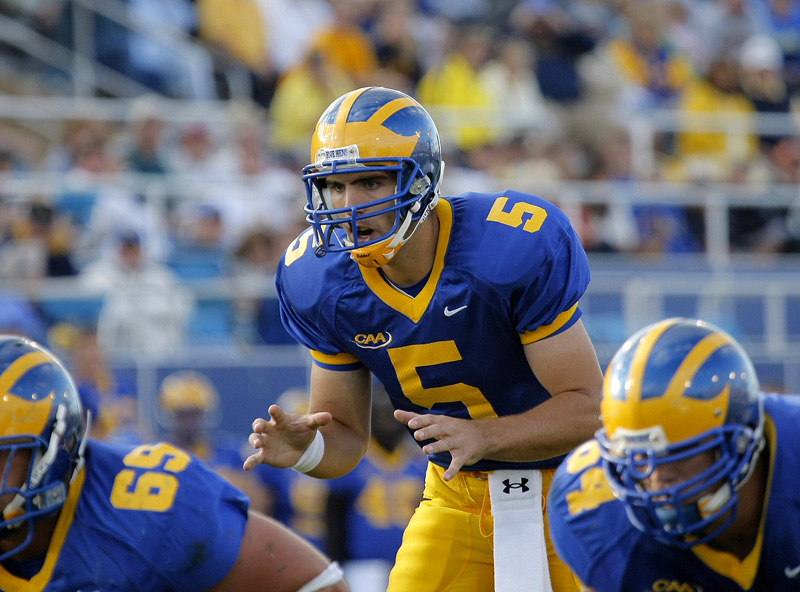 Joe Flacco invests in UD Athletics
Article by Kelly Graf March 14, 2018
Former Blue Hens and Baltimore Ravens quarterback and his family announce gift to UD Athletics
One of the most successful student-athletes in University of Delaware history, Baltimore Ravens quarterback Joe Flacco, and his wife, Dana, have made a significant gift to the future of UD Athletics – the largest from a UD football alumnus in the NFL.
"Football and family," Flacco said, when asked what matters most in his life. Flaccos' four children inspired the couple to give back to Joe's alma mater.
"We are at a point in our lives where we are raising our kids and thinking about their education," said Flacco, Class of 2008. "It has allowed me to think about how important UD was for me in my development. I am thrilled to be a part of making the University even better for future generations."
As part of Delaware First: The Campaign for the University of Delaware, the Flaccos' gift will directly support UD Athletics' Building Our Home initiative, including the construction of the Whitney Athletic Center and the renovation of Delaware Stadium.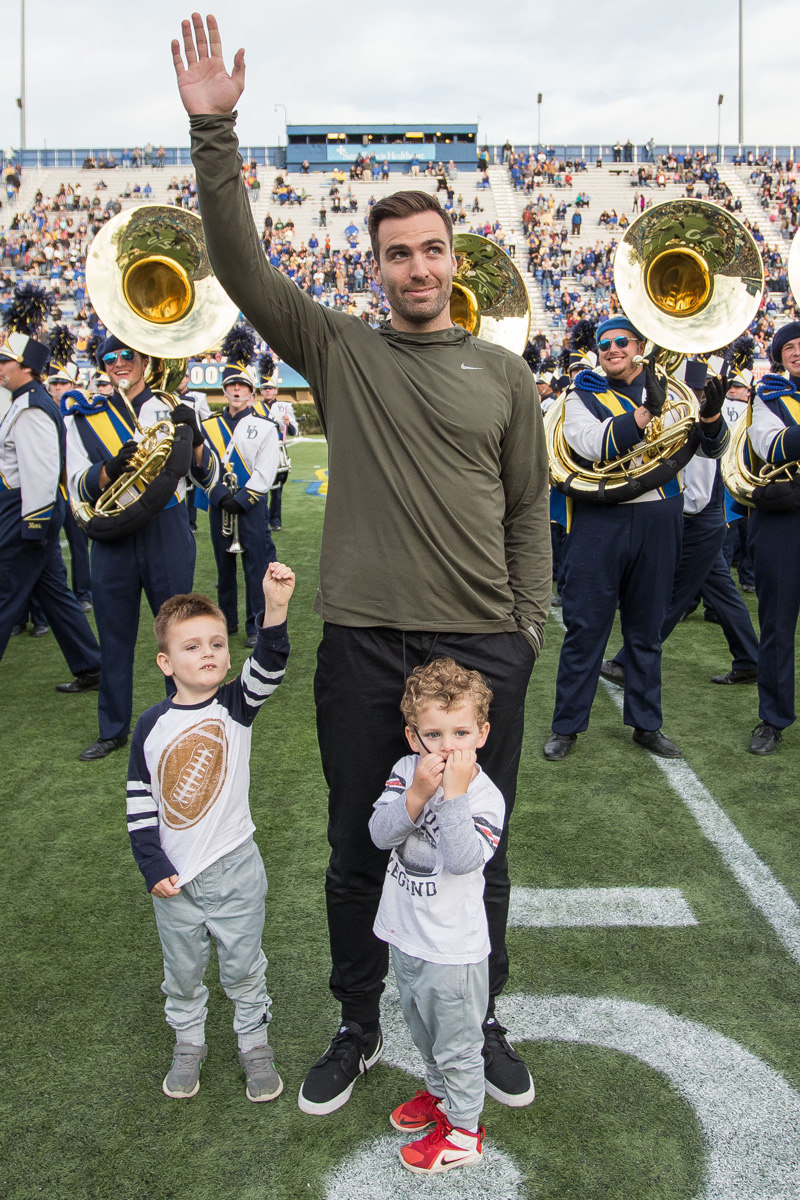 "Joe Flacco embodies UD's team spirit and our constant drive for excellence, which are qualities we seek to instill in every one of our students," UD President Dennis Assanis said. "A strong UD community depends on a strong athletics program with great facilities for our student-athletes and fans. Through this wonderful gift to the Delaware First campaign, Joe and Dana are helping us enhance every facet of student success."
Indeed, Super Bowl champion Flacco understands all too well the importance that facilities play in the recruitment and success of student-athletes.
"When you look around college football, the facilities are such a recruiting tool," Flacco said. "I've experienced how the best facilities can help you to perform at the highest level. I want UD to have the best chance to compete and continue its tradition of success." 
Flacco enjoyed a record-breaking two-year tenure at quarterback for the Blue Hens in 2006 and 2007, and then began an even more impressive career in the National Football League in 2008. He was as a first-round NFL draft pick (18th overall) by Baltimore in 2008 - the highest pick ever for a Delaware player. He led the Ravens to the AFC playoffs six times and to the Super Bowl XLVII title in 2012, when he was named the game's Most Valuable Player. Flacco will continue to lead the Ravens through 2021 after signing a contract extension in 2016.
"Joe's career is an inspiration to all UD student-athletes – past, present and future," said Chrissi Rawak, UD director of Athletics and Recreation Services. "For Joe to generously give back demonstrates his commitment to the future of Delaware football and the tools we need to recruit the best. We couldn't be more grateful that he and Dana chose to make this incredibly impactful gift."
A New Jersey native, Flacco transferred at the end of his sophomore year to the University of Delaware , where he quickly found success and was embraced by the Delaware community.
"I was immediately drawn to the feeling of community at UD," Flacco said. "It was so easy to make the transition. The University is filled with great people that you never get a chance to hear about. The Delaware football family is a very special one with a storied past. There have been so many great figures for guys like me to look up to. It means a lot to forever be a part of that, both through my UD career and this gift."
The University and Flacco hope this significant gift will inspire others to see the University as a worthy investment.
"Joe is setting a terrific example for our student-athletes and alumni," Delaware Football Coach Danny Rocco said. "Our team looks up to Joe and knowing that he is giving back to help them, to advance their college careers, means so much to these young men. We are so grateful for the generosity of the Flacco Family."
It is that culture of giving that Flacco hopes to see among his peers as they commemorate their time at UD through philanthropy.
"I know all UD alumni have fond memories of their time spent here," Flacco said. "I believe that alone will drive people to help in any way possible. Hopefully, I was a part of some of those great memories and that will make fellow alumni want to be part of such a great project." 
Building Our Home 
Building Our Home is a core priority of the Delaware First Campaign, focused on a bold $60 million project to renovate Delaware Stadium and build the new, state-of-the-art Whitney Athletic Center for UD student-athletes. To date, the University has more than $52 million committed towards this initiative.
"We are so fortunate to have such a committed football alumni family here at Delaware," Rawak said. "So many have been generous with their time, talent and treasure."
With $7.8 million remaining to raise before construction begins, UD Athletics is relying on its dedicated alumni and friends to reach its goal of shovels in the ground after the 2018 football season.
More than 292 individuals have already donated to the Building Our Home initiative via the project's crowdfunding campaign, with close to 100 families making major commitments.
And the Delaware football alumni network has stepped up in a big way. In addition to Flacco, over 20 other UD football alumni and their families have made individual major contributions in support of UD's Athletic Facilities, including a recent gift from UD alumnus and former NFL star Rich Gannon. They include:  
Robert E. Ashby '77 and Sandra Keene Ashby '77
Paul F. '83 and Lisa Brown
Lawrence R. '58 '66M and Barbara V. Catuzzi
Joe '08 and Dana Flacco and Family
Vance A. Funk III '65 and Elaine Trzcinski Funk '69
Richard J. '87 and Michelle D. Gannon
Geoffrey C. Gardner '96 and Karen Kolar Gardner '96
Thomas L. '60 and Kipp T. Gutshall
Thomas E. Hall '78 and Patricia Kilbane Hall '78M
Richard H. '71 and Gail D. Keller '71
Alfred L. Minite '80 and Susan Gilman Minite '80
David W. Price '90 and Kristin Shannon Price '88
Michael S. '67 and Elizabeth R. Purzycki
Joseph J. Purzycki '71 '77M and Sharon Kirk Purzycki '71
Daniel R. '86 and Cheryl K. Reeder
Kenneth L. '53 and Theodora F. Rieth
Gregory T. '91 and Kristi Rogerson
Fred P. Jr. '63 and Madeleine T. Rullo
Michael S. '96 and Melissa Ryan
Rick S. Scheetz '87 and Michele Jacecko Scheetz '87
Ethan A. Jr. '57 and Patricia A. Stenger
Thomas W. Van Grofski '66 '68M and Jacqueline Harding Van Grofski '63
William E. Jr. '92 and Melissa G. Vergantino
John E. Jr. '64 and Barbara C. Wallace
About Joe Flacco
A native of Audubon, New Jersey, Flacco earned All-American honors in 2007 when he led Delaware to an 11-4 record and a berth in the NCAA FCS title game after passing for 23 touchdowns and a school-record 4,263 yards for head coach K.C. Keeler.
He set 20 school records, including completions in a game (40) and season (331), consecutive passes without an interception (174), passing yards in a season (4,263), 300-yard passing games (11), and career completion percentage (.634). He also ranks No. 2 all-time at Delaware with 7,046 career passing yards.
He earned third team Sports Network All-American honors in 2007 when he was the Colonial Athletic Association and ECAC Eastern Player of the Year and was named the UD Co-Outstanding Senior Male Athlete of the Year with teammate and 2015 UD Athletics Hall of Fame inductee Omar Cuff.
He was a first round NFL draft pick (18th overall) by Baltimore in 2008 - the highest pick ever for a Delaware player - and was named the 2008 Diet Pepsi Rookie of the Year. A starter since he entered the league, he has led the Baltimore Ravens to the AFC playoffs six times, including berths in the AFC championship game twice. He led the Ravens to the Super Bowl XLVII title in 2012 and was named the game's Most Valuable Player after throwing for 287 yards and three touchdowns in the 34-31 win over San Francisco. He has thrown for nearly 30,000 yards during his career.
Flacco was inducted into the Delaware Athletics Hall of Fame in 2016.
Delaware First Campaign
Delaware First: The Campaign for the University of Delaware was publicly launched on Nov. 10, 2017. The comprehensive engagement and fundraising campaign will unite Blue Hens across the nation to accelerate UD's mission of cultivating tomorrow's leaders, creating solutions to grand challenges, inspiring innovations and transforming lives. The united effort will help create an extraordinary student experience at UD and extend its impact on the region and the world.