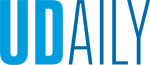 Gov. John Carney visits UD's STAR campus
Article by Carlett Spike Photo by Kathy F. Atkinson March 21, 2018
Carney highlights 'partnership' with University and its crucial role in economy
Gov. John Carney visited the University of Delaware's Science, Technology and Advanced Research (STAR) Campus on Monday, March 19, and joined University leaders for a lofty view from the top floor of the STAR Tower that is under construction.

"We, as a state, have a responsibility and a partnership with the University of Delaware to make the University all that it can be," Carney said. "Increasingly, colleges and universities are important parts of local economies and state economies — more so, I think, than any other time in our history. They are job creators. We live clearly in a science and technology based economy where innovation is so important and, again back to the initial point, workforce is just so critical a part of that equation. You are that workforce, you are that future."

UD President Dennis Assanis joined Carney on the tour, along with Alan Brangman, UD executive vice president, Kathy Matt, dean of the College of Health Sciences, and Debbie Martini, STAR building coordinator.

The group went to the 10th floor of the STAR Tower, where there are full views of the campus and beyond through the floor-to-ceiling windows. Assanis pointed out different landmarks such as the nearby UD football stadium and the more distant Delaware Memorial Bridge. The group also stopped on the second floor to see the area where an exercise intervention space is planned for the kinesiology department. Martini said the building is scheduled to open in early August.

"On a day like this, it is wonderful to reflect on how much state support contributes to higher education in the state and the University," Assanis said. "This is another level of engagement with the community, gives students real life opportunities, brings entrepreneurs to STAR Campus and does great things for our state. So it's phenomenal. We are very proud of this day. We are very proud of this University and what our staff has accomplished."

Carney began his UD visit by meeting with students in a physical therapy class. He thanked Assistant Professor Dan White for helping to make UD's physical therapy program one of the nation's best and thanked students for their contributions to the state.

Matt led the tour to the virtual reality cave, where Kinesiology and Applied Physiology Chair John Jeka explained the research and use of this technology. Carney decided to try it himself, and "walked" through a simulation of an endless hallway.

The next stop was the Spin-In room, where Carney met with a group of students who help local businesses launch their products. David Weir, director of UD's Office of Economic Innovation and Partnerships, said the students serve as a product development team for these businesses. The class showcased a product they are currently working with that makes fabrics puncture resistant.