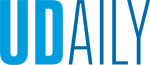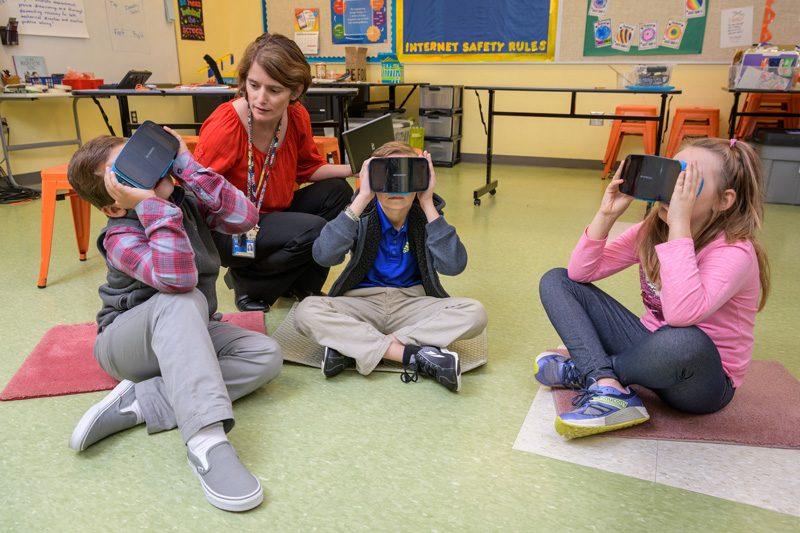 Learning through creative curriculum
Article by Jordan Howell Photos by Evan Krape December 12, 2018
STEM lab brings latest technology to students at The College School
Huddled over graph paper, carefully sketching the dimensions of toy blocks, sixth-graders in The College School (TCS) at the University of Delaware eagerly learn how to create models to code into their 3D printer.
A nearby display case showcases masterpieces created by earlier classes: An orange pyramid with a portion cut away, revealing hidden tunnels. A yellow castle, complete with turrets and battlements. And, perhaps most impressive of all, a teal-blue diagram of an animal cell, dissected to show the features within.
Integrating a 3D printer into the curriculum isn't just fun and games.
The College School specializes in educating students with language-based differences, social/emotional issues and auditory processing disorders.
"So many of our kids have language-based learning challenges, and school is highly language-based, so it's really difficult for some of them to show their learning in a traditional pen-and-paper report," said Laurie Drumm, master teacher at The College School. "3D printing gives students the opportunity to demonstrate their learning in non-traditional ways."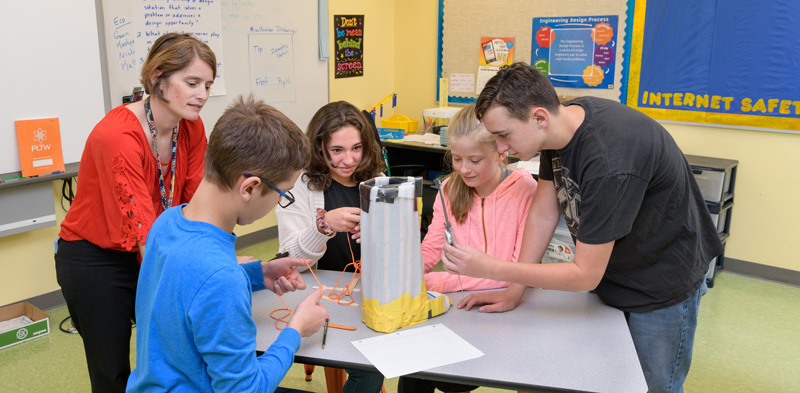 Take the example of the cell diagram. In a typical classroom, students may be expected to read about cells in a textbook and then "show their work" in a quiz, test, or report.
"But for kids with language challenges," said Drumm, "that doesn't really show all they know. If they can sit down and design something and print it out, it's a non-language-based way for them to demonstrate their learning."
Drumm oversees The College School's STEAM education curriculum, which was established two years ago. STEAM stands for Science, Technology, Engineering, Art and Math.
The College School has always had a strong technology component, but has expanded its focus by obtaining the 3D printer, creating a STEM room, building a magnetic creativity wall and integrating virtual reality (VR) goggles into lesson plans.
Laura Dougherty, director at TCS, said incorporating VR expands the students' knowledge-base far beyond their Newark classroom.
"They have walked through Egyptian pyramids during their social studies class, explored the ocean depths for environmental science and flew among the constellations when learning about space," Dougherty said.
Now, thanks to a partnership with UD's Department of Mechanical Engineering and funding by a generous donor, TCS has been able to expand the STEM program and incorporate Project Lead the Way into its curriculum.
Project Lead The Way is a national provider of project-based curricula and teacher professional development. It helps students learn how to define relevant problems, generate concepts, design solutions and then build, test and evaluate those solutions.
"It's student-directed, hands-on curriculum for problem solving," said Drumm. "They're given challenges in a real-world setting" and then tasked with designing and building practical solutions.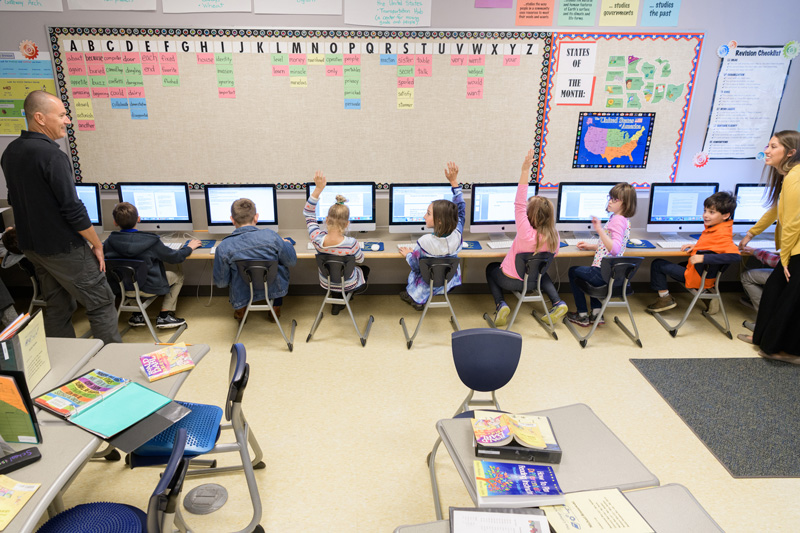 The STEM room is lined with shelves containing building blocks, plastic beads, toothpicks, modeling clay, cotton balls, styrofoam, cardboard boxes, and even recycled cup holders from Dunkin.
One shelf holds "boots" that students assembled out of wooden rods, tape and foam designed to help improve the mobility of a hypothetical child with cerebral palsy.
"This curriculum definitely helps kids who struggle in a traditional school setting to show their learning in a different way," said Drumm, "but it also helps them to develop soft skills that they're going to need for the rest of their lives, like creative thinking, collaboration, teamwork, perseverance, and problem solving in difficult situations."
And the thing is, Drumm explained, students aren't even aware that they're learning these skills. "Which is the cool way to do it," Drumm said.
The College School benefits from its affiliation with UD. Teachers attend workshops hosted by the College of Education and Human Development and the College of Engineering to learn best practices for using a makerspace. The workshops are held in UD's Spencer Laboratory Design Studio.
"We want teachers to feel comfortable coming into these spaces, and part of that is getting them into the building," said Jenni Buckley, an assistant professor of mechanical engineering at UD who helps to run and organize the workshops. "We want them to take ownership of their own space, and take ownership of their own curriculum."
The STEM curriculum is just one method TCS uses to provide innovative learning solutions tailored to each student's individual needs.
"They are constantly trying new things," said a parent whose son struggles with reading comprehension. "When his teachers found that he was having trouble learning visually, they integrated a text-to-voice program that reads aloud to my son. They found the best way to help him learn, using digital tools when the need arises, but not so much that it becomes a crutch. They're problem solvers. Every single person at the school really gets my child."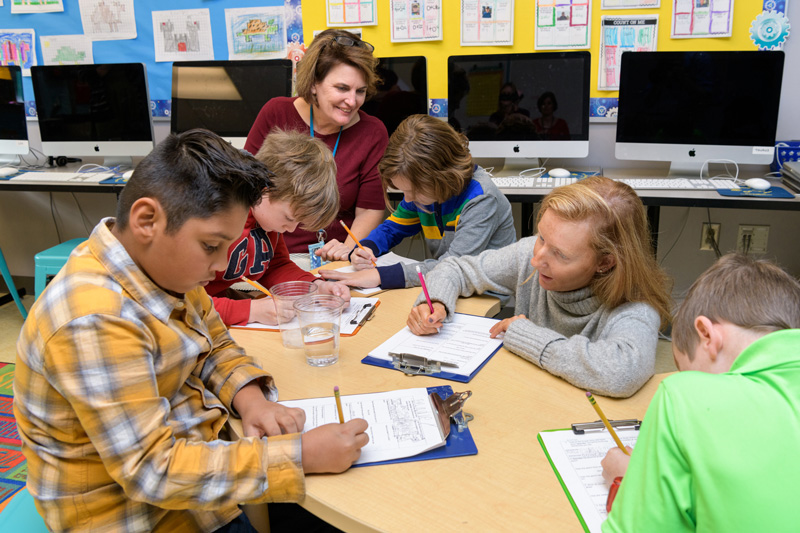 Another parent said she appreciated the school's ability to help her son who struggles with attention challenges.
"We noticed a difference in academics and his attention to his coursework, almost immediately," she said. "After one year, we've noticed a huge jump in his emotional maturity and ability to articulate how different situations made him feel, and to relate those skills to making and keeping new friends. It was a profound change."
The College School serves students in first through eighth grade who demonstrate learning, attention, mild social/emotional, and/or mild behavioral issues that may impact school success. Students can attend for as little as 2-3 years before returning to a traditional school or remain through eighth grade. Admission is open throughout the school year.
To learn more, visit www.collegeschool.udel.edu.