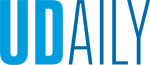 April 21: The magic of Artfest
Article by Zach Davis Photos by Lisa Bartoli April 09, 2018
UD Center for Disabilities Studies, student volunteers and Art Therapy Express bring art projects to people with disabilities
David Turner enjoys seeing things happen that most people think are impossible. That's why he'll be attending his fifth Artfest on Saturday, April 21 in Newport, Delaware.
The community celebration and creative workshop, hosted by the University of Delaware's Center for Disabilities Studies and Art Therapy Express, brings together people with disabilities and UD undergraduate volunteers to participate in accessible art projects. The event will be held from 11 a.m. to 1 p.m. at the New Castle County Absalom Jones Community Center, 310 Kiamensi Rd., Newport, Del.
The accessibility is thanks in no small part to Turner, an Art Therapy Express volunteer, and his colleagues, who have created and adapted art tools over the years to enable people with disabilities to express themselves.
"I've seen the smiles that come over someone's face when they're doing something they weren't able to do five minutes prior," he said. "It's a magical feeling."
Lisa Bartoli, Artfest creative director and lead artist of Art Therapy Express, says the drive to make more sophisticated and individualized art tools arose when the projects began to feel static.
"When we started, we only had basic adaptive equipment, made from store-bought stuff," like jury-rigged Velcro arm cuffs, "and there's only so much you can do with that," Bartoli said.
Participants would have the opportunity to make more vibrant art, Bartoli decided, if they had equipment that better suited their needs.
"We try to incorporate their abilities in the tool," Bartoli said. "Something so personal, so individual—I think it gives them an even better way to express themselves."
One of Art Therapy Express's 30 to 40 adaptive art tools, for example, is a ring crafted out of slim plastic pipes, with brushes or other art implements attached, for those who have several strong fingers but limited use of their hands.
Another way Artfest has grown more accessible is by offering a broad range of projects, from inventive to downright playful. Brynn MacBride, a regular Artfest participant, can attest. She has created art over the years with a number of adaptive tools, including yard-long brushes to reach murals on the walls and floor; squirtable paint bottles to trace designs on a fast-revolving canvas; and remote control trucks driving on paper with pencils strapped to their rear bumpers.
The tools and projects give MacBride a sense of empowerment. When she's making art, "I feel really good about myself," she says. "I like to be independent and creative."
Turner would be thrilled to hear this, but maybe not surprised. Watching participants flourish at Artfest and in other art therapies, he said, "is where my anything-is-possible attitude comes from in the first place."
About Artfest
Experience Artfest on Saturday, April 21, from 11 a.m. to 1 p.m. at the New Castle County Absalom Jones Community Center, 310 Kiamensi Rd., Newport, Del. This year's event will include plaster mask decorating, marble painting, a "living canvas," a floor mural and several multisensory stations—including one dedicated to slime.
To participate or volunteer, complete the online registration form or contact Jasmina Chatani at jchatani@udel.edu. The deadline for registration is April 17.