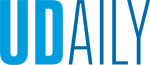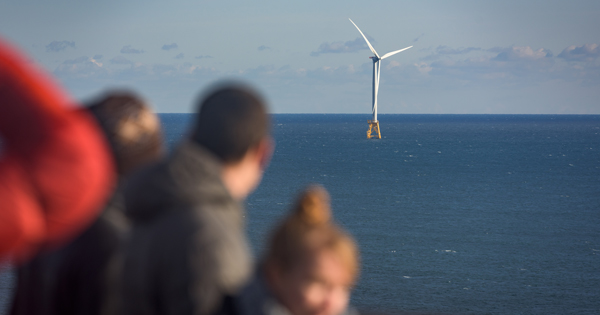 UD tapped for offshore wind initiative
Article by Karen B. Roberts Photo by Evan Krape September 15, 2017
Leveraging long history in offshore wind as part of Gov. Carney's new working group
The University of Delaware, with its extensive experience in offshore wind power, will participate in Gov. John Carney's new Offshore Wind Working Group.
Jeremy Firestone, who directs UD's interdisciplinary Center for Carbon-free Power Integration, was named a member of the working group this month.
The initiative will bring together leaders from government, industry, the energy sector and academia to study how Delaware can participate in developing offshore wind, identify ways to leverage related economic opportunities, and make specific recommendations for how Delaware can engage in the development of offshore wind.
"We must look for ways to participate in the development of alternative energy sources," said Gov. Carney at the signing of the executive order. "It's the right decision for our environment, but the development of new sources of energy is also good for our economy, and for the creation of good-paying jobs."
The working group will begin meeting later this month to review economic opportunities and environmental benefits of offshore wind development, and the costs and benefits of developing offshore wind; review and recommend changes to laws and regulations governing the development of renewable energy; and identify barriers and opportunities involved in developing offshore wind to benefit Delawareans. The working group will report back to the Governor by December 15.
"Governor Carney is re-igniting the imagination of Delaware's citizens with a 'fuel' that results in neither health-harmful air particles nor climate changing emissions nor storm surge nor sea level rise, and that has potential for long-term economic development in our state, and in particular, in and at our ports," said Firestone, a professor in the School of Marine Science and Policy. "The ocean is a busy place, but through planning, giving voice to stakeholders and consideration of competing uses, it is large enough to accommodate offshore wind power."
UD's strength in wind power
The University has had an extensive research program in offshore wind since 2003 through UD's Wind Power Program. The Wind Power Program involves several colleges and is housed within the College of Earth, Ocean, and Environment (CEOE), with studies in meteorology, engineering, policy, environmental and social science aspects of offshore wind. CEOE also houses the Special Initiative on Offshore Wind.
Participation on the working group builds on UD's previous experience in policy analysis, research, public testimony and industrial partnership. For example, UD faculty members Willett Kempton and Jeremy Firestone were instrumental in informing decision-makers, including the Delaware Public Service Commission (PSC), and engaging the public on the relative merits of the Bluewater Wind's successful offshore wind power proposal and competing proposals for coal and natural gas plants.
In 2008, the Delaware PSC approved a power purchase agreement between Bluewater Wind and Delmarva Power. Subsequently, Bluewater Wind withdrew from the agreement and the development lease was transferred to another entity, and is presently being developed by Deepwater Wind.
UD also joined forces with Gamesa (now known as Siemens Gamesa) in 2010 to install and operate a utility-scale wind turbine on the Hugh R. Sharp Campus in Lewes. The 2-megawatt turbine annually powers the Lewes campus and more than 100 nearby homes, while also fueling a variety of wind energy research, such as the turbine's impact on area birds and bats that showed that the turbine had a very low impact on birds and with minor operational adjustments, the impacts on bats would be low, too.
Other projects have studied wear and tear on the turbine's drive train, whether salty coastal air produces corrosion on the machine's intricate mechanisms, community perceptions of the turbine's appearance, and the effect of the wind extraction by one wind turbine on the power production of turbines located downwind.
Fueling student engagement in energy transformation
Firestone was joined at the Executive Order signing by three UD students: Christine Hirt, a marine policy master's student focused on public perceptions of offshore wind; Aaron Russell, a new doctoral student exploring the intersection of renewable energy and water science and policy; and Adam Prefer, a senior environmental science major is conducting research with Firestone examining public perceptions of health risks associated with the transmission of electricity generated offshore.
As opportunities grow, UD's wind power program and interdisciplinary Graduate Certificate in Wind Power Science, Engineering and Policy are prime examples of critical training programs that students can leverage now to prepare now for expanding employment needs, Firestone said.
"There is a vast economically-viable wind resource on the horizon, close to population centers that can be converted to electricity with much lower environmental and social impacts than conventional means. We are not there yet, but there are strong winds at our backs. Today's action by the Governor seeks to harvest those winds" said Firestone.
About the College of Earth, Ocean, and Environment
UD's College of Earth, Ocean, and Environment (CEOE) strives to reach a deeper understanding of the planet and improve stewardship of environmental resources. CEOE faculty and students examine complex information from multiple disciplines with the knowledge that science and society are firmly linked and solutions to environmental challenges can be synonymous with positive economic impact.
The college comprises the School of Marine Science and Policy, Department of Geography and Department of Geological Sciences.
CEOE brings the latest advances in technology to bear on both teaching and conducting ocean, earth and atmospheric research. Current focus areas are ecosystem health and society, environmental observing and forecasting, and renewable energy and sustainability.