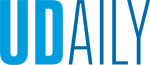 Exploring gender divides
Article by Alaina Taylor Photo by Duane Perry September 11, 2017
Brianna Wu kicks off National Agenda speaker series
Video game developer and congressional candidate Brianna Wu kicked off the University of Delaware's 2017 National Agenda speaker series with a Sept. 6 lecture on gender divides.
The annual series, sponsored by UD's Center for Political Communication (CPC), brings nationally known speakers to campus. This year's theme, "As We Stand | Divided," will explore religious, political, cultural and other divides in the United States.
As head of development at GSX, an independent videogame studio in Boston, Wu used her experiences in a male-dominated field to highlight the inequalities she and other women face in the gaming world.
She spoke about having been personally targeted by alt-right groups through the movement known as Gamergate, a campaign of online harassment directed at several women in the gaming industry. Wu described Gamergate as "a reactionary hate group."
Because of her efforts to de-sexualize and empower the women depicted in video games, Wu said, she found herself attacked by gamers who wanted to keep the status quo.
Now also a 2018 Democratic candidate for U.S. Congress from Massachusetts, Wu told the audience that players in the Gamergate movement have been amassing political power since the 2016 election. In answer to a question from a student, she enthusiastically supported the idea of more women becoming political candidates.
"We're out there, we're angry, and we're running for office," she said. "And not just women—we need more people of color running for office too. We need all different kinds of perspectives."
A video of the session with Brianna Wu can be viewed here.
Sept. 20: Geographical divides
The next speaker in the National Agenda series will be David Joy, who will talk about geographical divides at 7:30 p.m., Wednesday, Sept. 20, in UD's Mitchell Hall.
Joy is a Southern novelist and the author of Where All Light Tends To Go as well as the novels The Weight Of This World and the upcoming The Line That Held Us. He is also the author of the memoir Growing Gills: A Fly Fisherman's Journey, which was a finalist for the Reed Environmental Writing Award and the Ragan Old North State Award.
All lectures in the National Agenda series, which is supported by the Office of the Provost, are free and open to the public. The director of the series is Lindsay Hoffman, associate professor of communication and political science and associate director of the CPC.
A full schedule and more details about National Agenda are available at the website.