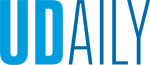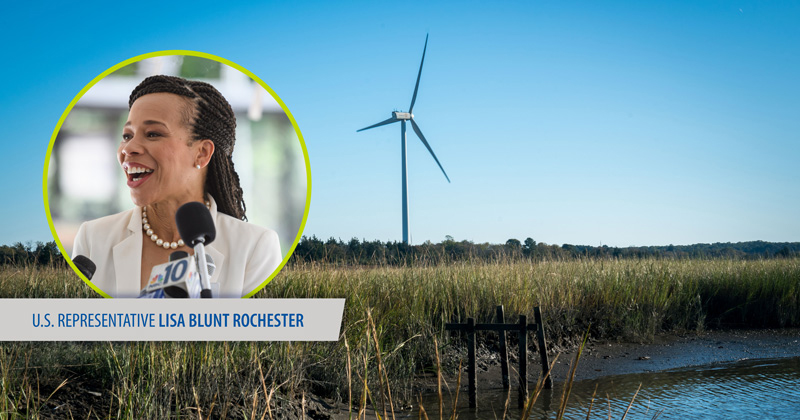 U.S. Rep. Blunt Rochester tours UD turbine in Lewes
Article by Karen B. Roberts Photos by Michael Graw and Kathy F. Atkinson | Photo illustration by Jeffrey Chase October 26, 2017
UD wind energy experts Jeremy Firestone and Willett Kempton provided a briefing
U.S. Rep. Lisa Blunt Rochester toured the University of Delaware wind turbine on the Hugh R. Sharp campus in Lewes on Wednesday, October 18.
UD wind energy experts Jeremy Firestone and Willett Kempton briefed the congresswoman on the state of wind energy in Delaware before Jairo Arias of Siemens Gamesa Renewable Energy led a tour of the 2-megawatt turbine, which is a collaborative effort between UD and Siemens Gamesa.
The only utility-scale wind turbine in Delaware, the 2-megawatt turbine has powered UD's Lewes campus and approximately 140 nearby homes annually since 2010, while also fueling a variety of wind energy research and serving as an educational resource for students.
Congresswoman Blunt Rochester expressed her thanks for the opportunity to hear about UD's clean energy activities that make use of "the great resources that are available to us in a way that is forward thinking and caring."
Firestone, who directs the Center for Carbon Free Power Integration (CCPI), gave a brief history of UD's wind power program, which was established in 2003. The program includes interdisciplinary research by 16 affiliated faculty across four UD colleges with an emphasis on coastal and offshore wind.
"It was a memorable day," Firestone said. "We love sharing our passion for clean renewable energy and knowledge of wind energy with engaged students and political leaders such as Congresswoman Blunt Rochester. The story of the wind turbine is unique as the turbine not only provides carbon-free energy and a research and education platform, but also has the revenues that it generates designated to research and student fellowships."
The group also discussed the potential for offshore wind in Delaware. Firestone recently was named to Gov. Markell's working group on offshore wind, which is studying how Delaware can participate in developing offshore wind and leverage related economic opportunities.
Considered a new industry in the United States, offshore wind has been a demonstrated energy resource in Europe for more than 25 years. Siemens Gamesa, who partnered with UD to install and operate the turbine in Lewes, is considered a world leader in the field.
"We're excited about the future of offshore wind in the United States," said Jason Folsom, Head of Sales for Offshore Wind Americas at Siemens Gamesa. "Offshore wind is a logical source of new generation along the U.S. coast, where densely populated cities can benefit from clean electricity generated near its point of use. And electricity prices from offshore wind have declined dramatically, around 70 percent in the last eight years, so offshore wind is now cost competitive to fossil generation in some markets. We hope to see the U.S. take advantage of this new industry, as well as its associated benefits."
As the U.S. offshore wind market develops, Firestone pointed to ways the state of Delaware and UD, with its previous experience in policy analysis, research, public testimony and industrial partnership, are poised to play a pivotal role in the effort.
"The Port of Wilmington is well-placed to play an important role in offshore wind development in the mid-Atlantic as part of a regional development plan," said Firestone. "I emphasize regional development because it is important for states to move beyond seeking to claim all the benefits of offshore wind power for their citizens while seeking to socialize the costs to others."
The Congresswoman also interacted with undergraduate and graduate students taking an interdisciplinary course on offshore wind power engineering, science and policy. Through the course, which is part of a graduate certificate program, UD faculty already are arming the next generation of wind experts with critical skills to succeed in this emerging market. Partnerships with institutions such as Technical University of Denmark, National Renewable Energy Lab and Siemens Gamesa enhance student success by providing opportunities for research and educational exchange.
Blunt-Rochester encouraged the students to take every chance to get involved, volunteer and be engaged, adding that one never knows where opportunities will turn up.
A UD-led study by Kempton, a professor in the College of Earth, Ocean, and Environment, and colleagues recently determined that constructing offshore wind turbines in port is cheaper and faster than traditional methods, for example. These findings could make possible offshore wind deployment at a scale and pace able to keep up with the region's scheduled retirements of nuclear and coal-fired power plants.
Wind lessons for future Blue Hens
Coincidentally, the Congresswoman's tour occurred the day after 114 first graders from Smyrna Elementary school visited UD's Hugh R. Sharp campus to learn about wind energy. The children spent the day making scientific observations about wind, building homemade anemometers,
and peppering Delaware Sea Grant (DESG) marine education specialist Chris Petrone with questions about the University's wind turbine.
Now in its fifth year, the DESG wind energy program is designed to complement the first grader's science lessons on weather, wind and engineering. Since 2013, more than 550 students throughout the state have participated in the program, with an additional 250 students scheduled to visit UD's Lewes campus this spring.