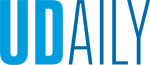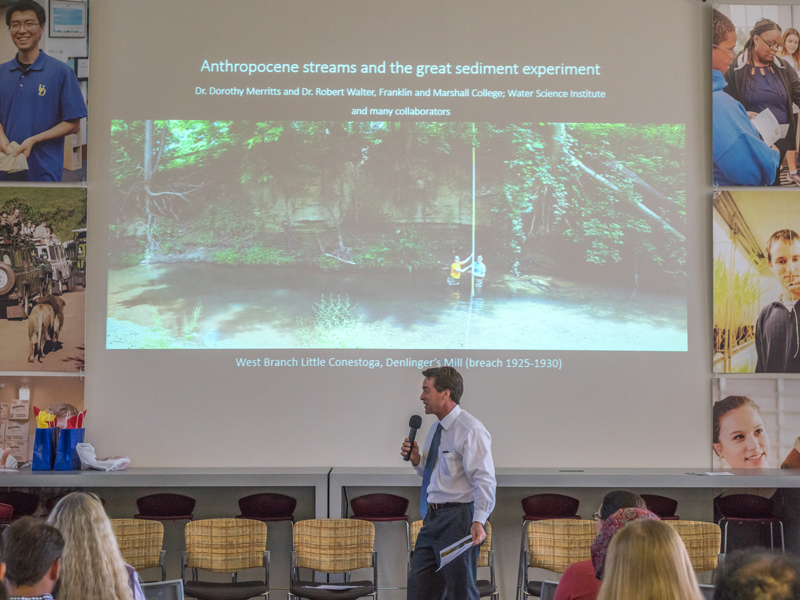 Fourth annual water symposium
Article by College of Agriculture and Natural Resources Staff Photos courtesy of Shreeram Inamdar October 27, 2017
Participants discuss land use legacy, water quality, and stream restoration
The fourth annual Water Symposium was held on Friday, Sept. 29, at the College of Agriculture and Natural Resources (CANR) campus in Townsend Hall.
The annual event provides an excellent opportunity for faculty and students affiliated with the interdisciplinary Water Science and Policy (WSP) Graduate Program to present their research, share ideas with peers, and network with professionals from industry, government, and nonprofit organizations. Around 70 people attended the symposium and represented a mix of academia, industry, and government agencies.
The symposium was inaugurated by CANR Dean Mark Rieger, who praised the rapid progress and accomplishments of the interdisciplinary program since its recent start in 2012.
"These are the types of graduate programs that President Assanis would like to see and which meet the vision of the grand challenges of the university," said Rieger, adding that it was great to see alumni from the program attending, giving back and supporting the program.
Shreeram Inamdar, director of the WSP program, said that "the program is doing very well and is on a strong upward trajectory. The program has graduated 13 students with a 100 percent employment rate."
Students who graduated from the WSP program are employed in institutions such as the Environmental Protection Agency (EPA), U.S. Geological Survey (USGS), Delaware River Basin Commission (DRBC), Maryland Environmental Service, and Skelly & Loy Inc., to name a few.
Inamdar said "the program currently has 23 students that includes the largest incoming class of 13 new students in the fall of 2017."
It was also particularly noteworthy that all students in the program were fully funded through assistantships, he said.
The plenary talks for the symposium were given by two highly distinguished, world recognized, and widely respected scientists – Dorothy Merritts and Robert Walter, who are professors at Franklin and Marshall University in Lancaster, Pa.
Their groundbreaking work on colonial era mill dams and legacy sediments, which was published in the prestigious journal Science in 2008, dramatically changed how scientists see and interpret the geomorphology of fluvial systems in the mid-Atlantic and eastern U.S.
Their work has been cited widely and they have received numerous awards and recognition for their cutting-edge research. For example, in 2008 both of them were cited by the Pennsylvania State Senate Resolution 283 for outstanding contributions to stream restoration and water quality improvements in the Chesapeake Bay watershed.
In her talk, Merritts highlighted numerous examples of mill dams in Chester and Lancaster counties and how they shaped stream terraces and floodplains in the region.
"There were hundreds and hundreds of mill dams on creeks in this region, in some cases, every 1 to 2 miles along the creek," she said. They recalled their discovery and how the light bulb went on as they saw the high stream banks immediately upstream of a breached mill dam—Denlinger's mill—with pronounced horizontal layering of fine streambank sediments.
Walter added "the regular, horizontal layering of fine sediments was not what one would expect in stream floodplains but rather under the quiescent settling conditions in ponded waters."
Merritts and Walters were able to make this connection and explain the presence of the vertical, eroding, streambanks, a puzzle that had previously eluded many distinguished and well-recognized geomorphologists.
Merritts also pointed to the pre-colonial sediment layers, many feet below the light brown colonial-era legacy sediments that were still apparent along the streambanks. These soil layers included the Pleistocene gravel overlain by a by a dark, organic rich layer, filled with decaying, and in some cases, still intact leaves and organic matter from a bygone era.
Walter discussed the significance of the legacy sediments for contemporary water quality, mitigation and restoration strategies, and management implications for the Chesapeake Bay.
Interestingly, in recent years, Pennsylvania is leading the nation in removal of low head dams. How erosion of streambank legacy sediments and the removal of mill dams impacts stream sediment loads is a question that still needs to be addressed and is a top priority for the region's natural resource agencies. Walter presented results from the restoration of legacy sediments that was implemented at Big Spring Run in Lancaster. The restoration involved complete removal of streambank legacy sediments for a selected reach with conversion to a tussock-sedge wet meadow.
"This restoration yielded immediate benefits – reduction in stream flow velocities and sediment loads, decreased nutrient concentrations and water temperatures, and enhanced habitat conditions," he said, adding that the Big Spring Run restoration could be one of the models to follow for restoration of landscapes with legacy sediments.
Following the plenary talks, 20 WSP students presented their research through short, 2 to 5 minute talks. The talks ranged from science topics such as gas fluxes from coastal wetlands and biochar use for water quality, to policy and behavioral science issues such as transboundary water conflicts, and consumer attitudes to drinking water quality. The full program and detailed description of the presentations is available here.
The last part of the symposium included a panel discussion by WSP alumni in which they presented their personal experiences from the workplace and tips and advice to current students. WSP alums who took time out of their busy schedules to attend the symposium included - Jennifer Egan (PhD, 2015), Kate Hutelmyer (MS, 2014), Alex Soroka, Kelsey Moxey and Richard Rowland (all MS, 2016).
The alums emphasized the need to develop professional connections with industry early and to follow up on job applications but to not panic about the job search.
They also suggested that students make sure they learn valuable tools such as GIS, programming, and statistical techniques. The alums also shared with the current students the new job openings in their companies.