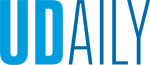 International doctoral honors
Article by College of Arts and Sciences Communications Staff Photo courtesy of the Association for Business Communication October 30, 2017
UD's Meier receives business communication award
Kathryn Ann Meier, who earned her doctoral degree in English in 2016, has received the 2017 Outstanding Dissertation Award from the Association for Business Communication (ABC), an international, interdisciplinary organization committed to advancing business communication research, education and practice.
The award recognizes the top dissertation in the field in the past two years, based on significance to scholarship, research and/or pedagogy of business communication, and demonstrated originality of thought and careful investigation. Meier is the first doctoral student from the University of Delaware to receive the award.
James Dubinsky, executive director of ABC, presented the award to Meier at the association's international convention in Dun Laoghaire, Dublin, Ireland, on Oct. 21, calling it "one of the most prestigious in the field and awarded by the organization."
John Ernest, the Judge Hugh Morris Professor of English and chair of UD's Department of English, said the department "is very proud to be associated with the work [Meier has] done in this vital area of research."
"This is important work for us, and we're thrilled that one of our doctoral students is so clearly prepared to be a leading scholar in this field," he said.
Meier's dissertation, "Deconstructing DuPont Discourse: How Storytelling Shaped the Identity and Reputation of an American Enterprise," examines through archival research, employee interviews and public record analysis how the DuPont Co. used storytelling for over two centuries to communicate the business of science and engage with its stakeholders in meaningful ways.
By analyzing such venerable corporate story frameworks as "Better Things for Better Living" – one of the longest running advertising campaigns in business history – and the more modern "The miracles of science," Meier's research reveals how storytelling can move beyond stakeholder engagement to shape business approaches to communications and public relations strategy, particularly in counteracting and overcoming negative perceptions.
Her adviser, Stephen A. Bernhardt, the Unidel Andrew B. Kirkpatrick Jr. Chair in Writing emeritus and professor emeritus of English, nominated Meier for the award.
"Dr. Meier made excellent use of the archives at Hagley Library, a treasure store for scholars interested in industrial U.S. history," said Bernhardt. "She wove together complementary literatures from business and speech communication, professional writing and narrative theory to create a compelling account of how a large company manages (or attempts to manage) its public profile through creating and adapting stories about its culture, its products and its customers. Her accomplished and engaging prose style made the dissertation a pleasure to read."
Connecting corporate resources to campus
Gaining access to company records was essential to Meier's study, and she turned to the Hagley Museum and Library to conduct much of her archival research on the DuPont Co.
In particular, she examined a few hundred issues of the DuPont Magazine, a publication first produced by the company in 1913 that ran through the early 2000s.
While the magazine is available digitally, reading the print versions was crucial to understanding the genre and the publication's role in engaging employees and stakeholders in the company's story, said Meier. Spending time at Hagley also enabled Meier to speak with other archivists who were knowledgeable about the company's history and who had connections to current and former DuPont employees, one of whom brought about an unexpected opportunity.
In March, Meier was contacted by a retired DuPont employee with whom she worked closely on her dissertation and alerted to the availability of a set of the DuPont Magazine. She worked with UD Library staff to facilitate a connection with the company, and in the spring the University acquired bound issues of the DuPont Magazine dating back to 1928.
"The corporate magazine is a fascinating genre that is not widely explored, but it was a critical part of my own research in identifying why and how firms can strategically deploy corporate messaging to establish an identity and reputation among audiences," said Meier. "My hope is that the availability of this magazine set on campus will be a helpful resource to others who may be interested in exploring the genre."
Meier is director of communications for the College of Arts and Sciences. She earned her bachelor's degree in English in 2004, master of business administration degree in 2006 and doctorate in English, all at UD.