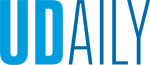 Novelist Colson Whitehead engages UD audience
Article by Artika Casini Photo by Evan Krape October 04, 2017
Author of 'The Underground Railroad' urges students to read, then trust their interpretation
Novelist Colson Whitehead, who joked that Tuesdays are usually reserved for "weeping over my regrets," instead spent the afternoon of Oct. 3 speaking to a packed Mitchell Hall auditorium about his life, his writing process and his Pulitzer Prize-winning book, The Underground Railroad.
The novel is the University of Delaware's First Year Common Reader, which is chosen with the hope that students will read it before arriving for their first semester, then to provide an opportunity to engage in a meaningful conversation with fellow students while sharing in the intellectual life of the entire UD community.
The book, UD President Dennis Assanis said in his welcoming remarks, "helps us understand deeper truths—about the humanity that we share, and the future that we might shape together."
Whitehead's talk, marked with light-hearted insight, occasional profanity and an abundance of self-deprecation, began with his earliest memories.
"I was born a poor black child. I remember the days sitting on the porch with my family, singin' and dancin' down in Mississippi," he said to raucous laughter from those who understood the reference. "Or maybe that was someone else: Steve Martin, in the movie The Jerk. I was actually raised in Manhattan."
From there, Whitehead would attend Harvard, where he was turned down by every creative writing program he applied to — good preparation for the rejection he would receive in the years to come. Whitehead is now 47.  
The Underground Railroad is his sixth novel — and by far his most successful. It won the 2017 Pulitzer Prize for fiction, 2016 National Book Award, 2017 Andrew Carnegie Medal for Excellence, and also landed on Oprah's Book Club.
The story — of two slaves escaping their Georgia plantation through a literal railroad underground, where each state they pass through shows "a different state of American possibility, sort of like Gulliver's Travels" — was one Whitehead conceived 17 years ago.
"It seemed like such a good idea, but I knew if I tried it then, I would have screwed it up," he said. "I thought if I wrote some more books and became a better writer, if I was older and wiser, if I saw the world, traveled, worked on a salmon fishing boat in Alaska or something, I could bring this worldly experience to the book and deal with it the way it deserved to be treated."
Whitehead finally decided to pursue the story three years ago, and said the book itself has taken on new meaning in recent times. Most powerfully, it has allowed him to find solace in particular passages, including one he read aloud. The excerpt begins, "We can't save everyone, but that doesn't mean we can't try."
"High school students often want to know: What does the book mean. College students want to know: Is their interpretation right," he said. "The book is yours to think about. Trust your interpretation. That's part of why you guys are here."
Vice Provost for Diversity Carol Henderson introduced Whitehead and said the novel can help shape a better future.
"The Underground Railroad is more than metaphor," she said. "It's a movement toward a shared purpose."
Essay contest winners
Ten students were awarded prizes in the 2017 Common Reader Essay Contest, in response to Whitehead's book. Here are the winners:
First place: Jillian Krol, a nursing major from Rockaway Park, NY
Second place: Michael Szczechowski, an Honors Program student and neuroscience major from Newark, DE
Third place: Shay Lukas, an Honors Program student and international business studies major from Boxborough, MA
Fourth place: Rebecca Clements, an Honors Program student and chemical engineering from Haddon Heights, NJ
Honorable Mention: Alyssa Dorsey, a nursing major from Southborough, MA
Honorable Mention: Anna Cauchy, an Honors Program student and nursing major from Wilmington, DE
Honorable Mention: Nicole Gomez, a political science major from New Providence, NJ
Honorable Mention: Anna Laderman, an Honors Program student and business major from Malvern, PA
Honorable Mention: Brianna Martinez, a university studies major from New Castle, DE
Honorable Mention: Jenna Whiting, an Honors Program student and management major from Newark, DE