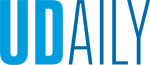 Political discord
Article by Alaina Taylor Photo by Duane Perry November 07, 2017
Former legislators discuss past, present divisions at National Agenda event
David Bonior and Mike Castle, both veteran former legislators, took the stage on Nov. 1 as part of the University of Delaware's 2017 National Agenda speaker series to discuss past and present political divides.
The annual series, sponsored by UD's Center for Political Communication (CPC), brings nationally known speakers to campus. This year's theme, "As We Stand | Divided," explores religious, political, cultural and other divides in the United States.

Bonior was elected to the Michigan state legislature in 1972 and was a member of the U.S. House of Representatives from 1976 to 2002, serving as the Democratic whip from 1991 to 2002. He now works as a member of the advisory board of the Mikva Challenge in Washington, D.C., working to engage students in civic action.

Castle served as Delaware's governor from 1985 to 1992 and as the state's U.S. Representative from 1993 to 2011. In Congress, he was president of the Republican Main Street Partnership and co-chair of several congressional caucuses.
Both speakers began the lecture with brief discussions of their time in office and the issues and divides they see in politics today.
Bonior talked about an emerging incompetence and vulgarity in politics and highlighted projects he wanted to bring to public attention, including Electoral College reform and gerrymandering.

Castle also spoke about his time in Congress and touched on some issues lawmakers face today. He expressed some disapproval of President Trump's business choices thus far in the presidency and also criticized media bias: "We need a straight story, as far as I'm concerned," he said.

The event continued with both men fielding a variety of questions from moderator Lindsay Hoffman, who is director of the series as well as associate director of the CPC and associate professor of communication, and from audience members in person and submitted via Twitter.

When asked how young people could become more civically engaged, Castle suggested asking intelligent questions in order to be more informed and visiting political headquarters to volunteer.
Bonior stated that democracy is a verb, not a noun; it is something you have to do. He spoke of his very first campaign, at age 6, when a series of events led him to distribute literature on his block in return for potato chips.
The speakers also addressed the divide between Democrats and Republicans, especially since the 2016 election. This is not the first time America has found itself in this kind of situation, Bonior said, though the current partisanship is severe. Both men agreed that Democrats and Republicans need to work together and have civil conversations before anything can be expected to change.

"What it comes down to," said Bonior, "is that as humans, we're more alike than different."
To see a video of the Nov. 1 appearance, and of other speakers in the series, visit the National Agenda website for a link to its YouTube channel.
Nov. 15: Cultural Divides
The final National Agenda session, featuring writer and comedian Chris Garcia, a first-generation Cuban-American, will focus on cultural divides.
Garcia will speak at 7:30 p.m., Wednesday, Nov. 15, in Mitchell Hall. Like all National Agenda lectures, the event is free and open to the public.
Now based in his hometown of Los Angeles, Garcia has been seen on Adam Devine's House Party on Comedy Central and Last Call with Carson Daly on NBC, and heard on memorable episodes of NPR's This American Life and the WTF with Marc Maron podcast. His breakthrough debut album Laughing and Crying at the Same Time is available on iTunes.