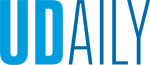 Elms return to The Green
Article by Eric Ruth Photos by Evan Krape and Sue Wyndham November 02, 2017
Replantings will help return UD's iconic setting to its original look
For almost 100 years, the tall elms of The Green stood in proud defiance of the sickness that stalked them, shading students from sun and shielding them from rain. Through countless semesters, they helped define the University of Delaware's leafy character, its cozy ambience, its sense of seclusion.
Now, a younger generation is ready to carry on the tradition of UD's grand elms.
For the first time in many years, the northernmost section of The Green between Delaware Avenue and Main Street is again lined by 14 healthy American elm trees—including the 11 youngsters that were planted in late October as part of UD's ongoing efforts to heed the vision of its early 20th century landscape designers.
For now, the 20- to 30-foot upstarts can't hope to match the grandeur of the mature broad-canopy elms that once rose in two rows above the pathways, but in time, UD's North Green will regain its shady feel and leafy vistas.
"These new trees are the 'Princeton' cultivar, which is more resistant to disease, and will do a lot to emphasize that historic feel," said Sue Wyndham, UD's landscape planner. "That's important for UD. I feel like the campus really belongs to a lot of people."
American elm trees first became integral to UD's identity in 1917, when Philadelphia architect Frank Miles Day unveiled his plan for the school's then-new central campus, an area meant to physically and symbolically join the old men's and women's campuses. Soon after construction of The Green's early buildings, students helped plant the elms that lined its length, and eventually 160 of them across the campus would grow happily until the 1970s.
That's when the elms began to fall ill, starved of food and water by a fungus carried by the elm bark beetle, an invading pest that would eventually devastate millions of trees and essentially doom the American elm. In the 1930s, before the disease took hold, there were an estimated 77 million elms in the United States. By 1989, more than 75 percent had been killed.
When the disease struck, UD scrambled to save its specimens. Crews trapped beetles, sprayed and pruned, even destroyed beetle breeding grounds. Still, one by one, UD's elms would wither and succumb, and today, less than a handful remain north of Memorial Hall. Those trees are in good health today, and UD ground crews keep constant watch against beetle incursions.

UD's landscaping squad eventually would launch an effort to replicate the elms' stately presence by planting a tree with a similar shape, the Japanese zelkova. It soon would become clear that in terms of stature and grandeur, the zelkovas were falling short. And in recent months, two of the surviving old elms on the North Green were pulled down, one due to damage, the other because of declining health.
"The Green is iconic, and it's a place that people are free to use, so it's important to preserve that sense of historic presence while still keeping it accessible," said Mike Loftus, UD's assistant director of grounds services, noting that his staff must work year-round to ensure The Green fulfills its aesthetic and functional roles. "There are 6,000 people on it, just for Alumni Weekend."
Loftus says the planting of the new elms was in itself a testament to the teamwork and commitment of UD's landscape crew, a 39-person squad made up of certified arborists, ground technicians and others. Their responsibility includes 500 acres of UD property in Newark and Wilmington, comprising 150 acres of grass and more than 6,000 trees.
The new elms have already had their share of care, even before the late-October planting spree.
The UD crew would even drive north to Ticklewood Nursery in Cochranville, Pa., tagging their selections and ensuring their 10-year-old babies were prepped with root stimulant, fertilizer and some judicious pruning.
Once summer's swelter eased, it was time to load the trees one by one onto a 10-wheeler truck and make the 15-mile trip to Newark, where a 5-foot-deep hole for each awaited.
"We've been waiting for fall, when the trees are in the process of shutting down for the year and are able to endure the transplant," said Kevin Heitzenroder, a UD alumnus and president of Turf Pro, the Newark firm that was hired by UD to install the trees and nurture them through the critical early stages.
Now, Wyndham said, UD's elms are well on their way to a full, thriving life.