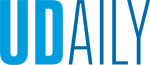 Customer impact award
Article by Erin Huston Photo by IT Communications Group May 01, 2017
UD IT's Joy Lynam receives award for outreach
The University of Delaware's Joy Lynam earned the 2017 rSmart Customer Impact Award for her outreach in the OneCampus community. Ohio State University was presented with a team version of the same award.
When asked how rSmart chose the winners, rSmart representative Terri Zezula explained that both recipients "represent our philosophy in growing a community of users where we share ideas and always try to make the product better."
The award was presented at the rSmart Users Conference 2017, a new annual conference that encourages OneCampus users to network and share ideas. The conference was a national event with attendees from higher education institutions including Indiana University, University of Maryland and Virginia Tech. At the request of rSmart, Lynam has advocated for OneCampus, answering questions, sharing UD's experiences and encouraging other universities to adopt the tool.
John Hartman of Notre Dame described how Lynam was instrumental in his school's decision to adopt OneCampus. "Joy was able to meet with a few of our IT senior executives. She was absolutely wonderful in walking them through the functions, the ease of use and the ease of support of the OneCampus product." Hartman noted that after they met with Lynam, the executives had one response: "Make OneCampus happen."
As director of IT Web Development, Lynam manages the creation and implementation of the University's web-based business systems. Among other projects, Lynam has pioneered the easy-to-use My UD Business portal, which runs on OneCampus. Off campus, Lynam represents the University of Delaware on the OneCampus Advisory Board. The board consists of six Internet2 NET+ service validators and early adopters that are Internet2 members.
Internet2 is a community of research and higher education institutions who advance cloud technology solutions for higher education; Internet2 is partnered with OneCampus. Internet2 representative Matthew Buss explained that outreach is important for the NET+ initiative because it allows universities to ensure good practices through open communication with each other. Buss added, "[The universities] really are there as a resource for their peers."
The basis of My UD Business, OneCampus is a tool developed by rSmart to help campuses organize their services in one simple, searchable portal. Universities throughout the country have adopted OneCampus.
My UD Business provides access to more than 700 applications and forms that students, faculty, staff and parents/guardians need for classes, research and other University business. Rather than sifting through menus and web pages to hunt down University resources, My UD Business users simply search for what they need. Users can browse different categories of applications, like "Research" or "Library." Users can also "favorite" applications they expect to use frequently and organize favorites as they need.
At the rSmart conference, Lynam actively showcased UD's use of OneCampus. She demonstrated the ease, speed and success that UD is having with OneCampus in the conference's first presentation, "Search, Click, Done! - It's that easy." Additionally, she represented the University of Delaware in a panel discussion about OneCampus best practices with other representatives from Indiana University, Purdue University and University of Maryland.
Lynam's efforts demonstrate how UD IT embraces OneCampus technology to streamline and aggregate business needs under one service portal for quick consumption by visitors.
For more information about My UD Business, refer to this UDaily article or visit the service.