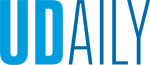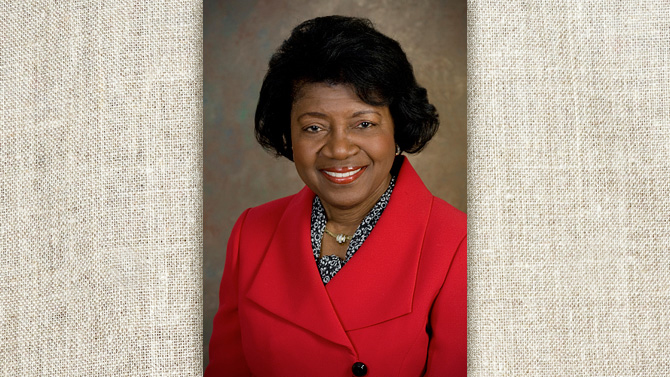 Alison Award
Article by Ann Manser Photo by Kathy F. Atkinson May 02, 2017
Patricia DeLeon receives UD's top faculty honor
Patricia DeLeon, the Trustees' Distinguished Professor of Biological Sciences, has received the 2017 Francis Alison Faculty Award, the University of Delaware's highest competitive faculty honor.
The award was established in 1978 by the Board of Trustees to recognize the faculty members who best demonstrate the combination of scholarship and teaching exemplified by the Rev. Dr. Francis Alison, founder of the institution that is now UD. The annual award also confers membership in the Francis Alison Society.
DeLeon, a reproductive biologist and a recognized international leader in the study of sperm dysfunction and infertility, is truly a scholar-schoolmaster as Alison was, said Robin W. Morgan, professor and chair of the Department of Biological Sciences.
In nominating DeLeon for the Alison Award, Morgan described her as dedicated to research and selfless in sharing her expertise with students and faculty and with colleagues around the world. Her work as a teacher and mentor "has been extraordinary," Morgan said.
"Dr. DeLeon is a research scholar who has made notable and very significant contributions to her field of study," she wrote in the nomination letter. "[She] has also dedicated herself to teaching students at all levels and to advancing academics in general at the University of Delaware."
DeLeon earned her doctoral degree in microscopic anatomy at the University of Western Ontario and conducted postdoctoral research in cell biology and genetics at McGill University. Soon after joining the UD faculty in 1976, she established a research program in human genetics.
"Over the years, she has transitioned from a classical human geneticist to a top-tier molecular biologist," Morgan said. "As science advanced, she was never content to stick with what was familiar; rather, she mastered new approaches and new methodologies and adapted them to her research."
DeLeon conducts research into the genetic and molecular mechanisms of spermataogenesis, epididymal function and the molecular aspects of fertilization.
Some of her recent work has identified particles in secretions from the Fallopian tube that she and her team say could help couples struggling with infertility. Knowledge of these tiny particles, which DeLeon and her students termed "oviductosomes," could improve the process of in vitro fertilization (IVF), which currently has only a 32 percent success rate.
"There is communication between the sperm and the Fallopian tube that helps prepare the sperm for its big push into the egg," DeLeon has said about the findings.
"We've shown that these oviductosomes are carrying critical molecules that include not only proteins, but also nucleic acids such as RNA and also lipids. That gives us hope they can be used as vehicles for improving fertility and the chances of producing healthy embryos and offspring."
DeLeon recently was awarded a grant from the Delaware Bioscience Center for Advanced Technology to develop a method of identifying IVF embryos with the best chance of resulting in a healthy pregnancy.
In addition to DeLeon's groundbreaking research, she has served on numerous advisory panels and has editorial appointments for five journals. She has received many honors and awards, including the 2007 Presidential Award for Excellence in Science, Mathematics, and Engineering Mentoring (PAESMEM), administered by the National Science Foundation and presented at the White House, as well as the 2011 Caribbean Women in Science Medalist award.
At UD, she has taught a variety of courses, from introductory to the advanced graduate level, and has supervised seven doctoral students, 11 master's degree students and 12 postdoctoral fellows or visiting scientists. She has also mentored and supported women and minority scientists through numerous UD and international programs.
"Perhaps most striking, however, has been Dr. DeLeon's commitment to undergraduate research," Morgan said, citing 16 undergraduates who completed thesis projects under her guidance and "countless others"—more than 100—who gained research experience in her lab.
DeLeon has 100 peer-reviewed publications, five book chapters, two instructor's manuals, 72 abstracts of presentations at professional meetings, one issued patent and two pending patents.
A member of the UD Board of Trustees from 1992-2011, DeLeon served for several years on the University's Commission on the Status of Women.
"I am grateful for this terrific honor," DeLeon said of her selection for the Alison Award, "and feel blessed to have been able to interact with generations of bright students, some of whom have ultimately become my colleagues and friends."