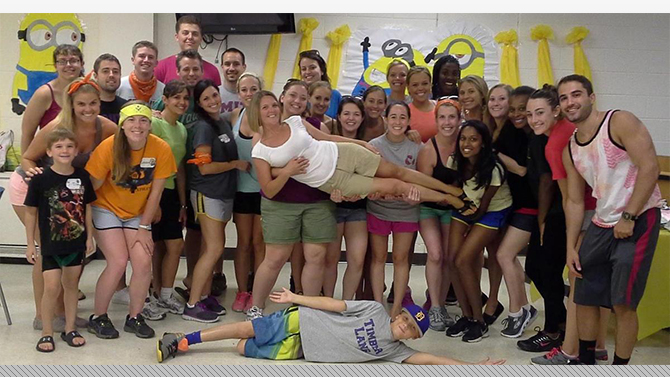 Diabetes camp
Article by Katie Constantine May 01, 2017
Unique program normalizes diabetes for kids with type 1
Diabetes, like any chronic condition, is tough on kids. Type 1 diabetes comes with a lot of medicine, injections and lifestyle changes. But the condition also affects relationships and impacts entire families. Whether children with diabetes are at school, at home or at play, diabetes management is always a top priority. Since the pancreas does not produce insulin anymore, type 1 requires a constant watch over glucose levels.
Jennifer Saylor, assistant professor in the University of Delaware School of Nursing, is on a mission to normalize diabetes, specifically type 1. Through a unique camp, she incorporates a child's entire support network.
Established in 1999, Diabetes and You: Kamp for Kids invites children between the ages of 4 and 16 to bring friends and siblings with them throughout the weeklong program.
"Diabetes affects everyone around the child," said Saylor. "So why not bring them to camp so they, too, can be familiarized with it?"
As much as the campers learn, the kids play an equally important role in educating the undergraduates. The diabetes camp is tied to a UD service learning course called "Healthcare Topics: Teaching Wellness to Children"; it concludes with the camp as a clinical component for undergraduates. Students learn about the condition of diabetes, its treatment and become immersed with the children as they learn about the disease in the real world. The camp provides the experiential learning of classroom concepts. The students function not only as counselors but also manage diabetes including low and high blood sugars, carbohydrate counting, insulin dosing and administration.
Because of the tremendous dedication that the disease warrants, type 1 diabetes is often referred to as an extra child. Parents are always extremely grateful for the knowledge bestowed by UD faculty and students.
"It's a 24-hour job. Many parents don't sleep soundly and some nights not at all because there's always the chance of a child's blood sugar going low. The most valuable aspect of this camp is gaining the trust of the parents. The bravery and enthusiasm their children exhibit is beyond inspiring."
The camp helps them foster a positive attitude about the chronic condition. For 7-year-old camper Hannah, the answer is simple.
"We should go to [Kamp for Kids] so nurses can teach us how to take care of each other."
"You get a normal camp experience," added 13-year-old Samantha. "It's not just focused on diabetes; you get to be a normal kid."
The 2017 edition takes place during the week of July 17 when the first floor of McDowell Hall will transform into a colorful, diabetes-focused space for children. Campers are engrossed in an active lifestyle, participating in activities ranging from karate to yoga to swimming.
"I have campers that come from as far as California," said Saylor. "There really is nothing else like it."
The camp provides a safe haven — an environment equipped with full-time nurses, nutritionists and a psychiatrist to ease both the worries of parents and kids. Campers are required to check in throughout the day.
"They take out their lunch boxes and together they have to decide how many carbs they can eat, how many sugars they can have. At school, children have to go to the nurse each time they want to eat, which makes them feel isolated from their peers."
Saylor's approach celebrates rather than isolates kids with diabetes. That special focus is one of the main reasons that the camp has quadrupled in size since its inception.
"At our camp, the kids with diabetes are the cool ones. For one week, they feel special in a good way."
After a week of camp, siblings of the campers say they are no longer afraid of diabetes. Saylor sees it in her own son, who, after attending camp, is now able to tell when his friend has low blood sugar and takes the necessary precautions.
In the future, Saylor said she hopes of expanded the camp to children with type 2 diabetes.