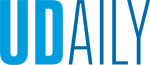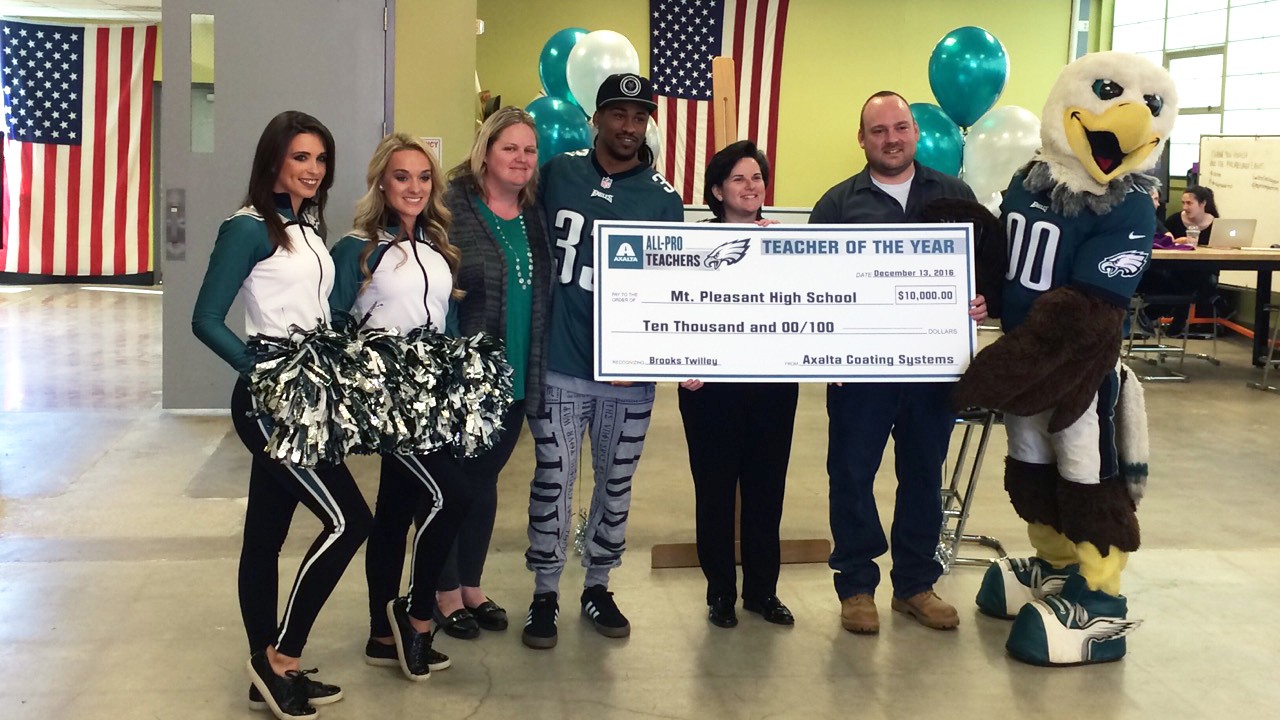 Engineering young learners
Article by Harpreet Kaur Photo courtesy of Brooks Twilley March 31, 2017
Successful teaching methods win 'All-Pro' award
Mount Pleasant High School's technology education teacher, Brooks Twilley, has implemented a fresh and bold approach to his STEM classes that challenges even the most reluctant learners to solve problems through critical thinking.
In recognition of his successful teaching methods, Twilley was presented with the 2016 All-Pro Teacher of the Year Award by the Philadelphia Eagles and Axalta Coatings Systems. The award acknowledges outstanding sixth through 12th grade teachers in the tristate area for their contribution to their students, school and community.
This accomplishment is more impressive given that, until 2009, Twilley worked as an engineer. He decided to transition into education, completing the University of Delaware's Alternative Routes to Certification (ARTC) program in 2011.
As a teacher, he draws upon his years in the field to create interactive STEM learning programs that have garnered state, regional and national acclaim. Working with colleagues from Concord High School and Brandywine High School, his team received Delaware's first STEM Educators Award in 2014, established by Gov. Jack Markell's STEM Council.
"Brooks is continually pushing the limits to what young learners can accomplish in preparing themselves for their and our futures," said Frank Livoy, associate director of ARTC. "By melding his experience as a professional with the teaching skills our program offers, he exemplifies the mission of ARTC."
Now serving as an ETE and computer science teacher at Mount Pleasant High School, Twilley said he likes to simulate the real-world, work-group strategies to solve complex problems in his classroom.
"To prepare our students to be tomorrow's problem solvers, we must develop in them a penchant for critical thinking, collaboration, iterative design, social responsibility and expectations of excellence," said Twilley. "Tying learning into global events is critical."
Novel initiatives
Among his various novel initiatives is the WikiHouse First State — the world's first student-led chapter of the WikiHouse movement. His students use modern manufacturing processes to create versatile, inexpensive and sustainable housing for refugees or the disaster-affected people. Made of interlocking pieces, the houses can be built and taken down within two days, using only a mallet.
His students have been responsible for all aspects of the project — fundraising, design, construction, social media promotion and videography. They have met with industry partners, and have garnered full material support to bring a prototype to market.
"He helps keep us on task and he gives us a lot of advice, but it's really our team. It's like, 'We own this. This is ours,'" said Jake Steltz, a 12th-grade student.
As a result of Twilley's vision, Mount Pleasant now offers an 8,000-square-foot engineering design lab.
Initiatives he has spearheaded include:
• All Girls Makers Club giving excited young builders who are typically underrepresented in the STEM fields, the time, space and materials to bring their ideas to life.
• Power Racing Series team allowing students to modify toy cars for high speed racing competitions
• VEX Robotics Competition where students build innovative robots and compete year-round in a variety of matches
Twilley was recognized at Lincoln Financial Field in December 2016 — and most recently on his 'home field' on March 29, when the Eagles and Axalta presented him with his award at Mount Pleasant High School. With the award comes a donation of $11,000 to Mount Pleasant High School's Engineering Program.
"In less than four years, we all have worked together to develop a rigorous engineering pathway, groundbreaking curriculum, meaningful industry partnerships, as well as advanced design and fabrication labs that support learning and community engagement," Twilley said.