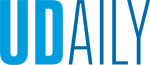 Powerful partners for veteran care
Article by Beth Miller Photos by Ashley Barnas and David Barczak June 09, 2017
Video by Ashley Barnas
UD, Wilmington VA join forces to boost health care, research, education
Two giant Delaware institutions joined hands Friday, June 9, on the grounds of a former tank factory to announce a partnership meant to improve care for America's military veterans and open new avenues for research and education.
With more than 100 witnesses in attendance, top officials of the University of Delaware and the Wilmington Veterans Affairs Medical Center signed on to an Associated Health Education Affiliation Agreement -- a pact that connects UD's growing research enterprise with the nation's veterans and the employees who serve them. The event was held at UD's STAR Health Sciences Complex, a site where Chrysler built tanks many years ago.
UD, designated a "military friendly" school, has been involved in research with the Department of Defense and military veterans for many years. This new agreement links the University in a formal, intentional way with the Wilmington VA, its patients and employees and makes possible many new opportunities for patient care, therapies, collaborative research, academic advances and clinical training.
"Working with the VA, we will advance innovative medical research, improve patient care and prepare the next generation of health experts to care for our veterans," UD President Dennis Assanis said.
"It's a dream come true."
Building research into the fabric of the Wilmington VA is an exciting new endeavor, said Vincent Kane, who was appointed director on May 12. Research is a core mission of the VA, he said, but it has not been part of Wilmington's work -- until now.
"To have the prowess of this University side by side with us -- faculty and staff providers at VA putting our veterans first -- not only here and now but also looking at research opportunities to improve what we do, is extremely exciting," Kane said.
The groundwork for the partnership was laid by Steven Stanhope, who directs the BADER Consortium and Delaware INBRE, both of which do extensive research -- including research that benefits wounded warriors and amputees. He brought his idea of linking the two institutions to Robert Boucher, chief of staff at the Wilmington VA, and momentum grew.
Stanhope says the VA system -- especially Wilmington -- is in the "strike zone" of patient care services for chronic health conditions, and UD's focus on biomedical research aligns well with efforts to improve patient care.
Community outreach, telemedicine, enhanced and expanded care all are part of the plan. UD's extensive research in concussion, cardiovascular health, osteoarthritis and behavioral health all are of keen interest for the VA. Other strong research areas include low back pain, stroke/gait studies, neurosciences, rehabilitative medicine, joint replacement, orthotics and prosthetics, and computer modeling.
Kane said he expects veterans from the Wilmington VA to visit the UD facilities as plans progress.
"We could bring patient care services to this campus," Stanhope said. "We're in very early discussions about that, but we have the accessibility with the new train station and we have a campus-to- community atmosphere that really fosters partnerships. It's all coming together.... We want to create model systems."
He sees much room for growth in this partnership, too, predicting at least 100 new jobs in the next five or 10 years.
The Wilmington VA provides health care to more than 30,000 of the state's 77,000 veterans. In 2016, there were almost 300,000 outpatient visits.
The needs of those veterans are great, Kane said. Older veterans need support, services and rehabilitative medicine and newer veterans, just returning from duty, often have experienced physical and emotional trauma, including traumatic brain injuries.
UD's School of Nursing has been a VA partner for some time, and one new faculty member, gerontologist Libbey Bowen, has a 5/8ths appointment with the VA, which means she is considered an employee of both the VA and UD. In addition to teaching at UD, she works at VA centers in Philadelphia and Coatesville, Pennsylvania, and may soon expand her work to Wilkes-Barre. Care of veterans is the focus of the work she and her students do.
More services for veterans
Many veterans were present for the signing, including representatives of the Delaware Commission of Veterans Affairs.
"This will lead to our veterans receiving more services in Delaware," said David Mosley, director of the Delaware Center for Homeless Veterans and a double amputee.
Mosley said he learned about bionic prosthetics during visits with UD's BADER Consortium researchers, but he had to go to northern New Jersey to get them. The prosthetics allow him to walk over all sorts of terrain with much greater ease.
"This collaboration will open doors for Delaware veterans," he said.
The partnership will be meaningful if it has input from the veterans it serves, said Rick Hofmann, president of the U.S. Amputee Soccer Team and the World Federation of Amputee Soccer.
"This is a great step forward," he said. "Applying research to the next class of veterans could have monumental impact."
Nationally, research has been a significant part of the VA's work. Last year, for example, its Office of Research & Development reported the 500,000th participant in its Million Veteran Program, established in 2011 to build the world's largest database of health and genetic information and further researchers' efforts to find new prevention and treatment possibilities.
Its most recent Research Advances magazine illustrates the breadth of work underway, with key studies related to: Afghanistan and Iraq veterans, Alzheimer's disease, arthritis, cancer, cardiovascular disease, caregivers, complementary and integrative health, depression, diabetes, gastrointestinal health, genomics, Gulf War veterans, health care delivery, health equity, hearing loss, hepatitis C, homelessness, infectious diseases, informatics, kidney disease, mental health, obesity, pain, Parkinson's disease, posttraumatic stress disorder, prosthetics, respiratory health, rural health, spinal cord injury, substance use disorders, suicide prevention, traumatic brain injury, Vietnam veterans, vision loss and women's health.
Perry Price, a basketball standout in high school and college, lost his leg to bone cancer while serving in the U.S. Army. He now is a member of the Delaware Destroyers Wheelchair Basketball Team and said he wanted to be present for Friday's signing because he believes it will lead to great things.
Life doesn't stop when you're injured, he said, and it is extremely helpful to have great people around you to help you get back at it.
A powerful partnership
"This collaboration with the University of Delaware and all they have to provide, the wealth of knowledge they have -- it's going to be great," he said. "This is a great step in a good direction."
The agreement made U.S. Sen. Tom Carper, a veteran of the U.S. Navy and a UD alum, "very happy" and he said it is another example of the "joyful optimism" Assanis has brought to the University.
"This collaboration between the University of Delaware and the Wilmington VA Medical Center makes good sense," he said. "Veterans will get the rehabilitation they need while students get a foot in the door at the VA and ultimately help fill our growing need for health care practitioners in our region. That's a win for everyone."
A newcomer at UD, former Delaware Secretary of Health and Social Services Rita Landgraf, said she knows a vision for this partnership has been alive for some years -- and she believes it could have broad impact in the community.
"There are social determinants of health -- housing, economic opportunity, education, overall well-being -- how do we really break these cycles? How does the University of Delaware -- through its research -- help us identify problems and solutions? We need the researchers with us on the streets to give us diverse thoughts in real time -- and we need to get there sooner than later."
The work is now underway and Kane believes it will have real power.
"I promise we will support this partnership and we will grow it," Kane said. "We see this as our future.... I can't thank this University enough for reaching out to us and wanting to work with us to take better care of our nation's heroes.
"The commitment is palpable for what we're going to do together."