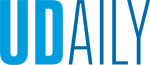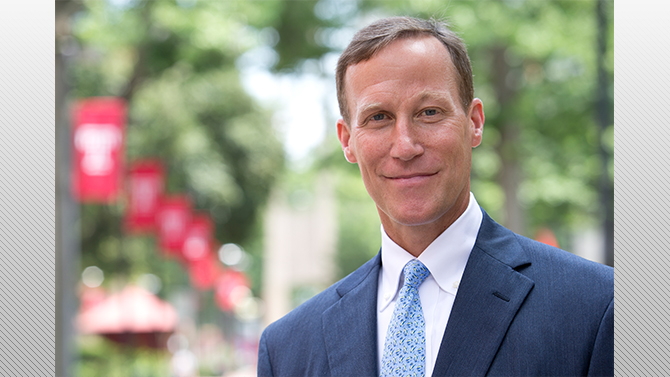 New vice president named
Article by UDaily staff Photo by Ryan S. Brandenberg, Temple University June 20, 2017
James Dicker named UD vice president for development and alumni relations
James Dicker, who has led major fundraising campaigns at Temple University and Lafayette College, has been named the University of Delaware's next vice president for development and alumni relations, University President Dennis Assanis announced today. The appointment is effective July 17.
"I am delighted to announce that Jim Dicker is joining our leadership team," Assanis said. "Jim brings significant fundraising experience, and I am confident that he will provide excellent leadership to our dedicated team in the Office of Development and Alumni Relations. Jim has an impressive record as an innovative thinker and an inspiring leader who achieves results. I look forward to working closely with him to advance the University of Delaware."
Assanis added, "My special thanks go to Beth Brand, who has led the development and alumni relations office so ably as interim vice president since last fall. Eleni and I both appreciate Beth's invaluable assistance over these past months and her dedication to the University. I am also grateful to Athletic Director Chrissi Rawak and the members of the search committee for their diligence and thoroughness in helping us fill this important post."
At Delaware, Dicker will serve as a key member of the president's senior cabinet and will play a lead role in planning the launch and implementation of the forthcoming comprehensive capital campaign. As head of the Office of Development and Alumni Relations, he will be responsible for promoting a culture of philanthropy throughout the University community and beyond and for enhancing connections of alumni to their alma mater.
"It's an exciting time at the University of Delaware," Dicker said. "President Assanis is providing the strategic vision and energy to move the University to new heights, and I'm thrilled to be joining his team at this pivotal time."
Since 2014, Dicker has served as vice president for institutional advancement at Temple University, leading the alumni relations and development teams there.
Earlier this year, Temple was showcased in articles in The Chronicle of Higher Education for its innovative marketing and fundraising strategies to connect with prospective students and young alumni.
In 2015, Temple University set a new fundraising record for the third consecutive year, with contributions totaling $84.2 million from more than 19,000 alumni.
Previously, Dicker served for 12 years as vice president of development and college relations at Lafayette College, where he was responsible for strategic planning and oversight of a $400 million comprehensive capital campaign. Under his leadership, Lafayette's development effort won 2012 and 2013 Circle of Excellence Awards for Education Fundraising from CASE, the Council for the Advancement and Support of Education.
Dicker began his career at Lafayette as assistant director of the Lafayette Annual Fund in 1988, becoming fund director in 1991 and director of major gifts in 1995. Two years later, he was named director of development and alumni affairs, and in this role, he planned and coordinated the $213 million Lafayette Leadership Campaign.
He earned his bachelor's degree in government and law at Lafayette in 1985.