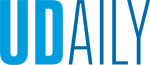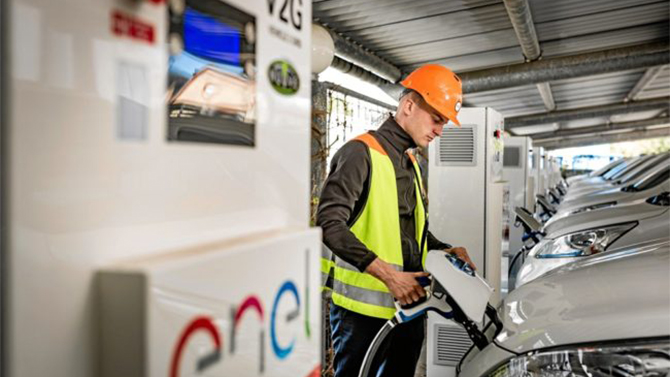 V2G goes West
Article by Karen B. Roberts Photo courtesy of Nuvve July 17, 2017
UD-developed V2G technology to be used in California project
Vehicle-to-grid (V2G) technologies developed at the University of Delaware may help clean energy transportation gain a foothold in California.
Nuvve Corp., which licenses the UD-developed technology, announced earlier this month that it has teamed up with University of California San Diego to demonstrate on a large scale how electric vehicles can be turned into virtual power plants, feeding energy back to the grid while connected via a charging platform.
Nuvve is a Delaware company based in California that gained exclusive global rights to market the V2G software developed by UD researchers through UD's Office of Economic Innovation and Partnerships (OEIP) in 2016.
The corporation plans to deploy its V2G charging platforms on 50 new UC San Diego electric vehicle chargers. The California Energy Commission has committed $4.2 million in funding to the project, which is expected to cost $7.9 million overall.
UD pioneers in V2G technology
Willett Kempton, who serves as research director of UD's Center for Carbon-free Power Integration and is a professor in the College of Earth, Ocean, and Environment, leads the UD team that developed most of the V2G technology.
The work began 20 years ago when Kempton and his colleagues at UD developed the V2G concept, controls for electronic vehicles and charging stations and the Grid Integrated Vehicle platform at UD.
The vehicle-to-grid concept is to use batteries in electric vehicles when they are parked. UD first demonstrated the concept's viability when it launched the world's first revenue-generating V2G project with NRG in 2013.
Today the V2G technology is used in Delaware, Denmark, the Netherlands and the United Kingdom. Technical developments continue at UD's Science, Technology and Advanced Research (STAR) Campus in partnership with PJM, the local grid operator and several automobile manufacturers.
"Integrating strategic partnerships and collaborations with commercial partners that occupy important positions in the automotive, electronic and energy industries has been critical in the success of this initiative," said David Weir, director of OEIP.
Equally important, Weir continued, has been the continued partnership and seamless collaboration between scientists in CEOE and the Department of Electrical and Computer Engineering under UD professor Fouad Kiamilev.
Support for a clean energy future
As part of this new demonstration project, Nuvve will use UC San Diego's solar forecasting technology to inform its electric vehicle charging schedule, according to a press release. The technology estimates solar power output in 15-minute increments, enabling Nuvve and the electric vehicle owner make informed decisions when to charge or provide energy to the grid.
If successful, the demonstration project may help advance clean energy transportation efforts in California and elsewhere while providing sustainable and reliable grid resources.
With more than half a million electric vehicles nationwide, the investment has the potential to pay positive environmental dividends in the way of reduced electric infrastructure costs and reduced carbon dioxide emissions.
"The V2G and Grid Integrated Vehicle technologies offer a low-cost means to create electricity storage and it is arriving just when needed — as electricity generation is becoming increasingly based on variable generation like wind and solar. It's great to have Nuvve taking the lead to commercialize this technology and to have so much industry interest and commitment from multiple sectors," said Kempton.