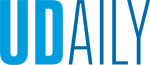 WFI course design lessons
Article by IT Communication Group Photo by Kathy F. Atkinson January 24, 2017
Winter Faculty Institute provides tools, tips on creating high-engagement and effective courses
Over 150 faculty, graduate students and staff participated in the University of Delaware's 2017 Winter Faculty Institute (WFI).
The central theme of the institute was "Inclusion. Engagement. Transformation...by Design," which was applied in workshops and sessions about course design.
Throughout the institute, participants learned about course design theory and high-engagement practices and applied this learning by developing or redesigning a course.
Michele DiPietro, co-author of How Learning Works: 7 Research-Based Principles for Smart Teaching, opened the event with a half-day interactive session. This session replaced the usual keynote presentation, and the change in format was well received by participants.
"The additional examples provided by Michele and the table conversations brought the text to life," commented one WFI participant.
Participants in the "Hands-on Course Design Intensive" track focused on course design activities in one workshop across the two days. Participants walked away with completed content for their courses.
"I attended the intensive workshop track and I enjoyed being able to come away with specific worksheets, strategies, and products directly relevant to designing a course," Agnes Ly, assistant professor of psychological and brain sciences and an intensive track participant, said. "Additionally, the opportunities to work with peers and bounce ideas off of them was very helpful."
Those who participated in the "Topics in Course Design" track sampled from sessions that addressed course design from different UD faculty and staff perspectives. Topics included team-based learning, inclusion of international students, multimedia material in the classroom and other pertinent subjects.
The program also included sessions to introduce graduate students and postdocs to the Center for the Integration of Research, Teaching and Learning (CIRTL) at UD. At the end of each day graduate students and postdocs were invited to a summary session where they could share their thoughts about the day's activities, connect with their peers and ask questions.
Recordings of some of the WFI sessions have been posted.