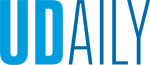 Celebrating Frederick Douglass
Article by Ann Manser Photos by Evan Krape February 20, 2017
Volunteers transcribe historical records in abolitionist's honor
It will be another full year before historians and admirers of Frederick Douglass mark the 200th birthday of the famed abolitionist, author and orator, but there was plenty of celebrating — all for a good cause — at the University of Delaware this month.
Through the Colored Conventions Project (CCP), a national initiative founded and hosted at UD, organizers held a "transcribe-a-thon" as part of a 199th birthday party for Douglass. Born into slavery in 1818, he never knew his exact birthdate but chose to celebrate it on Feb. 14.
This Tuesday, Feb. 14, dozens of participants gathered in a room in UD's Morris Library to mark the occasion, complete with birthday cakes adorned with portraits of Douglass. Similar festive transcribe-a-thons were held at the same time at eight other U.S. locations, including Brown University and Winterthur Museum, with participants connected via live video streaming and social media.
Featuring music and inspiring speeches, the gathering at UD deliberately replicated some aspects of the 19th century "Colored Conventions" in which free and fugitive African Americans came together to strategize about achieving educational, legal and workplace access and equality.
Those early organizing efforts for social justice are the focus of the CCP, which seeks to collect and digitize the minutes and other records from the numerous state, local and national conventions that met from 1830 through the 1890s in various locations.
Delegates to the conventions included leading African American writers, educators, church leaders and others, with Douglass the most prominent.
Minutes of the conventions have been rare, out of print and housed in separate locations. Since 2012, the CCP has been working with partners and volunteers to transcribe the records in a single online, searchable location for use by scholars and the public.
"This is a collaborative project … that couldn't have happened without all the people who have helped" across the United States, said CCP founding director P. Gabrielle Foreman, who is the Ned B. Allen Professor of English, professor of history and Black American studies and a senior research fellow with the UD Library. The project has reached thousands of U.S. students through a network of national teaching partners and curriculum and research guides.
At the Douglass birthday event, participants got a brief tutorial on how to transcribe minutes of conventions and immediately put those skills into practice by transcribing one or more pages on laptop computers.
They also heard from Hassan El-Amin, an adjunct UD faculty member and actor with the University REP professional theatre company. Speaking as Frederick Douglass, El-Amin read from an address the orator delivered before the National Convention of Colored Men in Louisville, Kentucky, in 1883.
"Why are we here in this National Convention?" Douglass asked at one point in the address in defense of the need for Colored Conventions.
"To this we answer, first, because there is a power in numbers and in union; because the many are more than the few; because the voice of a whole people, oppressed by a common injustice, is far more likely to command attention and exert an influence on the public mind than the voice of single individuals and isolated organizations."
Organizers of the birthday event were UD doctoral students Jim Casey and Denise Burgher. Support was provided by the AARP.
More about the Colored Conventions Project
The CCP is a collaborative, digital project that is a key part of UD's ongoing initiatives to build on its established strengths in the public humanities, particularly African American public humanities, and material culture studies.
The University of Delaware Library is a key partner in the interdisciplinary project.
Last spring, the CCP was awarded a highly competitive grant from the National Endowment for the Humanities' Office of Digital Humanities to support an expansion of its work. In December, a UD team with the project won the 10th Modern Language Association Prize for a Bibliography, Archive, or Digital Project.
Even more recently, the CCP website won the annual Best Electronic Reference Award from the Popular Culture Association/American Culture Association. That award will be presented at the association's conference in April.