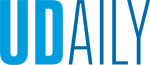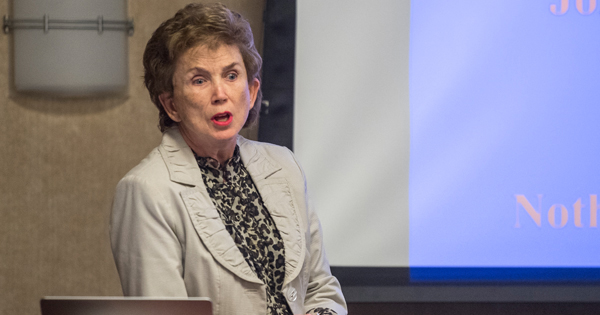 Five decades of computer science
Article by Julie Stewart Photo by Kathy F. Atkinson December 05, 2017
Emeritus professor Sandra Carberry reflects on successes, challenges
The first time Sandra Carberry worked with a computer, she wasn't impressed.
It was 1961, and Carberry was a teenager attending an eight-week summer workshop on math and computers. These early machines were nothing like today's tech. It took them about 45 minutes to connect wires on a plugboard in order to add two numbers together.
"I thought: This is ridiculous!" she recently told a crowd during a lecture at the University of Delaware Courtyard by Marriott. "Computers? Ugh. I am not going to do computers. Something else, but not that."
More than a half century later, Carberry is an emeritus professor of computer and information sciences at UD. An expert in natural language understanding, response generation, user modeling, dialogue systems, summarization, digital libraries, intelligent interfaces, and plan recognition, Carberry has published nearly a hundred journal papers, book chapters, and highly refereed conference and workshop papers and authored three books.
In a recent lecture for the University of Delaware Association of Retired Faculty's My Intellectual Journey Series, Carberry recounted her journey, crediting others along the way.
"I started thinking back on the number of people who were responsible for my success and the achievements that I had," she said. "And I was amazed at how many people I am grateful to."
An educational journey
Carberry grew up in southern Illinois and went to an all-girls Catholic high school, where there were limited opportunities in science and math.
However, a nun named Sister Patrick Ann noticed Carberry's talent.
"I had her as a math teacher for many years, and she encouraged me to do more than just what was in the coursework in high school," said Carberry. Sister Patrick Ann gave Carberry extra math books and nominated her for an NSF summer workshop at St. Louis University—the one where she encountered the frustrating computer.
Sister Patrick Ann also helped Carberry evaluate colleges, and they determined that Cornell University was the best fit. Carberry enrolled there in 1962 as a mathematics major. She wasn't sure what she would do after college—become an actuary? A theoretical mathematician? During her junior year, a class on numerical analysis inspired her.
"We ended up doing programming on computers of complex math problems, I mean, eigenvalues and eigenvectors, solving differential equations, wow," she said. "This was great. This was what I really liked. "
Carberry enjoyed the class so much that she asked the professor, Robert Walker, if she could be his teaching assistant during her senior year. He said yes, despite the fact that the position was usually reserved for graduate students.
When Walker fell ill and required hospitalization, Carberry ended up teaching some of the classes.
"It was thrilling to try to explain complex principles in a way that other people could understand," she said. "And I thought maybe what I wanted to do was be a university professor in computer science."
She started applying to graduate programs in computer science, a new field at the time. The first doctoral degree in computer science was granted in 1965.
Since computer science was new, it was often tangled up in other academic departments, such as mathematics and industrial or electrical engineering. During one meeting with a professor involved in admissions, Carberry saw a list of five applicants and their awards. The first two names were men. The last two names were men. Her name appeared third.
The other candidates had "fellowship" listed by their names. Next to hers: "teaching assistantship."
"And I said to him: 'Is that a ranking of the applicants?'" said Carberry. He confirmed that it was. Carberry asked why she wasn't picked for a fellowship.
"He said: 'You're a woman. You're just going to get married and have babies and you're not going to contribute to the profession. We want to put our money where it's going to do the most good,'" said Carberry.
Carberry went to a different school—Carnegie Mellon—instead. However, she hit a snag. When she applied to the school, the computer science program was in the math department. By the time she got there, it had moved to a different one. Her fellowship was good for the math department only, and she didn't want a doctorate in math. She dropped out after five weeks and went to work at Bell Laboratories.
Carberry then married her husband, who was working for DuPont in New Jersey. When he was transferred to Houston, Carberry went to Rice University and got her master's degree in computer science. When her husband was transferred to Delaware, she became an instructor of computer science at UD in 1970. After several years, she became stymied.
"I was able to teach some advanced courses in computer science, but I wasn't doing any research," said Carberry. "It wasn't really as fulfilling as I wanted it to be, so I decided I should go get a PhD."
Helen Gouldner, then the dean of the College of Arts and Sciences, and Hatem Khalil, then a professor in computer and information sciences, helped Carberry secure a university fellowship.
She earned her doctoral degree in 1985 and was a faculty member at UD until retiring in January 2016. Two main people she credits with her success are her husband of 50 years, who has always supported her ambition, and Prof. Bob Caviness, who was chair of Computer Science; he hired her as an assistant professor, despite reservations about hiring his own graduates, and encouraged her throughout her career. She dedicated the talk to Caviness.
She still teaches two classes in the fall semester and serves on advisory committees for several PhD students.
Her latest research
After recounting her journey, Carberry told the audience about her most recent research projects, which involved studying graphics.
"About eight to ten years, ago I found myself looking at graphics and thinking: Graphics convey something. They convey a message," she said. "They may not be words, but in a sense they are language."
Carberry and grad students gathered graphics from publications such as U.S. News and World Report, Newsweek, USA TODAY, and more.
They found that over 60 percent of the time, the message conveyed by the graphic was not repeated in the article's text. In order to fully understand an article, you may need to get the message from the graphic and the message from the text and integrate them.
"Infographics are an important knowledge source that should not be ignored, and they should be retrievable in a digital library," said Carberry.
She uses computing to pull out all kinds of information about graphics, from the sizes of elements to words in the captions, and analyze them to deduce the meaning of the graphic and provide a summary.
Carberry's research also aims to make infographics more accessible to blind individuals.
At the end of her talk, Carberry reminded the audience that computer science isn't her only interest. In her spare time, she reads, volunteers, and plays bridge, tennis, and golf.