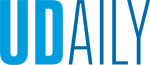 Prof. Laura Eisenman honored for disability advocacy
Article by Carlett Spike December 22, 2017
UD Office of Disability Support Services helps students with a range of challenges
Building an environment of inclusive excellence is a top priority for the University of Delaware under the leadership of President Dennis Assanis. This mission was addressed during a recent award ceremony and lecture on enhancing education opportunities for students with disabilities.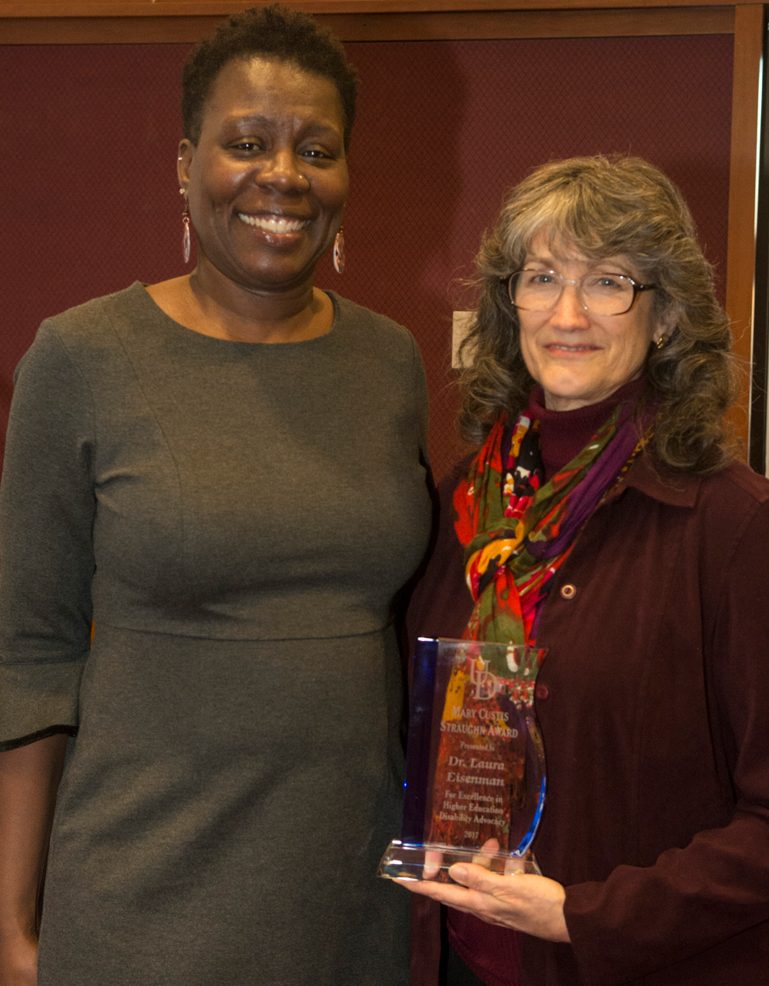 Laura Eisenman, an associate professor in the College of Education and Human Development, was honored with the Mary Custis Straughn Excellence in Higher Education Disability Advocacy award. Established in 2016, the award recognizes a member of the community who advocates for people with disabilities in higher education. The Office of Disability Support Services hosted the ceremony on Friday, Dec. 1 in The Gallery at the Perkins Student Center.

UD Vice Provost for Diversity Carol E. Henderson presented Eisenman with the award.

"She is a consistent presence, collaborator, and champion for University-wide disability and accessibility related initiatives," Henderson said of Eisenman. "Her nominator spoke glowingly of the work that she has done on this campus. Her research, her passion, her advocacy, her vision made her the standout winner."

Eisenman's research focuses largely on post-secondary education opportunities for students with intellectual disabilities. She was the principal investigator of a five-year grant to fund transition and postsecondary programs for students with developmental and intellectual disabilities. Almost all of 35 graduates of the program have landed jobs and are pursuing further education.

In 2004, Eisenman became the coordinator of the disability studies minor, which has expanded to become one of the largest minors on campus. Fifty students minored in disability studies in 2004, but now 510 do. She is also a co-editor of Negotiating Disability: Disclosure and Higher Education, a published collection of personal essays.

Eisenman learned only the morning of the ceremony that she had been nominated and won the Straughn award.

"I'm very excited about it," said Eisenman. "I feel that even though it was given to me, it actually represents the work of many people because much of the work around disability studies, disability programs here at the University are collaborative, and I very much appreciate the work of everyone who is involved."

The second portion of the event featured keynote speaker Neil Simpkins, who is pursuing a doctorate in composition and rhetoric at the University of Wisconsin-Madison. Simpkins' research detailed the numerous ways students with disabilities strategically approach college writing.

Through his 19 interviews, Simpkins discovered an alarming pattern of students dropping classes if they felt a professor would not accommodate their disability.

He did not disclose details on the disabilities of the students featured in his research, but did highlight scenarios that are sometimes overlooked by writing instructors. For example, students with learning disabilities may need more time for the reading and researching process before writing a paper. As for students with physical disabilities, depending on what technology the student is using, she or he may require more time to write and edit.  

"I want to offer some suggestions for those of us who work with students with disabilities," said Simpkins. "Because writing is so different from the typical kinds of accommodation that students often need to access classrooms, we need to start to develop new strategies for making writing assignments accessible."

Those suggestions included mentoring students with disabilities so they would be more comfortable discussing their situations and wording syllabi carefully so the wrong message does not come across.

Simpkins research also found that some students do not always go through formal policies and paperwork to make their institutions aware of their disability.

For UD students, there are three main steps to register with the Office of Disability Support Services: Fill out The New Student Application Form on the DSS website, provide documentation to the office and schedule a meeting with an accommodation coordinator. During this meeting the student and coordinator come up with a plan of accommodation needs and this information is shared with necessary university officials (students, professors, housing, etc.)

The University recognizes a range of disabilities. Most fall into nine broad categories: Learning disabilities, ADHD, mental health, chronic health, deaf or hard of hearing, visual impairment, mobility impairment, traumatic brain injury, and temporary disability.

Simpkins asked professors to be understanding of students whose disabilities are not registered with the university. There are a wide range of reasons why a student may not disclose this information. Sometimes students feel their disability is not serious enough and could take away services from others or they prefer to keep their disability private, said Simpkins.

His takeaway was to focus more on student success.

"How can we invite their full participation so that they do not need to remain inside a 'disability closet' to access writing assignments?" Simpkins said.
About Mary Custis Straughn Endowment for Disabled Students

Mary Custis Straughn graduated from UD's College of Arts and Sciences with her bachelor's degree in 1955 and her master's degree in 1961. Straughn developed multiple sclerosis at the age of 38, but did not let that influence her aspirations. She continued to work as a teacher, horticulturist, organist, sculptor and painter. Following her diagnosis, she dedicated her life to improving the opportunities available to those with disabilities. She even worked on promoting the passage of the 1990 Americans with Disabilities Act. The Mary Custis Straughn Endowment for Disabled Students was established at UD in 1991 to honor her commitment to those with disabilities.