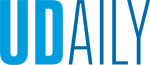 Outdoor learning for preschoolers
Article by Alison Burris Photo by Liz Adams August 30, 2017
New program takes learning outside
Children yearn to explore the world around them. Eagerly, they observe, wonder, imagine and pretend. They ask hard questions, push their bodies to climb obstacles, plan complicated tasks for themselves and friends, and work hard to problem-solve their way through these challenges.
The University of Delaware's Laboratory Preschool is opening a new program that centers on outdoor learning. The Nature Preschool class will offer a balance of child- and teacher-directed learning activities on UD's Children's Campus.
Children in the Nature Preschool class will spend most of each morning in the woods, wetlands, a meadow and stream adjacent to the UD Lab School building. The curriculum, developed by Master Teacher Katie Pollock and her staff, will address all of the literacy, math science, arts and physical learning of a typical preschool program.
This five-morning per week class is located at the Lab School on Wyoming Road, Newark.
A few spaces remain for preschoolers in this class. Visit the Lab School's Facebook page or website to see what is coming.
For information on registration, call 302-831-2304 or email labpreschool@udel.edu.