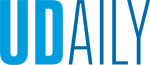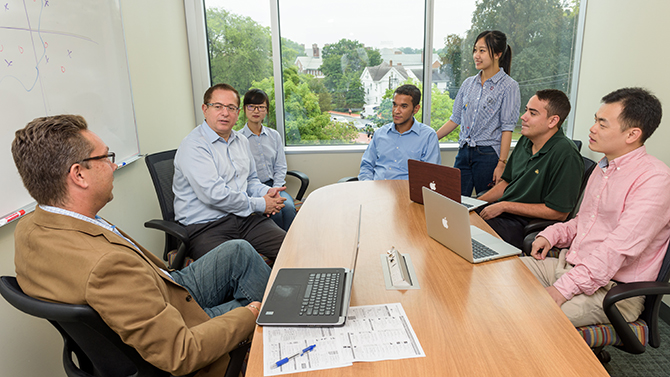 Faculty Fellows and Scholars
Article by Sunny Rosen Photo by Evan Krape April 03, 2017
UD's JPMorgan Chase fellows, scholars discuss cross-disciplinary research, program
This semester marks the beginning of the term of the University of Delaware's new JPMorgan Chase Faculty Fellows and Scholars. They include:
JPMorgan Chase Faculty Fellows
• Gonzalo Arce, Charles Black Evans Professor of Electrical and Computer Engineering
• Xiao Fang, associate professor of accounting and MIS
• Adam Fleischhacker, assistant professor of business administration
• Paul Laux, professor of finance
• Harry Wang, associate professor of MIS
JPMorgan Chase Faculty Scholars
• Keith Decker, associate professor of computer and information sciences
• Hui Fang, David L. and Beverly J. C. Mills Chair of Electrical and Computer Engineering
• Michela Taufer, David L. and Beverly J.C. Mills Chair of Computer and Information Sciences
Each of the JPMorgan Chase Faculty Fellows will teach for UD's doctoral program in financial services analytics (FSAN). They are also responsible for supervising students, conducting relevant research, collaborating with industry partners via research projects and participating in institute and program activities.
"All fellows were the key players in setting up the FSAN PhD program," added Bintong Chen, director of UD's Institute for Financial Services Analytics (IFSA). "They have been major contributors to the program's success so far."
"The three new scholars," Chen said, "are excellent and research-productive faculty members from UD's College of Engineering (COE). Their research expertise matches the program well, and they are passionate about contributing."
"Our program and students will benefit tremendously from the interdisciplinary training offered by the fellows and scholars."
In addition to these fellows and scholars, Chen said, IFSA also benefits from the contribution and participation of over 30 IFSA-affiliated faculty members from various departments in UD's Alfred Lerner College of Business and Economics, College of Engineering, College of Arts and Sciences and College of Agriculture and Natural Resources.
"IFSA represents a true interdisciplinary collaboration effort with broad participation within UD and strong support from industry partners," he said.
These fellows and scholars will serve in the roles until August of 2019.
Read on for more information about the new JPMorgan Chase Faculty Fellows and Scholars, their latest research and their goals for the future.
Paul Laux
Paul Laux serves in a number of roles as a JPMorgan Chase Fellow: teacher, dissertation chairperson, a central part of the program committee and a conduit between IFSA and JPMorgan Chase.
Laux described "the real and ongoing link between IFSA and JPMorgan Chase" that is central to his role, calling it "an ongoing job on both sides for us to stay linked, to look for projects and opportunities for us to be relevant and helpful to each other."
And Laux's current research focuses on topics that could be helpful to JPMorgan Chase and the financial industry as a whole.
In one project, for example, Laux is working with a student to investigate whether a set of high-tech data science tools called neural networks can be useful to predicting risk in the financial system.
Neural networks are typically used in applications like robot speech recognition, Laux explained, and the research team wonders if neural networks' predictive capability can be used to detect risk in the financial system before it becomes dangerous.
"We want to use this tool to be the canary in the coalmine," Laux said, "and hopefully tell us when the riskiness of the banking system is getting big without us needing to wait for a financial situation like 2008, when everything comes crashing down."
Laux said that what excites him most about this program, aside from his inspiring and energizing coworkers, is its mission of combining the financial industry and data analytics in a groundbreaking way.
"We're creating a combination of two areas that really is brand new here," Laux said. "We're defining it."
"I'm really proud of my University and this group of people for being willing to try something like that," he continued. "And it's tremendously exciting to feel like we have that responsibility to develop the intellectual definition of financial services analytics."
Michela Taufer
JPMorgan Chase Scholar Michela Taufer's area of expertise is high performance computing (HPC) and HPC infrastructures (i.e., software and hardware) for data analytics.
"As data generation increases, traditional commodity infrastructures are no longer able to keep up with the workload associated to the analysis of data," Taufer said. "HPC infrastructures can provide data users with scalable solutions."
In her role as a JPMorgan Chase Scholar, Taufer will share her HPC expertise with colleagues and students at IFSA to promote HPC-based data analysis.
"I will teach a data analytics course on a yearly basis that targets the introduction of HPC tools to a broad set of problems at UD," she explained. "Starting this fall, the course will facilitate the use of the HPC tools for datasets of interest to the institute and JPMorgan."
After past experience working with computation science, medical and dietary data, Taufer said, "The position with the institute is particularly exciting for me because it will allow me to work with a different type of datasets and different real problems targeting finance analytics."
Taufer is also interested in studying the use of HPC tools to search for connections among financial data, medical data and dietary data to identify social and behavioral trends. She said she hopes to see the use of HPC continue to grow at UD and IFSA.
Hui Fang
JPMorgan Chase Scholar Hui Fang's research focuses on information retrieval, text mining and big data analytics. One current project, for example, focuses on identifying misinformation on social media.
"Social media platforms such as Twitter make it easier for users to share valuable information, but some information published there might not be true," Fang explained. "We are developing a tool that gathers evidence and helps users make decisions about whether a piece of information is trustworthy."
Fang, who has worked on collaborative research projects with JPMorgan Chase in the past, said that she looks forward to new opportunities for collaboration both with JPMorgan Chase and FSAN doctoral students.
"I am very excited to be part of this program, because it provides faculty members with great opportunities to interact with different groups inside JPMorgan," Fang said. "Such interactions allow us to identify new and challenging research problems that can have real-world impact."
"It has been always rewarding to interact with the students, especially those with multi-disciplinary backgrounds," she added. "I look forward to working with more students in the program."