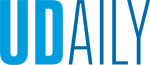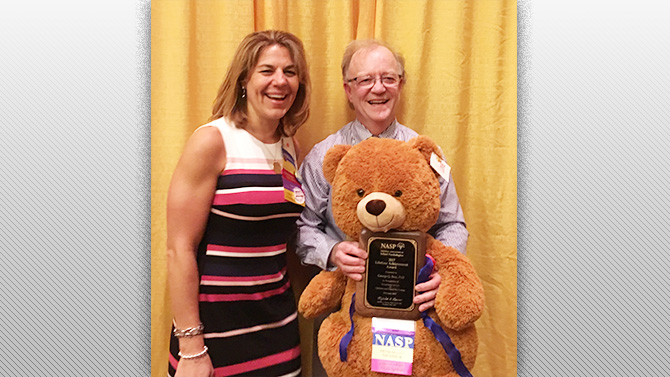 Lifetime achievement award
Article by Jessica Henderson Photo courtesy of George Bear April 04, 2017
Education professor honored for dedication to school psychology
George Bear, professor in the University of Delaware's School of Education (SOE), has received the 2017 National Association of School Psychologists (NASP) Lifetime Achievement Award.
This award recognizes an outstanding school psychologist who has demonstrated a national impact on the field and dedicated his or her professional life to the development and improvement of school psychology. The award honors major contributions to research and practice in school psychology, as well as leadership in the profession.
Over the past 30 years, Bear's research has focused primarily on improving school climate for students in grades K-12, school discipline and self-discipline. His work has had a substantial impact on schools and students in Delaware, as well as nationally and internationally.
Currently, Bear serves as senior consultant on the $2.8 million School Climate Transformation Grant awarded to the Delaware Department of Education in 2014. He was also the primary writer for this five-year grant.
Administered through UD's Positive Behavior Supports project in the Center for Disabilities Studies (CDS), this grant provides technical assistance and professional development on improving school climate. School climate — which includes teacher-student relationships, student-student relationships, school safety, bullying and the fairness of rules — affects children's academic achievement as well as their social and emotional well-being.
As a result of Bear's leadership, students, teachers and parents in about 70 percent of public schools in Delaware complete annual surveys of school climate to identify areas of concern and to track changes over time. The surveys also assess classroom management practices, student engagement, and social and emotional competencies. Many schools use the results in developing their school improvement plans.
"George has been a valuable asset to our work at CDS as he brings incredible knowledge and expertise as a researcher," said Deborah Boyer, school-age services director at CDS. "He is also always mindful of the practical reality of school life. He gives great consideration to what can effectively be implemented and what will have the most significant impact on student success."
A prolific author, Bear has published more than 100 articles, including 80 journal articles and book chapters, written four books and edited three books. He also serves on the editorial board of three major journals and conducts reviews for 10 additional journals.
School psychology programs and school-based practitioners have widely used Children's Needs II and III, coedited with Kathleen Minke, professor in UD's School of Education, and School Discipline and Self-Discipline: A Practical Guide to Promoting Prosocial Student Behavior.
He has actively supported the development of school psychology scholarship and practice not only in the U.S., but also in China, Japan and Brazil through research consultation and collaboration.
Prior to taking a faculty position in the School of Educaton in 1985, Bear was a school psychologist in Iowa and Virginia. As a faculty member, until recently, he continued to work one day a week as a practicing school psychologist in Delaware public schools or at The College School.
"George's positive impact on the quality of psychological services in Delaware cannot be over-stated. He is the rare faculty member who is both an excellent researcher and great mentor to students and new faculty members alike," said Minke. "His scholarship is thoroughly linked to practice in ways that improve the lives of children. He is so deserving of this recognition."
In addition to this award, Bear has received the NASP Presidential Award for Outstanding Service on four occasions (1996, 1997, 1998, 2000) and the Delaware Association of School Psychologists's President's Award for Outstanding Contributions to School Psychology on two occasions (1998 and 2006).
Melissa Reeves, president of NASP, presented Bear with the award at the opening ceremony of NASP's annual conference in San Antonio, Texas on Feb. 22. Approximately 4,000 school psychologists attended the ceremony.
In accepting the award, Bear gave special thanks to the graduate students he has taught over the years, the Delaware Association of School Psychologists, NASP, fellow faculty members and to UD for its support of the school psychology program.