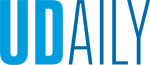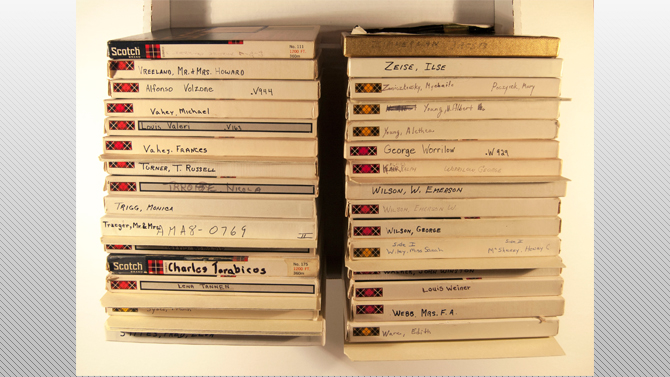 Digitized Delaware histories
Article by UDaily staff April 14, 2017
Oral histories from Delaware citizens now available online
The voices of a wide variety of Delawareans from the late 1960s and 1970s are now available online to researchers around the world, the University of Delaware Library has announced.
The newly digitized Robert H. Richards Jr. Delaware oral history collection includes reminiscences from well-known Delawareans such as attorney Louis Redding and journalist William Frank, as well as ordinary citizens.
One of the most frequently used sources for Delaware history and genealogical research in Special Collections at Morris Library, the collection was created in the late 1960s as a documentary project funded by Richards, who was an alumnus of the University, a Wilmington lawyer and a good friend of John Munroe, longtime chair of UD's history department.
He originally proposed an oral history of Delaware politicians, but Munroe – in the spirit of the new social history of the period intended to document the lives of "ordinary" people – expanded the project's range of interviewees to include immigrants, educators and agricultural workers. Richards' annual contributions paid for interviewers and transcribers of the oral histories. In addition to Munroe, his successor Willard Fletcher and University President John A. Perkins supported the program.
Munroe hired teachers who had completed master's degrees at the University of Delaware to conduct the interviews and when possible, matched the interviewers to subjects with similar ethnic, religious or vocational backgrounds. Some of the most frequent interviewers were Myron Lazarus (Jewish community), Francis J. Fierro (Italian immigrants), George Vapaa (agriculture), Steve Schoenherr (German immigrants) and Rebecca Button (University and other topics).
Interviewees included Delawareans who spoke about life during the Great Depression, African Americans, UD faculty, Wilmington journalists and former participants of the Junior Year Abroad program. Among the latter group was Mrs. Robert Richards Jr. (Harriet Kellond), who met her husband in 1927 when both were students in UD's pioneering foreign study program.
Nearly 300 interviews were conducted between 1966 and 1978 as part of the project. The oral histories have been invaluable for UD students, particularly those researching the urban growth of Wilmington through diverse immigrant communities. Irish and German immigrants were prominent manufacturing and construction laborers in the 19th century in Wilmington, and census records show new immigrant groups in the early 20th century were Italian, Polish, Greek and Russian Jews. Descendants of many of the interviewees have been delighted to find their ancestors sharing family stories about relocating to live and work in Wilmington.
A small sample of interviewees include the following:
• Nora Thompson Dean interviewed by Delaware folklorist C.A. Weslager in 1970. Dean, who was living in Oklahoma at the time, was one of five living speakers of Lenape, the Native American language of Delaware. The interview includes Dean speaking Lenape. http://udspace.udel.edu/handle/19716/20060
• Helen Baylis, alumna of the Women's College of Delaware, Class of 1918, and Delaware educator, who reminisced about Dean Winifred Robinson and Emalea Pusey Warner, as well as her career in teaching. http://udspace.udel.edu/handle/19716/20006
• Peter Laskaris, a Greek immigrant born in 1887, who came to America at age 13 and worked in his brother's store in Wilmington, interviewed in 1968 by Irene Long. http://udspace.udel.edu/handle/19716/20160
• George Laskaris, son of Peter Laskaris, and owner of the Luncheonette in Newark, talking about his Main Street business and life during the Great Depression, interviewed in 1972. http://udspace.udel.edu/handle/19716/20159

• Joseph, Matilda and Joe Jr. Jackewicz, a family of potato farmers who relocated to Rising Sun in Kent County, Delaware, in the 1950s when suburban development displaced farmers from Long Island, New York. The Jackewicz family and other Kent County farmers were interviewed by George Vapaa, a state agricultural agent. http://udspace.udel.edu/handle/19716/20133
• George Wilson, the first African American elected to Newark's city council, describing his work as a contractor and how he built the first affordable housing for blacks in the city. http://udspace.udel.edu/handle/19716/20317
• Dorothy Markert, longtime mathematics teacher at Newark High School and outstanding alumna of the University of Delaware, who talked about growing up in rural Harrington, attending college and serving in the Women's Army Corps in the European Theater during WWII. http://udspace.udel.edu/handle/19716/20178
• Pauline Young, the African American librarian, Peace Corps volunteer, NAACP leader and namesake of Morris Library's resident librarian program, talking about segregated education, growing up in Wilmington and writing about the history of the Negro in Delaware. http://udspace.udel.edu/handle/19716/20323
• Louis Redding, the first African American admitted to the Delaware Bar and distinguished civil rights advocate, interviewed by Myron Blackman in 1971 about practicing law in Wilmington and living in Delaware in the Great Depression. http://udspace.udel.edu/handle/19716/20230
• William (Bill) Frank, interviewed on multiple occasions between 1972 and 1974 by Myron Blackman, about Delaware in the Depression, African American history and theatre in Arden and Wilmington. http://udspace.udel.edu/handle/19716/20098
• Valentino DiSabatino, a native of Sant'Omero born in 1898, who came to America in 1921 after his release from the Italian army. Di Sabatino, a tailor, was the only member of his family not involved in construction. Francis J. Fierro interviewed three members of the DiSabatino family in 1967 and 1968 about their experiences growing up in Italy and immigrating to America in the 1920s. http://udspace.udel.edu/handle/19716/20070
A full description of the collection is available at http://udspace.udel.edu/handle/19716/19992 with links to the digitized audio recordings and searchable PDF files of the interview transcripts, all of which are housed in UDSpace, the University's digital repository.
Library units involved with this project include the Manuscripts and Archives Department, the Center for Digital Collections and the Library and Data Server Management Department. More information is available from Special Collections at AskSpecRef.
The library digital initiative was generously supported by Mr. and Mrs. Robert H. Richards III. Thanks to them, the Robert H. Richards Delaware collection, which is the Library's largest oral history collection, now joins seven other digital collections of oral histories with worldwide access through Morris Library's UDSpace.
The transcription and digitization of the Robert H. Richards Jr. Delaware Oral History collection was also made possible through the generous support of Lydia R. Boyer, the Hon. Jane Roth and the law firm of Richards, Layton & Finger, P.A.