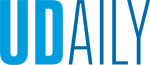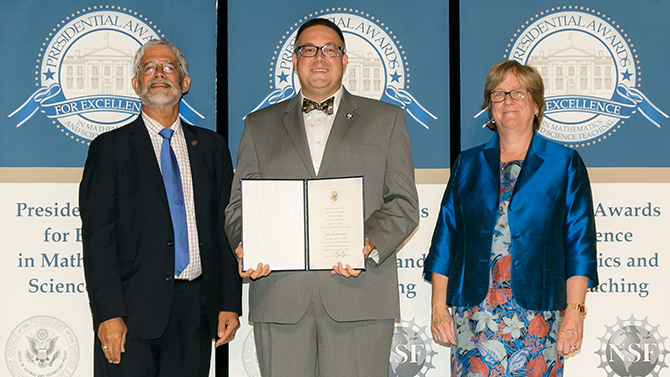 Outstanding teacher
Article by Harpreet Kaur September 22, 2016
UD alumnus Scali receives President's Award for teaching excellence
University of Delaware alumnus John Scali has been presented the President's Award for Excellence in Mathematics and Science Teaching (PAEMST), recognizing him as one of Delaware's outstanding high school teachers.
Scali has taught integrated science at MOT Charter High School, in Middletown for the past two years. He spent the previous 15 years teaching chemistry and physical science at Concord High School in Wilmington.
In addition to working with high school students, he mentors first and second year science teachers through UD's Alternative Routes to Certification program.
A true Blue Hen, Scali earned a bachelor's degree in chemistry education from UD in 1999, a master's degree in science curriculum and instruction in 2005, and a doctor of education degree in educational leadership in science curriculum in 2011.
He has also been a participant in the STEM Professional Development program through UD's Professional Development Center for Educators.
Scali is certified as a teacher of chemistry, grades 9-12. Committed to creating a student-centered classroom, Scali allows his students to explore science concepts and inspires them to advance towards scientific research. He integrates engineering and other real-life principles into his science lessons.
Zoubeida Dagher, his adviser in the master's and doctoral programs, recalls his years at UD, saying, "Scali had distinguished himself in the graduate programs at the School of Education by being a creative thinker and an innovative teacher scholar."
"He continues to use evidence-based practices to engage his students and hone their thinking skills. He helps them develop into thoughtful and confident lifelong learners," Dagher said.
Scali began working at MOT Charter School in its inaugural year. He has been instrumental in developing a science curriculum based on the Next Generation Science Standards in this academically rigorous and student-centered STEM (science, technology, engineering and mathematics) and arts school.
"My courses are inquiry-based and student-centered. The challenge in education in the 21st century is not for students to commit ideas to memory but to be able to understand what reliable information means and how it was developed, and how to use that information to generate new information and solve problems," said Scali. "At the PAEMST recognition events, they used the term 'informed improviser' to describe this process. This idea of using information to create something new is another hallmark of my teaching."
"During my master's and doctoral programs, I studied under Dr. Zoubeida Dagher and Dr. Danielle Ford. Both Dr. Dagher and Dr. Ford were instrumental in pushing me to become the educator I am today and have been role models for me," he said, adding, "I try to follow their lead with up-to-date and relevant instruction, having high expectations for my students, and supporting students through challenging work. I would not be the same educator that I am today without the influence of University of Delaware."
Scali has also been presented with the 2013 Delaware High School Teacher of the Year award by the American Chemical Society and the 2012 Robert W. Stegner Award by UD's School of Education for his dedication to the teaching profession, his comprehension of the breadth and depth of chemistry, and his teaching excellence.
About the award
The Presidential Award for Excellence in Mathematics and Science Teaching is awarded each year to outstanding K-12 science and mathematics teachers from across the country. The winners are selected by a panel of distinguished scientists, mathematicians, and educators following an initial selection process at the state level. Previous UD recipients have included Denise Griffiths, JoAnne Deshon, Mary Pinkston, Tim Dalby and Jeanine Moore.
The National Science Foundation administers Presidential Awards for Excellence in Mathematics and Science Teaching (PAEMST) on behalf of the White House Office of Science and Technology Policy.