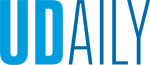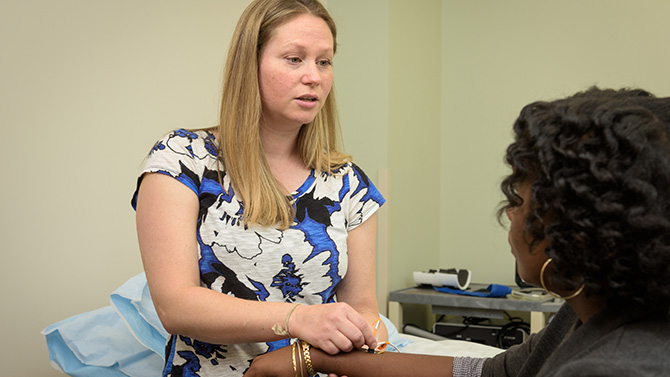 Deciphering hormones
Article by Dante LaPenta Photo by Evan Krape September 26, 2016
Wenner uses AHA funding to investigate hormones, vascular function
Hormones are the chemical envoys for our bodies. They communicate with our brains, heart, bones, muscles and, yes, reproductive organs. University of Delaware physiologist Megan Wenner is working to understand how sex hormones influence vascular function.
She's focused specifically on comparing estrogen effects in young and postmenopausal women. What happens after menopause when hormone levels drop dramatically? Are therapy interventions safe or not?
"For the past decade and a half, hormone therapy has been controversial for postmenopausal women," said Wenner. "We need to understand why or why not hormone therapy is safe."
Thanks to a recent Scientist Development Grant from the American Heart Association, Wenner will do just that. She will further investigate the mechanisms contributing to vascular dysfunction in women — specifically, what role is played by estradiol, a form of estrogen.
The funding is given to promising junior investigators in the areas of cardiovascular and stroke research. Wenner, a member of the American Heart Association's High Blood Pressure Research Council, will present her findings at the organization's national conference.
Wenner's research interests truly came into focus during a post-doctorate at the John B. Pierce Laboratory at the Yale School of Medicine. She studied under Nina Stachenfeld, who was investigating how ovarian hormones like estrogen and progesterone can influence fluid balance and cardiovascular function.
Working with reproductive endocrinologists, Stachenfeld developed a technique in which a fertility drug temporarily suppresses endogenous hormones in young women so an investigator can look at physiological systems under controlled hormone conditions.
"You can test women at different phases of a menstrual cycle to see how hormones can influence things like blood pressure or cardiovascular function," explained Wenner. "But, ovarian hormones fluctuate, and those fluctuations don't always occur at the same time point in every single person, so it's very difficult to isolate and look at individual hormones and the effects of those hormones on physiological systems."
The complicating factors are many. Some women don't ovulate, which means they have no peak in estrogen and release of an egg. Others suffer during the luteal phase of the menstrual cycle; they might have inadequate progesterone production in the second half of the menstrual cycle. Progesterone is an endogenous steroid and sex hormone that causes the lining of the uterus to grow to support a pregnancy. It is not always obvious that these conditions are present.
"Our interventions are very controlled, preventing any rise in their hormones, so you temporarily suppress endogenous hormone production in young women, and then you can selectively add back," Wenner said.
She's conducting these interventions to look at mechanisms that contribute to vascular dysfunction in women due to aging and after menopause. Properly identifying the ways estrogen does or does not benefit vascular function can perhaps shed light on the controversy surrounding hormone therapy for postmenopausal women, and ultimately improve a woman's overall health.
"What I learned in my post-doc from Nina Stachenfeld, I'm now implementing at UD to answer new questions," Wenner said. "We use the hormone intervention in the young women to just look at the effects of estrogen on vascular function [separate from progesterone], and then compare that to healthy postmenopausal women to see if estrogen impacts the pathways that regulate vascular function differently after menopause."
For example, Wenner previously applied the interventions to women with polycystic ovary syndrome (PCOS), who have extremely high levels of androgen and an increased risk of cardiovascular disease.
Wenner is now interested to see what the role of estrogen play in mediating vascular function. She's collaborating with Reproductive Associates of Delaware and Dr. Ron Feinberg, who oversees the hormone intervention in young women and does comprehensive screenings.
Wenner is also quick to laud her UD mentors, who include Dave Edwards and Bill Farquhar, professors of kinesiology and applied physiology, and Stuart Binder-Macleod, Edward L. Ratledge Professor of Physical Therapy.
"We have a very collaborative group [in the College of Health Sciences] with lots of avenues to seek out mentorship," said Wenner. "I encourage junior investigators to actively seek out mentoring."
This is not Wenner's first go-around with UD. She originally came to Newark to pursue a master's degree in exercise science. While working as an athletic trainer, then-mentor and current kinesiology and applied physiology department chairperson Farquhar opened her eyes to the world of physiology research.
"I caught the research bug, stayed at UD and worked towards my Ph.D. It's great that it's kind of come full circle," she said.
Participant recruitment began at the end of August. To participate in the study, contact Wenner at mwenner@udel.edu.